Amsterdam Swing Lookout
A'DAM Lookout is a swing located at the top of the tallest building in Amsterdam. The Amsterdam Swing has become a coolest attraction since its opening in 2016.
There are several things you must know before visiting A'DAM Look out. This article offers an ultimate overview of the swing and the city.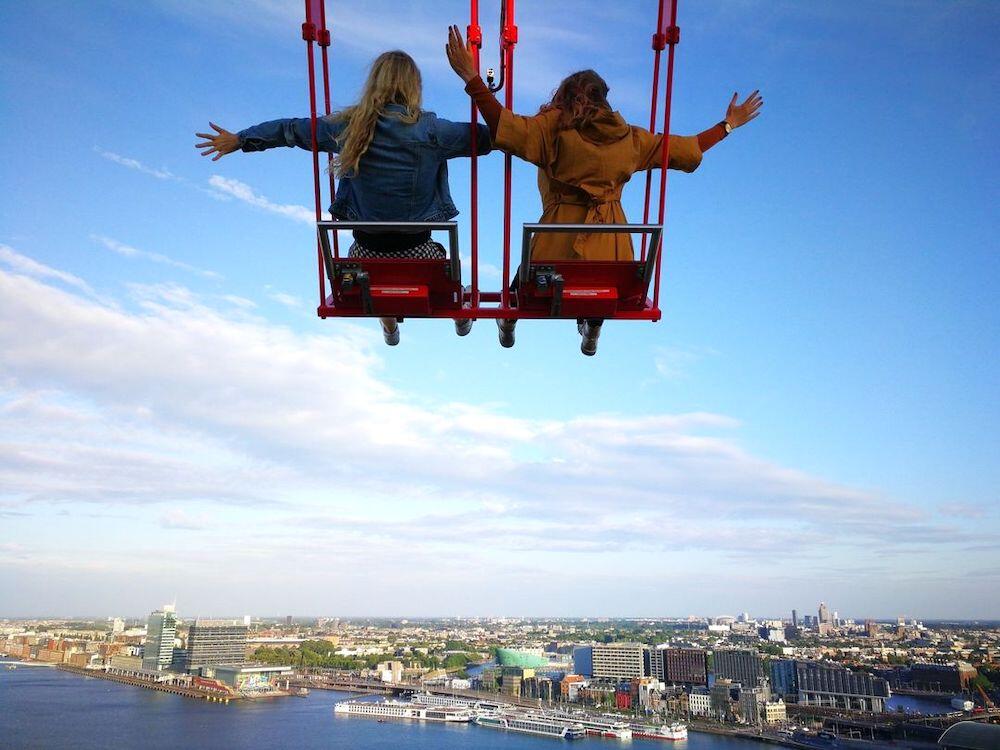 "That swing has really become a bucket list. You go to Amsterdam and you have a few things on your list. Red Light District, coffee shop, Anne Frank, Rijksmuseum, canal cruise. And the Amsterdam Swing."
IK WIL NU KAARTJES >
Definition
1 | What Is It?
The Lookout Swing in Amsterdam is a swing more than 100 meters above the Amsterdam skyline. This swing has quickly become one of Amsterdam's most popular attractions. Both with Dutch and foreign tourists.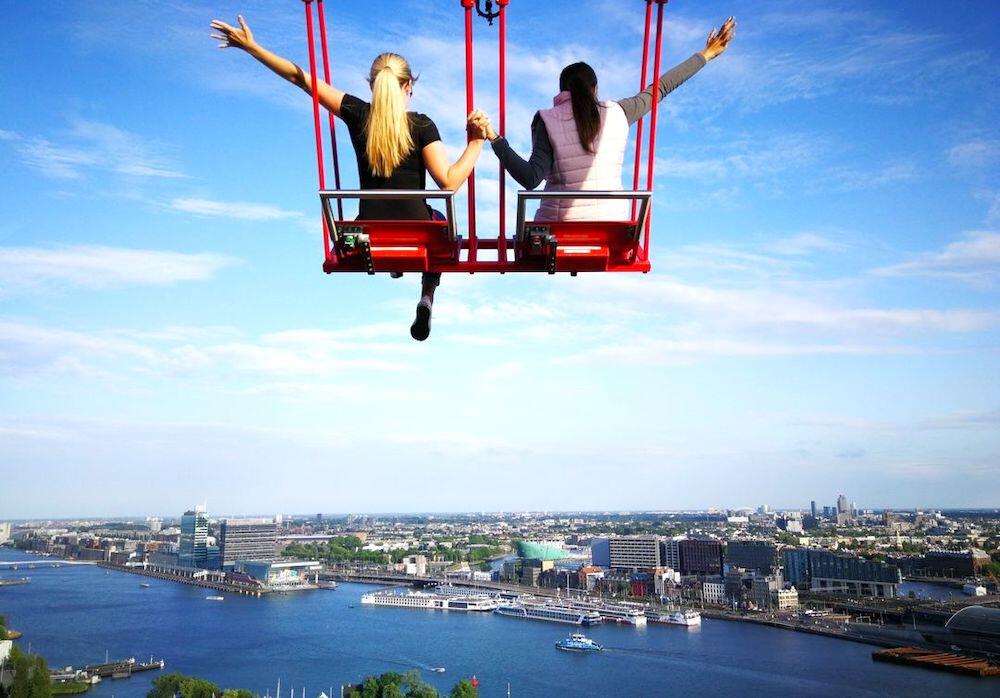 The A'DAM Lookout is a unique observation point in Amsterdam. And, on top of the roof is a swing. Where you can go just over the edge. In a safe way, but still. It is the highest swing in Europe, which everyone wants to experience.
Location
2 | Where Is The Amsterdam Swing?
The Amsterdam Swing is officially located in the north of the city. However, it's just behind Central Station – on the other side of the IJ-river. The swing is constructed on the top of the tall ADAM lookout building and can be seen from far away.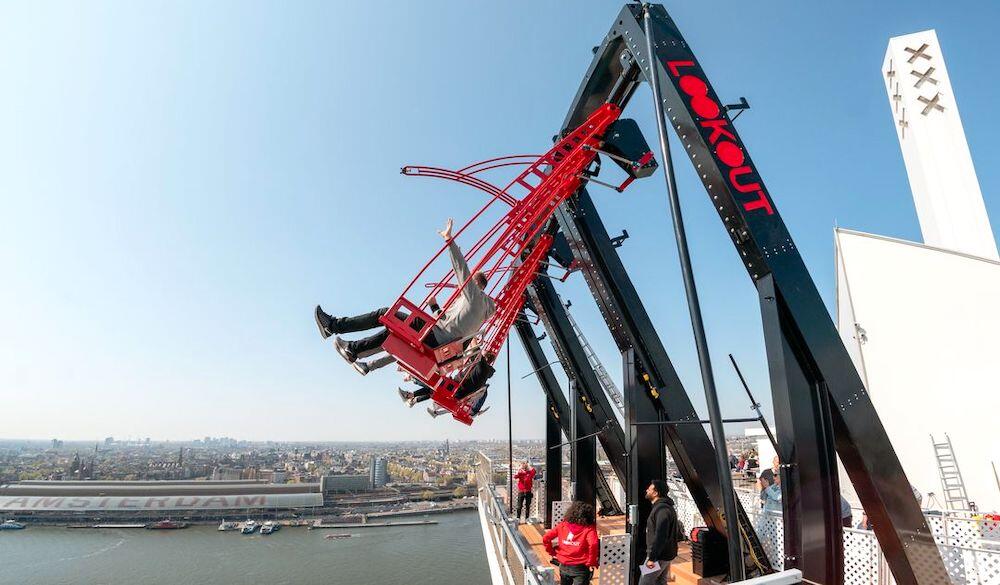 3 | How To Get To ADAMs Lookout?
✦ Go to the back of Amsterdam Central Station.
✦ Take the free ferry to Buiksloterweg. That's line F3. It departs daily, every 6 minutes. You don't have to worry have earliest or latest department times. This ferry operates 24 hours a day.
✦ Walk towards the tallest building you can see. That's ADAM Lookout.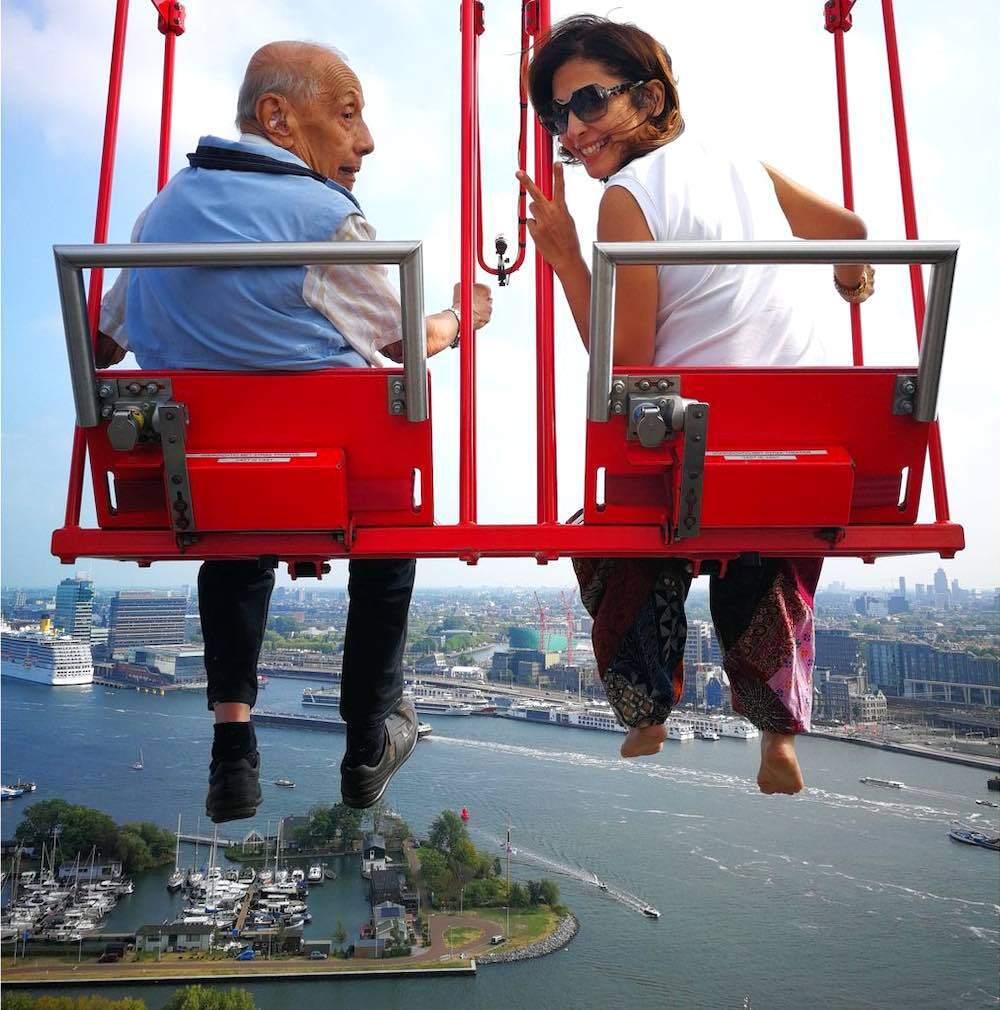 Beautiful view overlooking the city of Amsterdam. Free ferry to and from, centrally located to shops, restaurants, and train station. Friendly service, food okay, great drinks and ambiance. Loved swinging over the edge of the building. A must do if you're in town.

Maria Schwartz | 5 out 5 stars.
Amsterdam Swing Height
4 | How Tall Is The ADAM Lookout?
This building in Amsterdam is 85 meters tall and 100 meters tall including the mast. It has 22 floors and is in the top 30 tallest buildings in Amsterdam. At spot 28 to be exact. The tallest building in Amsterdam is the Rembrandt Tower. This one is 135 meters tall.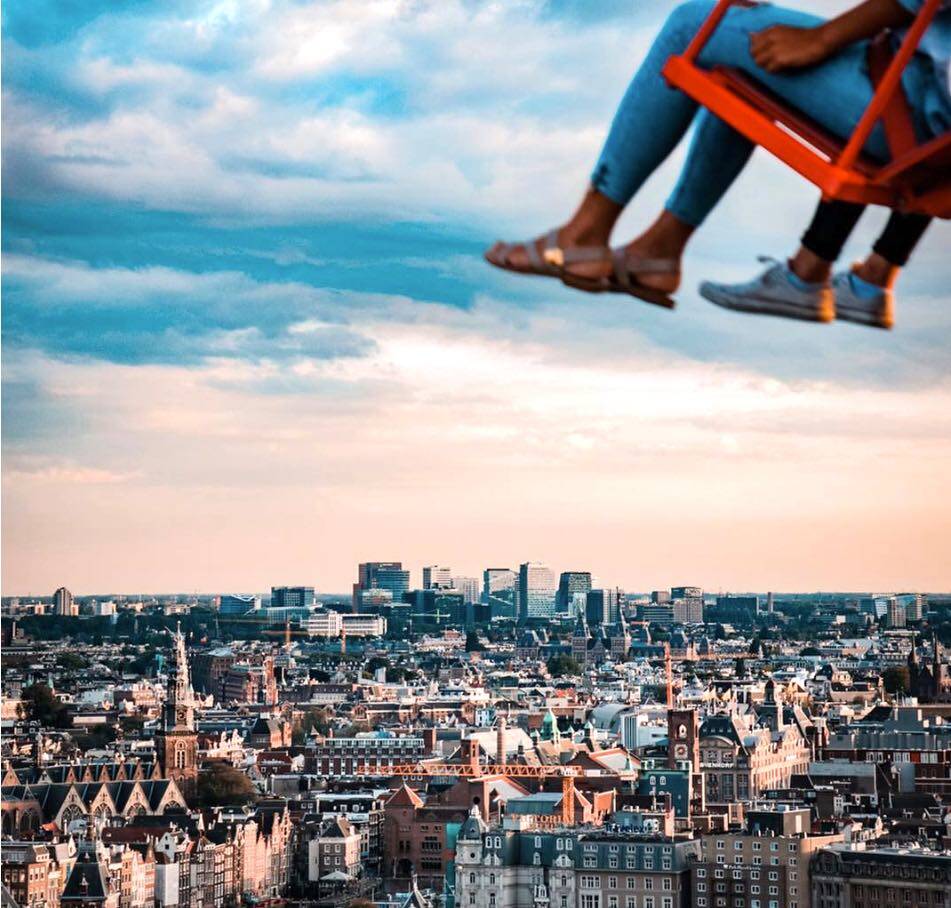 The swing ride is located approximately 100 meters off the ground. This makes the Amsterdam Swing the highest swing in all of Europe.
Prijzen
5 | What Does This Attraction Cost?
✦ Ticket ADAM Lookout: 14,50 (same price as Eiffel Tower)
✦ Ticket Amsterdam Swing: 6,-
Total Price: 20.50
IK WIL NU KAARTJES >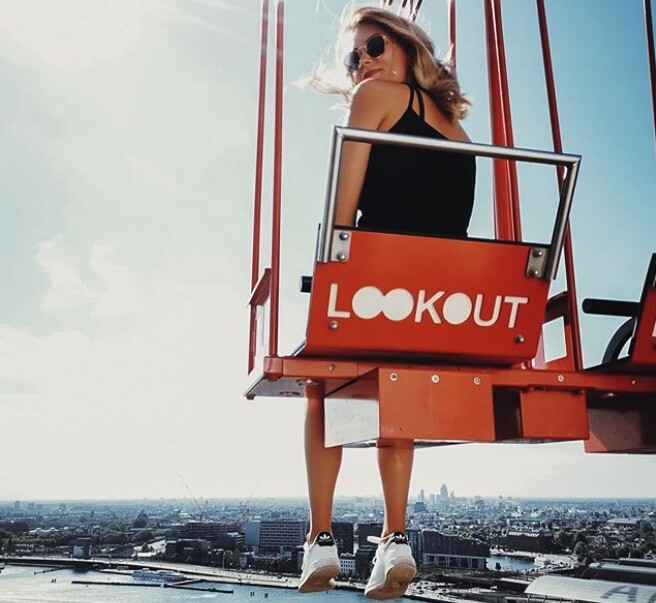 It's required to get an entrance ticket for ADAM Lookout to take the swing. That cost an additional 6 euros. A lift-ride is included in the price, so you don't have to worry about taking the stairs.
You gotta try it. Not expensive, the experience is great.

Christian Stefan | 5 out 5 stars.
6 | Is there a reduced rate for minors?
Yes, there is! Children under 12 pay 12.50. So they get almost 14% discount.
Duration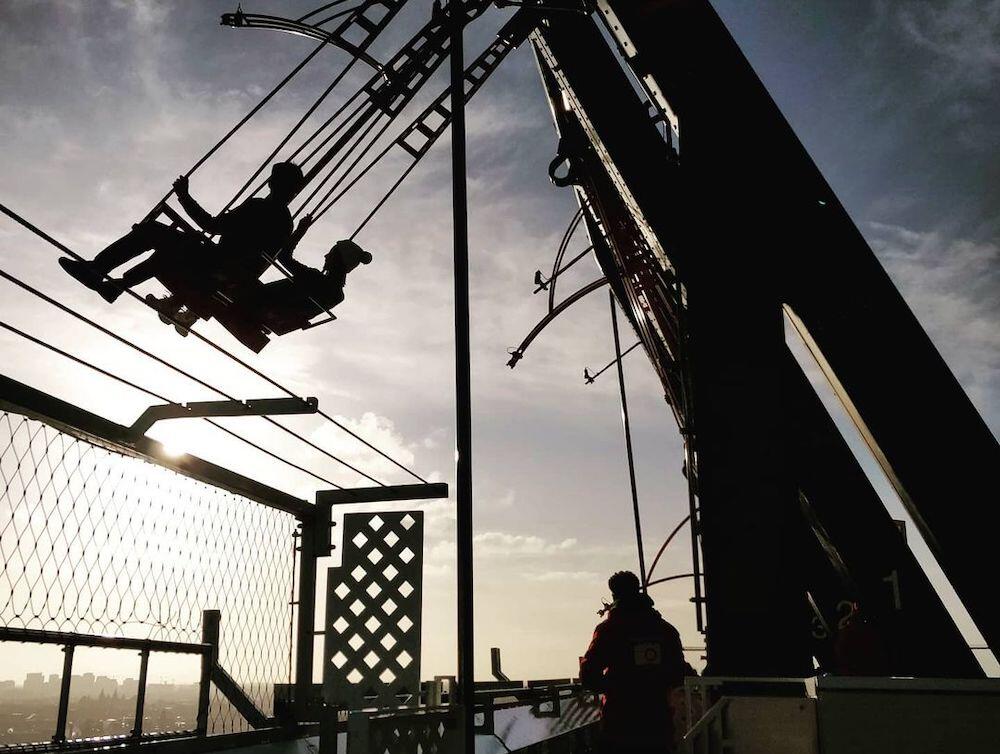 7 | How Long Does Amsterdam Swing Last?
When buying a ticket, you get a time slot of 20 minutes. This includes getting in and out, but also a short explanation of an employee. The Amsterdam swing itself takes several minutes. Pick your favourite time slot in advanced.
8 | Is It Dangerous?
The Amsterdam is not dangerous at all. Be assured, it's a save attraction. There have been no accidents since it opened in 2016. All equipment is new, regularly checked and well maintained. For your own safety, it is important that you follow the instructions of the supervisors.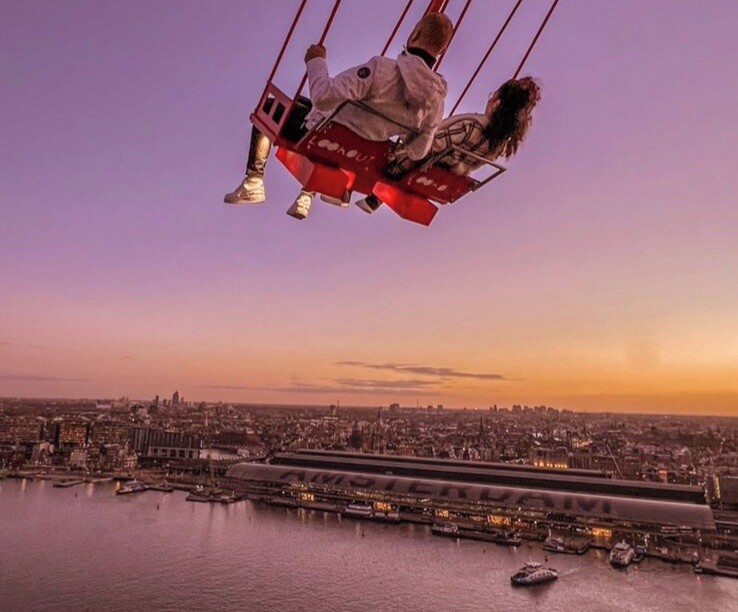 9 | How Many People Can Use The Amsterdam Swing at the same time?
The Amsterdam swing can be used by six persons at the same time. It has 3 swings. Every swing has space for 2 persons. So six persons can swing next to each other.
I WANT TO TRY THIS >
Reviews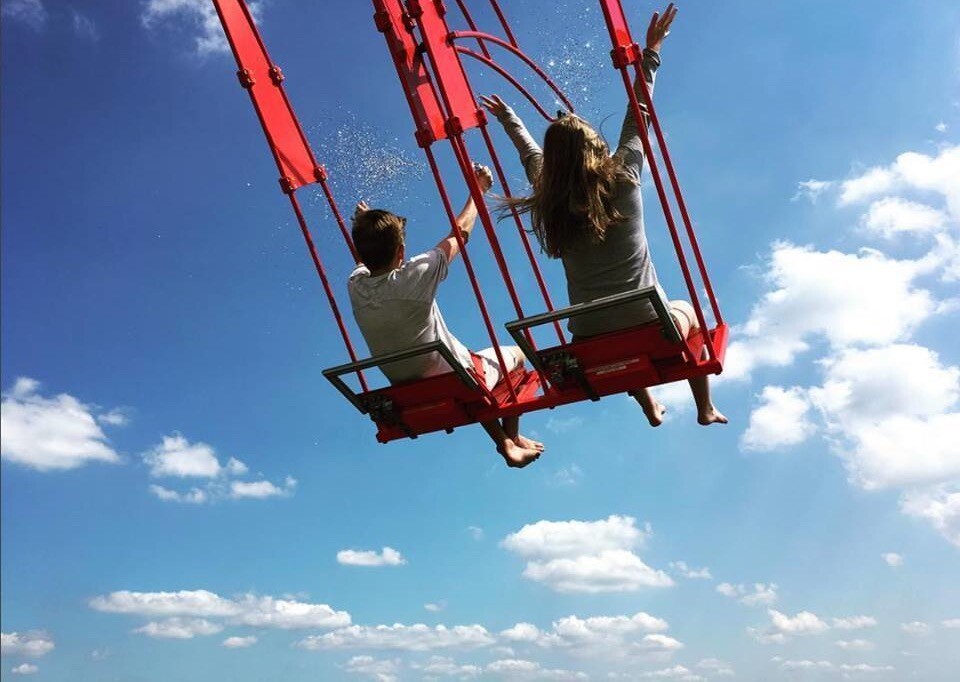 10 | What Do Others Think?
Google: 4,6 out of 5 stars | 16,844 reviews
TripAdvisor: 4,5 out 5 stars | 4,885 reviews
My friend and I had a wonderful time at the This Is Holland experience and the swing on top of the building! Even on one of the windiest days of the year, we still cracked up as soon as the swing began.

The views were outstanding!! It was fun to go…

Eric Graham | 5 out 5 stars.
You won't have a better view of Amsterdam anywhere else and the swings are a blast! It's generally cold up there, but totally worth it!

Sasha Morgese | 5 out 5 stars.
Beautiful view, on the way up, very spectacular of the light show that is in the elevator. The swing remains an eternal memory. It was good to be there! 😊

Cinthia Heckler | 4 out of 5 stars.
It was very nice to ride the over-the-edge swing!

Just the 360° dinner was a pleasant experience but not good food. Fine dining has small portions but should be those you never forget, and it wasn't like that. I recommend purchasing the tickets with the swing ONLY. Decide the rest over there.

Rebecca Penafort | 4 out of 5 stars.
READ ALL REVIEWS >
Opening Hours
11 | When Is The Amsterdam Swing Open?
✦ Monday – Thursday: 10 AM to 6 PM. Last entrance at 5 PM.
✦ Friday – Sunday: 10 AM to 22 PM. Last entrance at 9 PM.
NEWS: From 18th February 2022, the Amsterdam Swing will be open again from 10:00 – 22:00 everyday of the week.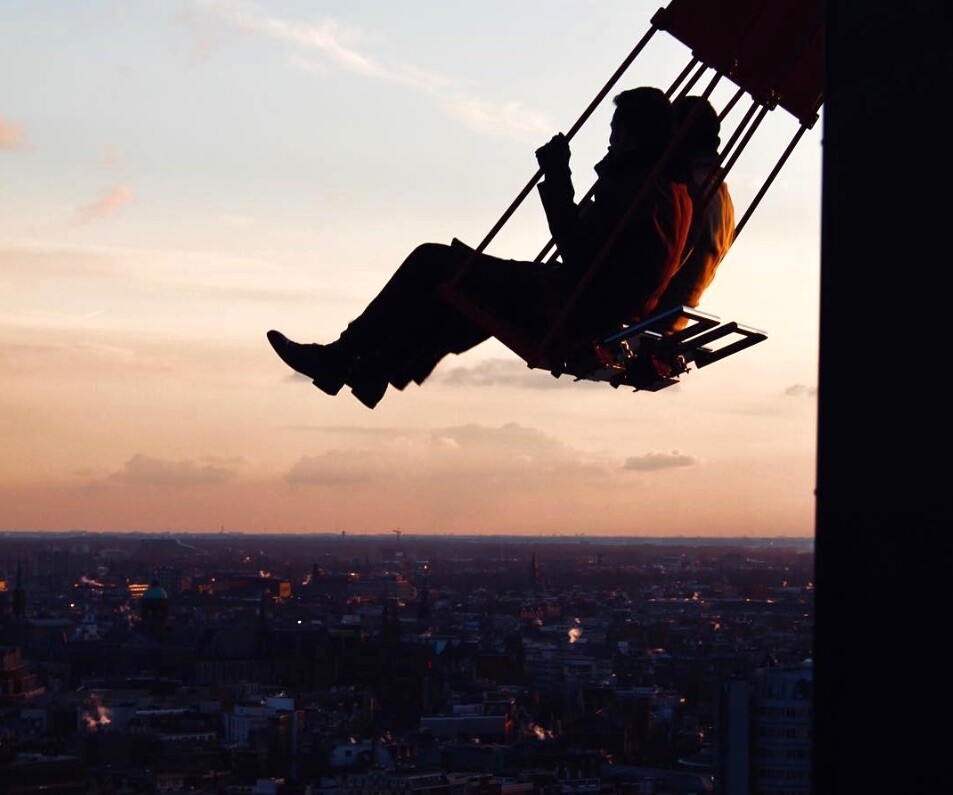 12 | What's The Best Time To Visit Amsterdam Swing?
The Lookout Swing is popular, so it can get just a little too busy here. If you go here early in the morning it is less crowded.
However, the most beautiful moment is during sunset. After all, you then have a wonderful view of the city with the last light.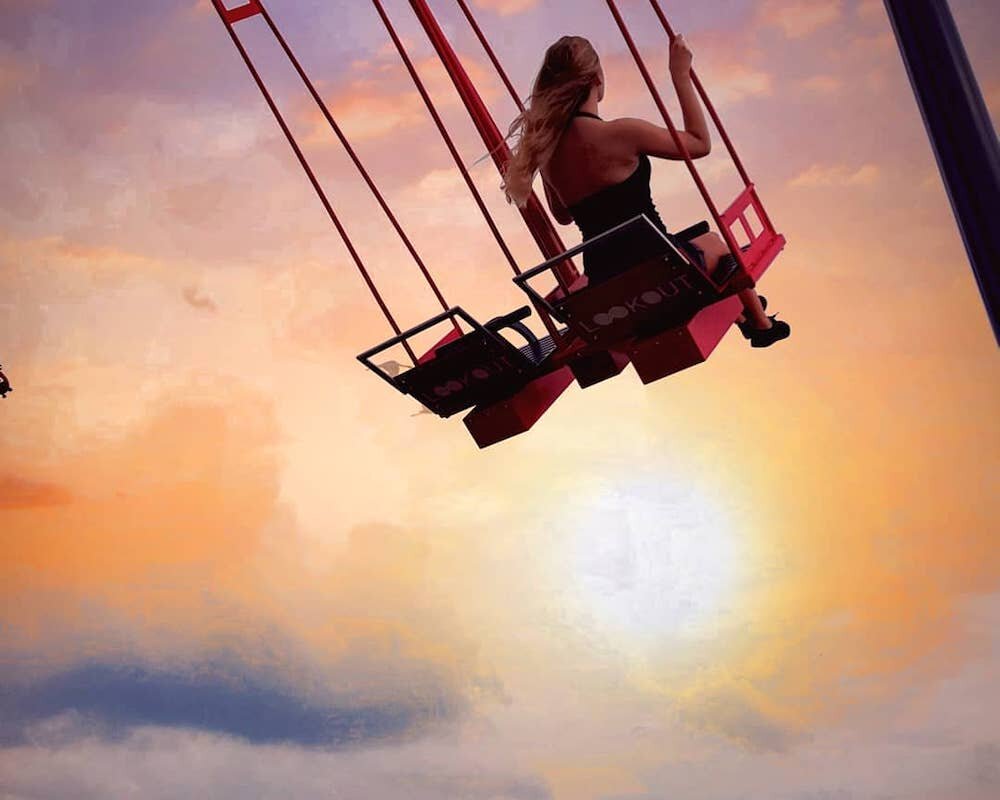 13 | What Can You See During The Swing?
You see the Amsterdam river, Central Station, boats, the canals, the center, the northern and eastern part of the city, cyclists, trains, churches, Amsterdam Red Light District and much more. All this from above. The view is phenomenal, as evidenced by all the positive reviews.
The view is weather dependent. On sunny days you can see for miles! The city suddenly looks very different from above. On cloudy or rainy days the view is of course less good. Unfortunately you have no influence on this. You have the best chance of good weather in the high season. That is between April and September.
Tickets
14 | Do You Need To Book Amsterdam Swing Tickets In Advanced?
Yes! This way you avoid unnecessary waiting and irritations. The Amsterdam Swing with convenient time slots of 20 minutes. You can choose a time slot that suits you best.
TIP: Book far ahead. This popular Amsterdam attraction is popular. Your favorite time slot is probably also someone else's favorite time slot. So book now.
Quick and free ferry ride across from central station. Fantastic 360 views across Amsterdam. Staff were very friendly, the initial journey and light show in the lift is great. Great cake and drinks in the cafe. Reasonable prices for the location. Lots of interesting things to do up there. Even the toilets have a great view! Unfortunately the swings were closed due to windy weather. Make sure you book in advance to avoid disappointment. Highly recommended.

Tim Husain | 4 out 5 stars.
15 | Can I Take Pictures With Your Phone During The Swing?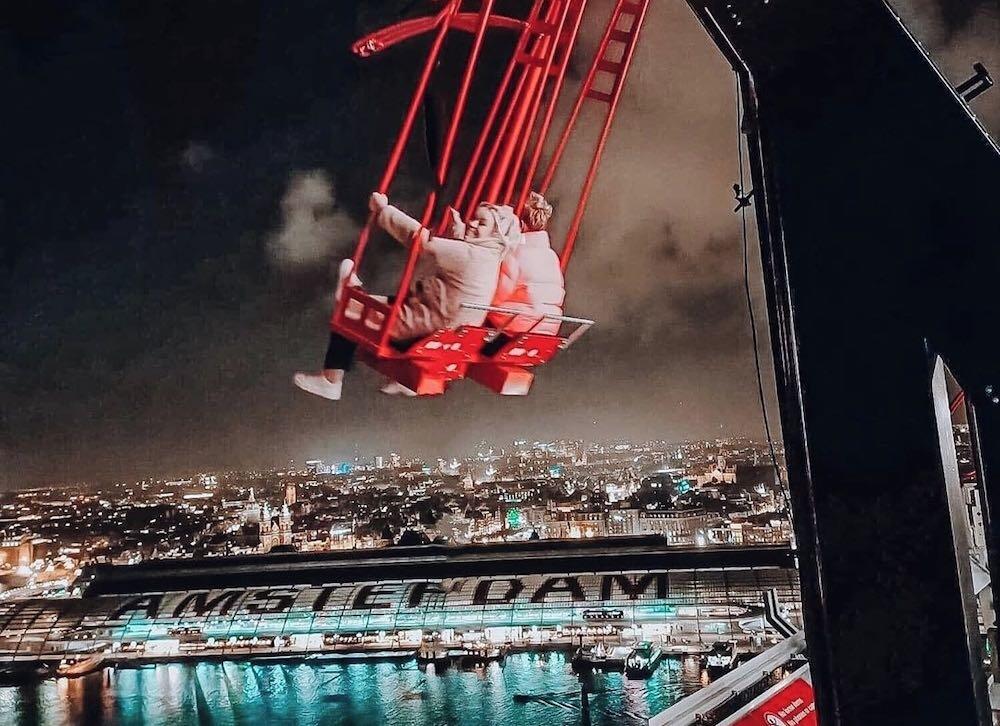 Mobile phones, tablets and photo cameras are not allowed in the Amsterdam swing. Professional photos of you will be taken by the staff during the attraction. This captures the unforgettable experience. These are for sale at the counter.
It is allowed to take pictures of the top deck, where the Amsterdam Swing is located. It is only prohibited in the swing itself in order to guarantee safety. The safety of you, others and your phone of course.
Costs
The digital version of the swing photos are included. The printed version costs 15,- or 17.50 for two. 
Requirements
16 | Does The Amsterdam Swing Require A Minimum Age?
The Amsterdam Swing does not require a minimum age. It does require a minimum length though. You need to be at least 120 cm (47 inch or 3,9 feet).
17 | When Is The Amsterdam Swing Not Allowed?
The Amsterdam Swing may not be used by:
✦ People with heart problems or abnormal blood pressure.
✦ Pregnant women.
✦ People with a fear of heights.
✦ Persons smaller than 120 cm.
18 | What Kind Of Clothes Should I Wear?
Just wear the clothes you're wearing that day. This is important to know: At such heights the wind blows more than at street level. So bring warm clothes (sweater, long pants, jacket, etc). If needed, change in the toilet of the ADAM Tower.
Ladies: It is not recommended to wear a skirt or dress.
Also bring an hair tie (rubber band), to tie your hair.
19 | Is ID required at the ADAM Lookout entrance?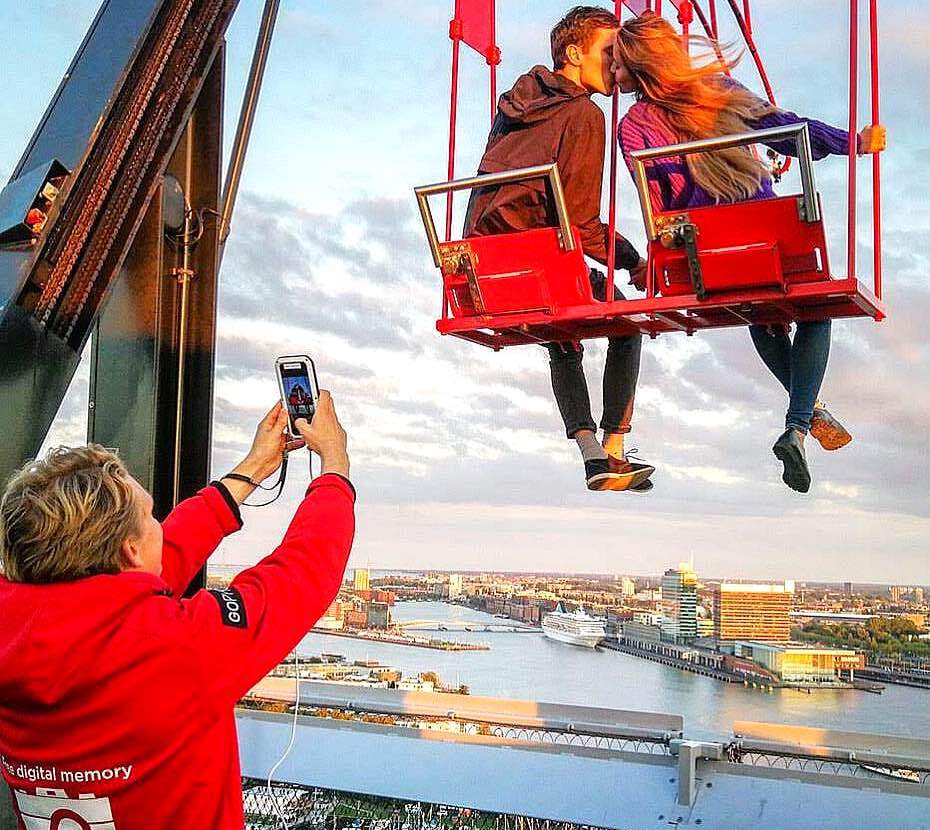 You do not have to show your identity at the entrance of this attraction. Know that there is an identification requirement in the Netherlands. The police may ask for your ID if necessary.
20 | Other Tips?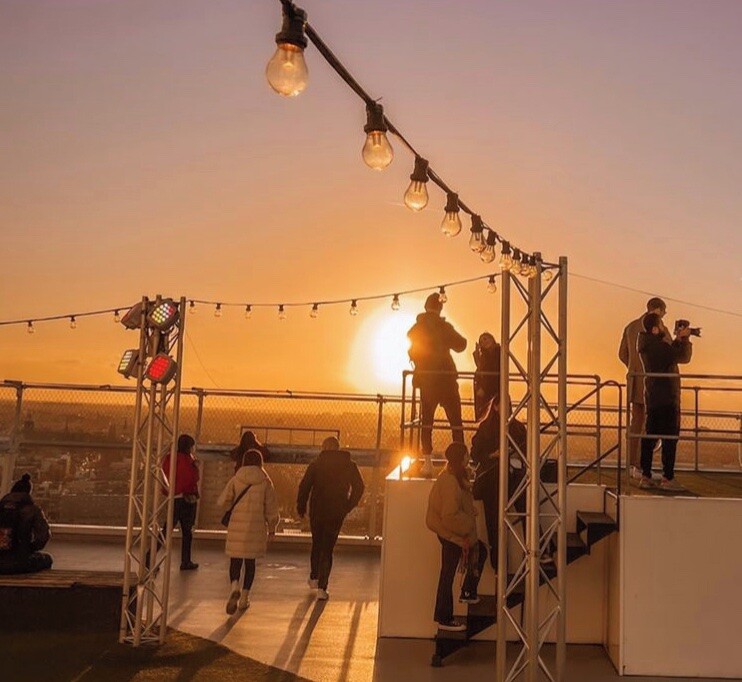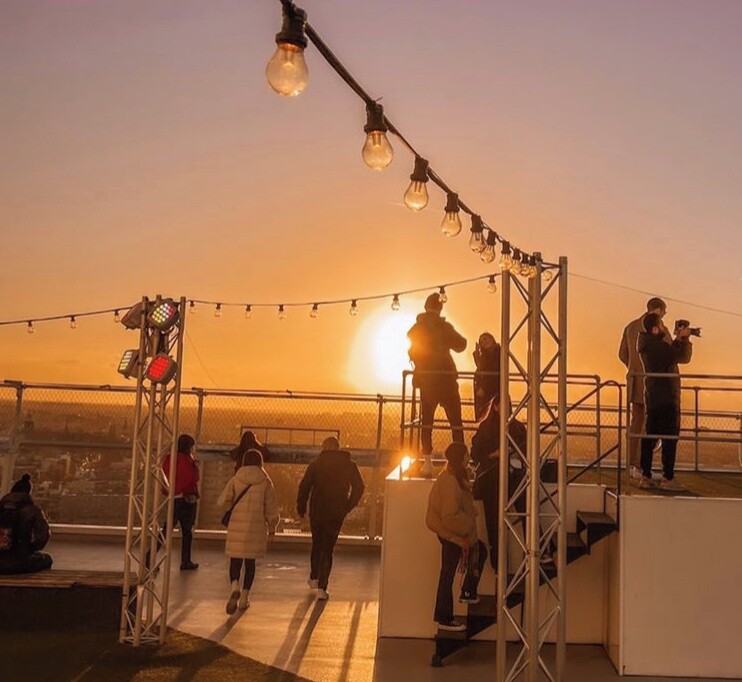 ✦ Do not wear a cap or hat. It can blow off.
✦ Don't go in the Amsterdam Swing on an empty stomach.
✦ See if you recognise Amsterdam highlights from above.
✦ Enjoy the moment with your loved one.
✦ Buy a photo and make it unforgettable memory.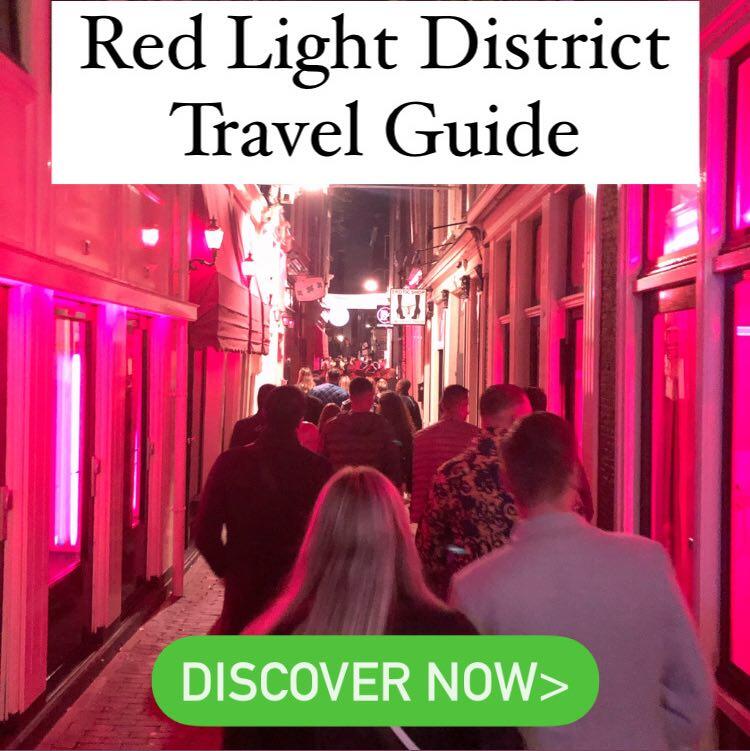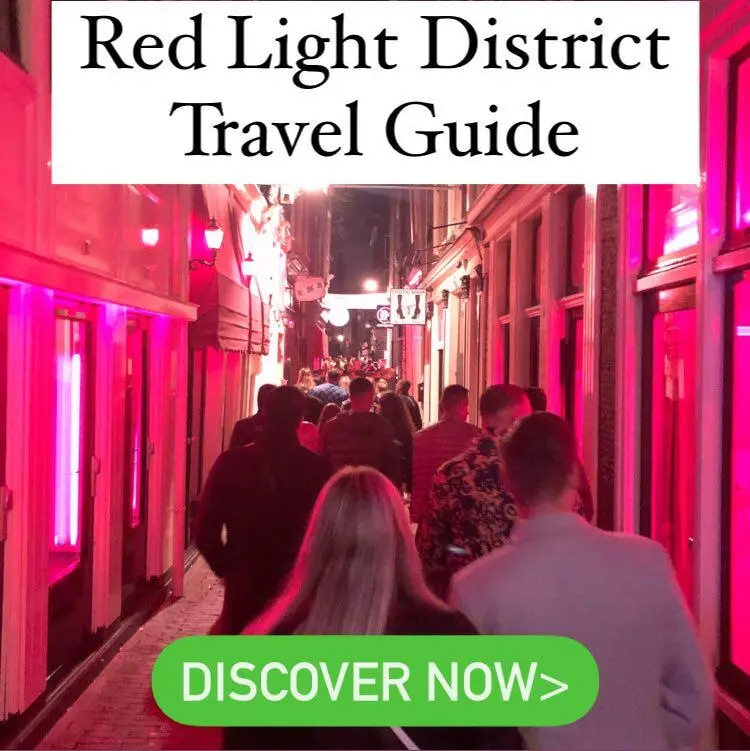 ALSO READ:
Red Light District Amsterdam: The Ultimate 2023 Guide
10 fantastische hotels in Amsterdam Centraal