The Definitive Guide To Dutch Food in Amsterdam
In the Netherlands there are quite a few typical local snacks that are definitely worth tasting. And despite the fact that the Netherlands is a small country, with only 12 provinces and 17.4 million inhabitants, the favourite snacks vary greatly by region in the Netherlands. For example, the province of Noord-Brabant has delicious local snack scalled the Bossche Bol. In Limburg they have fantastic pies ('vlaaien') and in Zeeland you can eat amazingly 'bolussen' or 'Zeeuwse Babbelaars'.
The Dutch capital has other local snacks. When in Amsterdam, these are the five Dutch snacks to try:
1 | Ox Sausage
Are you curious about the local Dutch cuisine? Let's start this culinary journey in Amsterdam with beef sausage. In Dutch this is called 'ossenworst'. This is one of those Dutch snacks that don't look that spectacular but it's really tasty!
In Amsterdam there is one ox sausauge specialist with more than 100 year of experience. Butcher Louman in Amsterdam has been making sausages since 1890, so they know what they're doing. Originally Amsterdam's ox sausage was smoked for taste and shelf life. That entry variant of the sausage is also sold at Louman.
2 | Acid Bomb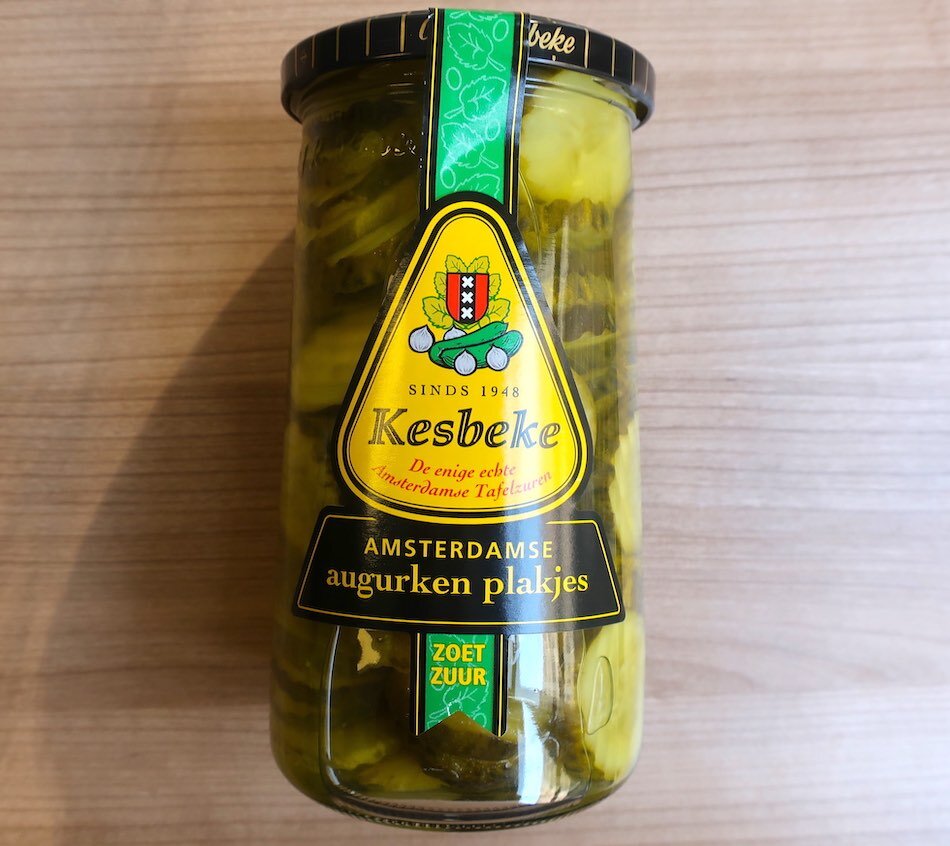 Ox sausage naturally includes Amsterdam pickles, from Kesbeke for example. A pickle can also be called 'zure bom' in Dutch, which means acid bomb. Kesbeke makes these Dutch snacks in pots with a yellow label can now be found in almost every Dutch supermarket, but this big organisation started small. In 1948 founder Charles Kesbeke started in a basement on Amsterdam's Waterlooplein. The factory is now close to Westerpark, with an "acid and canning shop" across the street. There you can find the whole assortiment of Kesbeke, but they can also tell you everything about how you pick vegetables yourself if you wish. This is definitely one of those Dutch snacks that you should try.
3 | Amsterdam cookie
Do you prefer to start the Dutch taste safari a bit more calmly than with raw meat and a spicy pickle? Try an Amsterdam cookie. The Eberhardje, made by patisserie Holtkamp, ​​is an ode to the mayor Eberhard van der Laan, in the shape of a butter cookie. In the middle of the cookie there are three Andreas crosses of the city. You buy them at Holtkamp itself, but they are also served in the café of the Rijksmuseum. This way you combine a sweet Dutch snack with a cultural outing and some Amsterdam history: the ideal tourist trip.
4 | Bitterballen
The Dutch have a name for a time frame in which drinks are accompanied by Dutch snacks. This is called 'borrel-tijd'. The timeframe is usually somewhere after lunch and before diner. During 'borrel-tijd' Dutch bitterballen cannot be missed. Bitterballen are a delicious snacks based on meat, made by making a very thick stew thickened with roux and beef stock and generously loaded with meat, refrigerating the stew until it firms, and then rolling the thick mixture into balls which then get breaded and fried.
Both Van Dobben and Kwekkeboom are a mainstay of Amsterdam's bitter garnish. Those looking for newer, experimental tastes have to go to the Foodhallen in Amsterdam. The Ballenbar's bitterballen are fried there. Yes, there are bitterballen of veal, but Michelin chef Peter Gast also developed bitterballen with shrimp, bouillabaisse and truffle. Yummy!
5 | Pikketanussie
A what?
'Pikketanussie' is old Amsterdam's dialect for a drink (like for example grain gin – or jenever in Dutch). Most locals don't even know this word. In Amsterdam pubs it used to be normal to ask for a 'pikketanussie'. If the drink was well poured, the gin was given a convex head on the shot glass (a meniscus). This was then called an "over the IJ viewer", referring to Amsterdam's IJ-river.
According to language historian Ewoud Sanders, the word pikketanussie was first mentioned in the year 1897, specifically in the booklet Military and other sketches by M.A.C. Nierstrasz. The word is probably derived from pékèt anisé. Peket is the Walloon (Belgium) word for Gin, and it could be flavored with spices, including anise. The word may have become popular, because when it is corrupted it contains the Dutch words of cock and anus.
Best Jenever in Amsterdam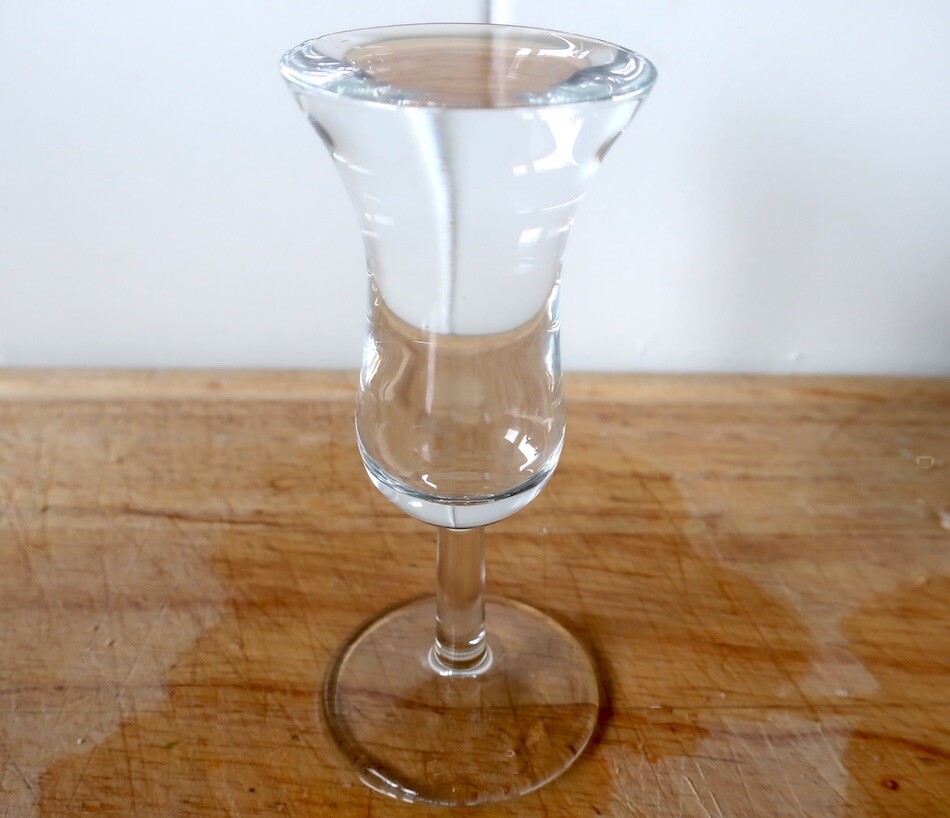 There are many good places in Amsterdam where you can get delicious jenever (Dutch gin). But one of the best gin bars in Amsterdam is undoubtedly Wijnand Fockink. The beautiful, old bar is hidden in a little alley behind Dam Square. Officially it's located in the Red Light District (a.k.a. De Wallen).
Also at this bar the staff will pour the gin glass so full that the jenever will bulge and it will be almost impossible to lift the glass without spilling. The employees pour the glass on purpose so full that you have to bow (and show respect) for this delicious local drink. This jenever bar dates back to 1679 and also offers great Dutch snacks to try (with your jenever, wine or beer).
Dutch beer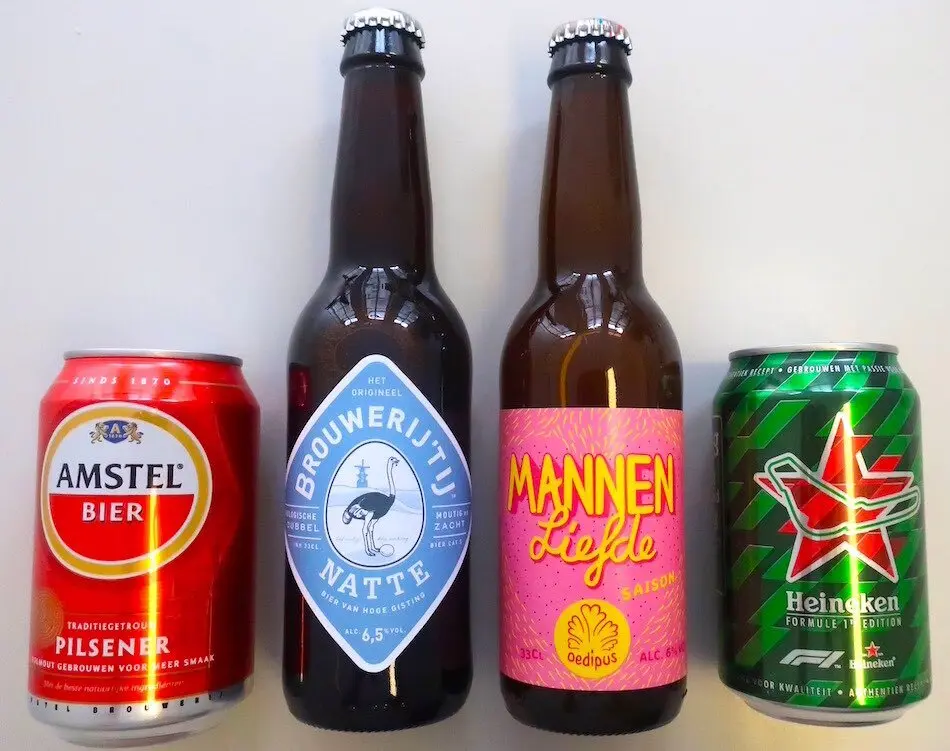 Or, instead of Dutch gin (jenever) you can also combine Dutch snacks with Amsterdam beer from, for example, Brouwerij 't IJ. One of the few windmills in Holland's capital can be found just next to the local beer brewery, which is quite popular among Amsterdammers.
Another option is to taste liqueurs in De Drie Fleschjes, behind the Nieuwe Kerk (New Church). Since 1650, alcohol has been tapped there from a real liquor organ (fifty barrels). Beware if you usually look deeply into glass of corsed wine: the tasting room does not have a fixed closing time at the weekend, so you will soon roam outside with your foreign friends and you will be the drinking organ yourself. Another great thing is that this place has no fixed closing time in the weekend's.
ALSO READ:
Dutch Snacks At FEBO Amsterdam
MORE AMSTERDAM TIPS >
Do you know other delicious food in addition to these Dutch snacks to try? Drop them in the comment section below and share it with the world.