Amsterdam Strip Clubs: 10 Best Places With Strippers
Avoid boring evenings in Amsterdam. Make it exciting and memorable. Visit Amsterdam Red Light District and discover 1 of these strip clubs in the Dutch capital. Discover the 10 best strip clubs in Amsterdam.
SHOW STRIP CLUBS >
Strip Club Defintion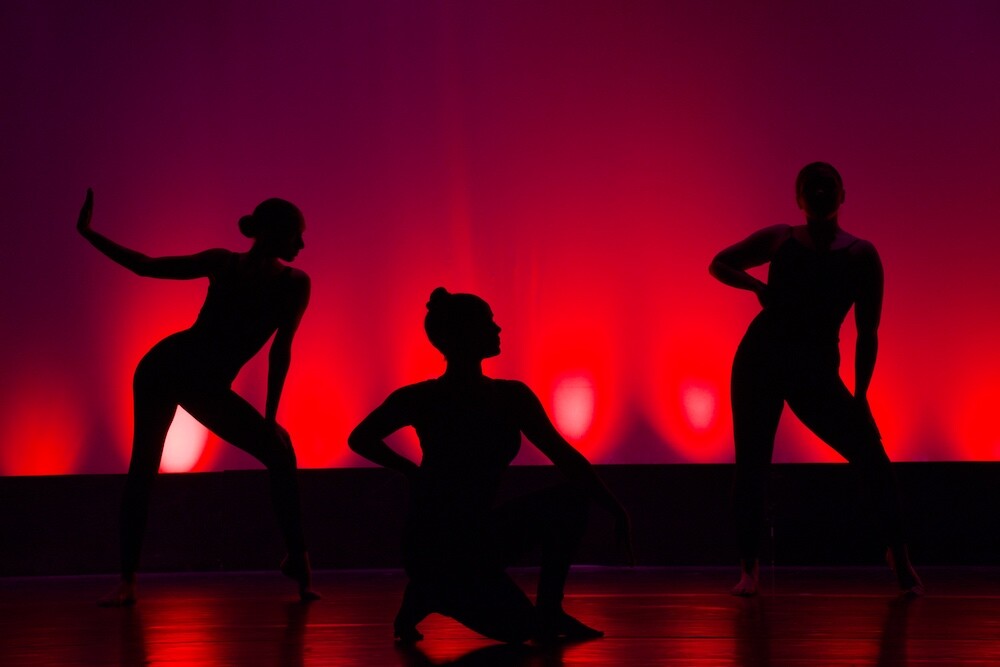 What is a strip club? Good question! Let's answer that first.
A strip club is an establishment that features live entertainment in the form of dancing girls or strippers. Strippers are also called sex workers (not escorts). Strip clubs are places where people go to enjoy themselves.
These erotic venues are usually filled with beautiful women who dance around to music. The dancers are paid to perform their services.

Review
How do you know if strip clubs are for you? Right, by trying! I visited a strip club in Amsterdam twice with my girlfriend. It was super cool and exciting! I don't necessarily have to do it again, but I'm very glad I experienced it.

⭐️⭐️⭐️⭐️⭐️ | Paul Robertson
GET SEX SHOW TICKETS >
Best Strip Clubs In Amsterdam
The list with the 10 most popular strip clubs in Amsterdam starts with number 10 and ends with the very best one in the capital of the Netherlands.
10 | La Vie en Proost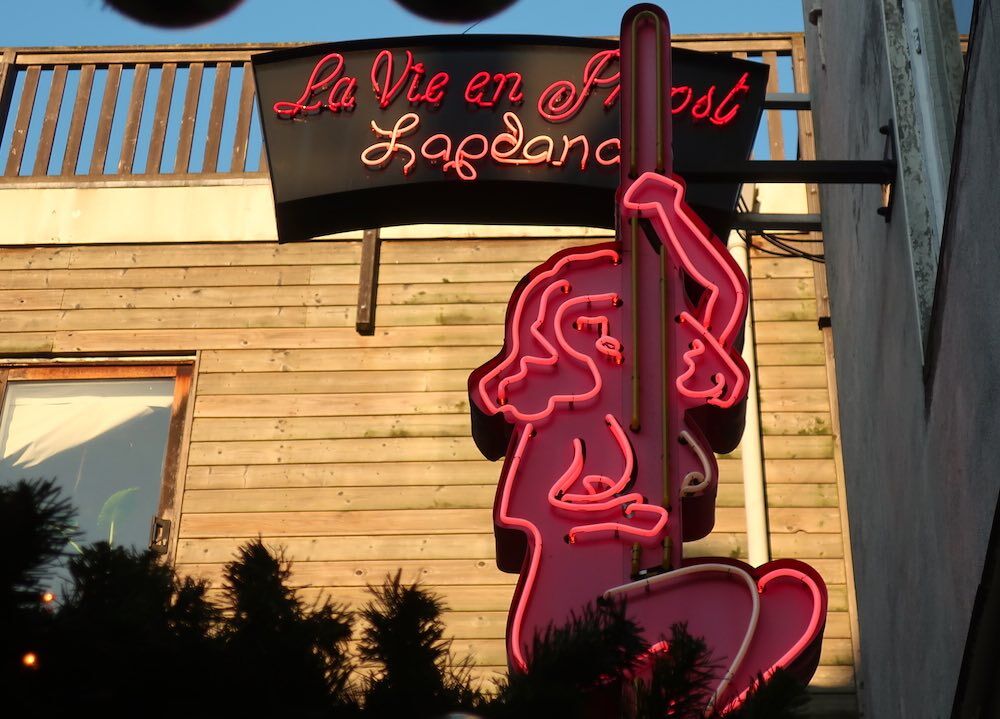 Number ten on the list of best strip clubs in Amsterdam is La Vie en Proost. Definitely not the best place in town. Actually the only advantage of this strip club is the location.
La Vie en Proost is situated in the middle of the Red Light District, within walking distance of Central Station and Dam Square. This stripclub can be found on the end of a little alley.


La Vie en Proost is quite small from the inside. Frequently heard complaints area that the employees are rude and that they force the guests to tip and to pay (extra) for using the toilet.
Our local experts also experienced this during our visit to this stripclub. And, La Vie en Proost extremely overcharge little champagne bottles (piccolo's).
Currently La Vie en Proost has 87 Google-reviews with an average rating of 3,4 out of 5 stars.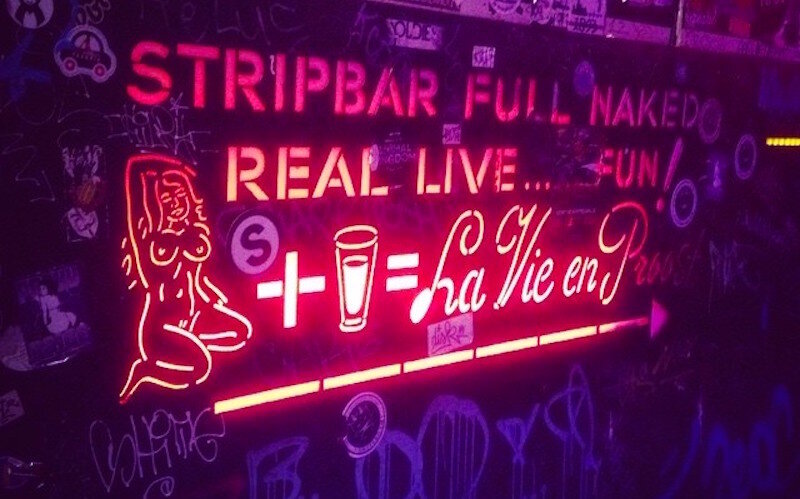 This is one of those strip clubs in Amsterdam that people visit while being drunk or without checking online if it's any good. And the next day, with a hangover and an empty wallet, they think back to that bad strip club in Amsterdam.
Review
Nasty place, do yourselves a favour and go elsewhere!

Firstly it was creepy as; one of my male friends left after 20 seconds despite paying the €25 entry. Secondly, it's mandatory to buy a drink as soon as you take a seat and it's €10 (after the bar tender confirms your change is being used as a tip).

Rachel Finn | ⭐️
MORE DETAILS >
9 | Bananenbar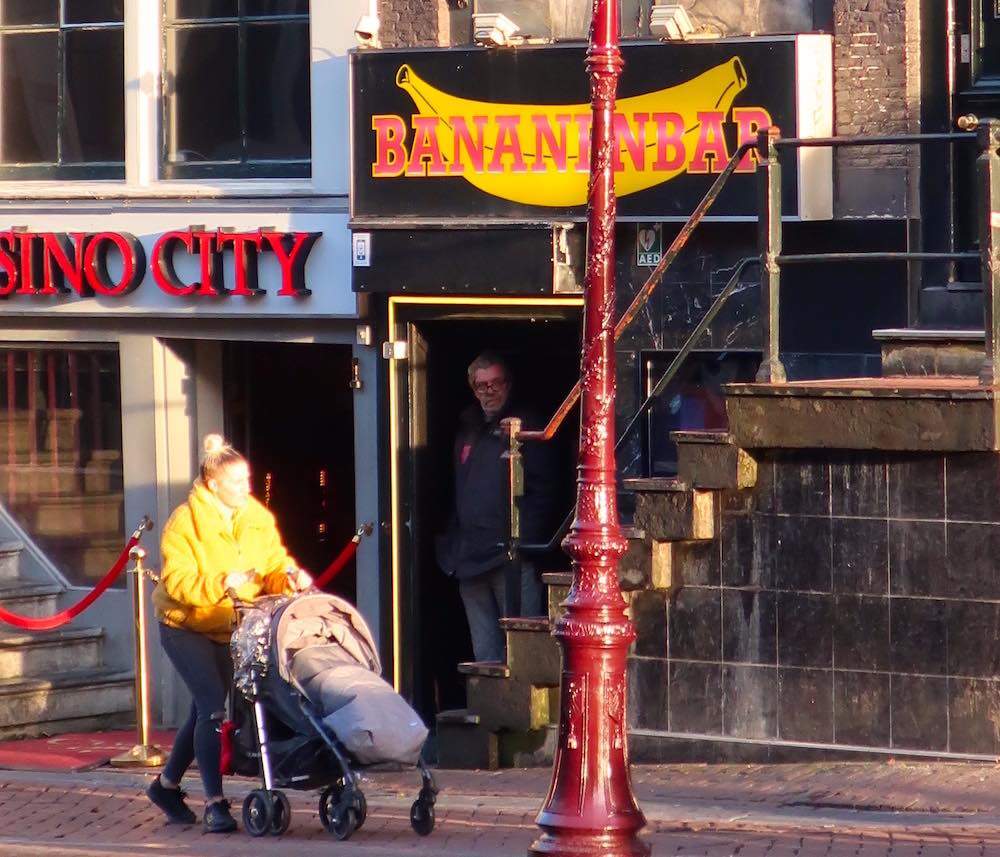 Banana Bar is stripclub located in the heart of Amsterdam. The club is known for its raunchy strip shows and its naughty atmosphere. Visitors to Banana Bar can expect to see a variety of strip tease acts, as well as plenty of lap dances and other forms of adult entertainment.
Inside the Bananenbar strippers perform all the possible acts that you can imagine with a banana. Some lucky visitors can even have a bite of a banana that is sticking out of the vagina of one of the ladies.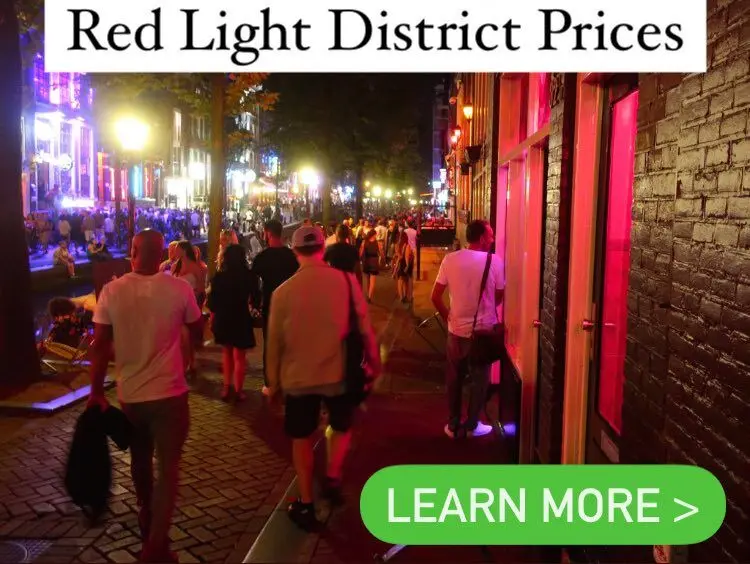 This stripclub is located on the famous street of the Red Light District, close to Casa Rosso and next to Cafe Old Sailor. The female strippers also use their private parts for writing shows so bring some postcards that you want to send to your friends.
The Bananenbar is bit of a vulgar strip club in Amsterdam. Certainly not everyone will like this place.
MORE DETAILS >
8 | Hospital Bar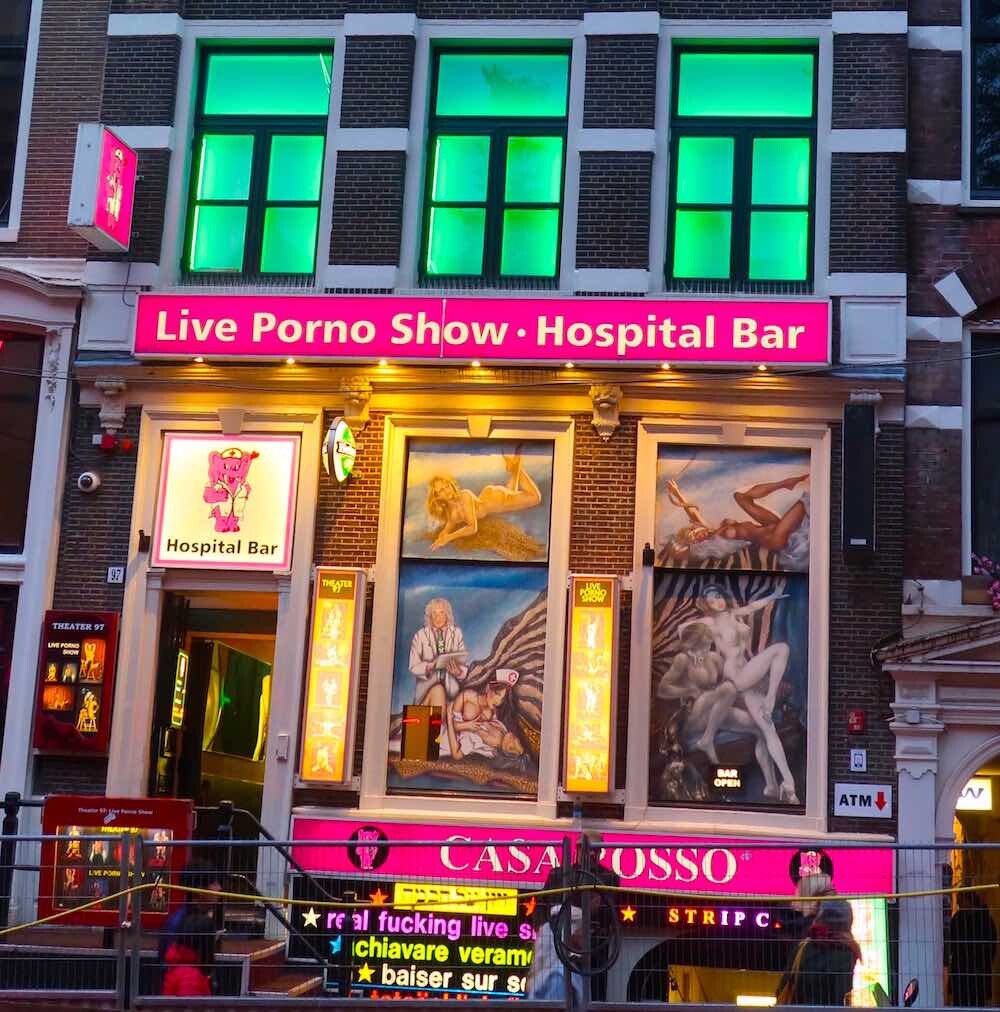 Located on the famous street in Amsterdam's Red Light District, the Hospital Bar is at number 8 on the list of most popular strip clubs in Amsterdam. It's the 8th best stripclub in Amsterdam because this erotic venue is for men only and usually it's visited by bachelor-parties.
The location is a great advantage, and it should also be said that the interior of the Hospital Bar is really fantastic. The female strippers inside are very attractive too.
The ladies are dressed as nurses, this is why it's called the Hospital Bar. This place is great for stag-parties but not really the best strip club for single men.
Reviews
Google: 2,9 out of 5 stars | 16 reviews
TripAdvisor: 2,5 out of 5 stars | 12 reviews
Disappointing and annoying to have paid money for it. Much too small and uncomfortable. A wrong impression from the outside.

⭐️ | Dome W
MORE DETAILS >
7 | Sex Palace Peep Show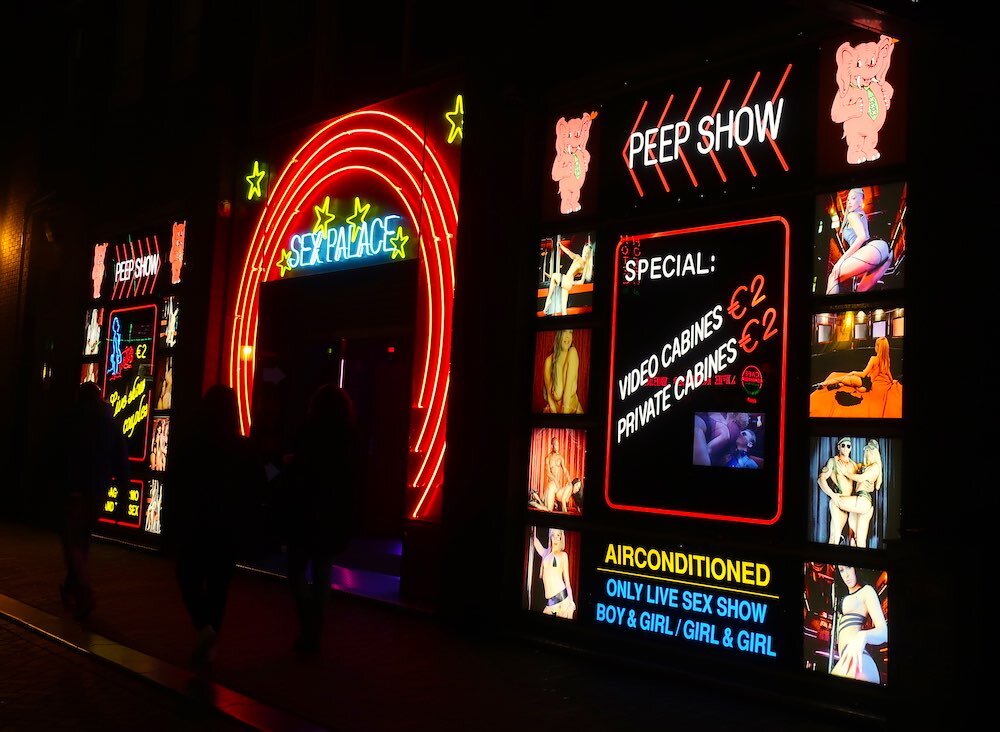 The cheapest erotic entertainment option in Amsterdam and also the most accessible form for stripteases. On the left-side one can find 12 cabins where live strip shows are offered. On the right-side is where the old school video cabins are positioned.
How much is a peep show?
For just 2 euros you can enter a private cabin and watch a live sex show for 2 minutes. If you want a long experience you will need to bring a lot more extra coins. Or, exchange your paper money for coins at the machine or cash register.
Can you have sex in peep show Amsterdam?
Yes, masturbation is allowed in the video booths. It is mainly men who jerk off while watching porn in the video booths. Its popularity has declined sharply since the advent of online porn.
In the live peep shows it is tolerated to have sex. In general, the peep shows are just visited by tourists who want to see the live peep shows. Occasionally, men will jerk off while watching the live peep shows.
This is the last remaining peep show in Amsterdam, so you could argue for a visit purely based on historical reasons.
MORE DETAILS >
6 | Sex Club Golden Key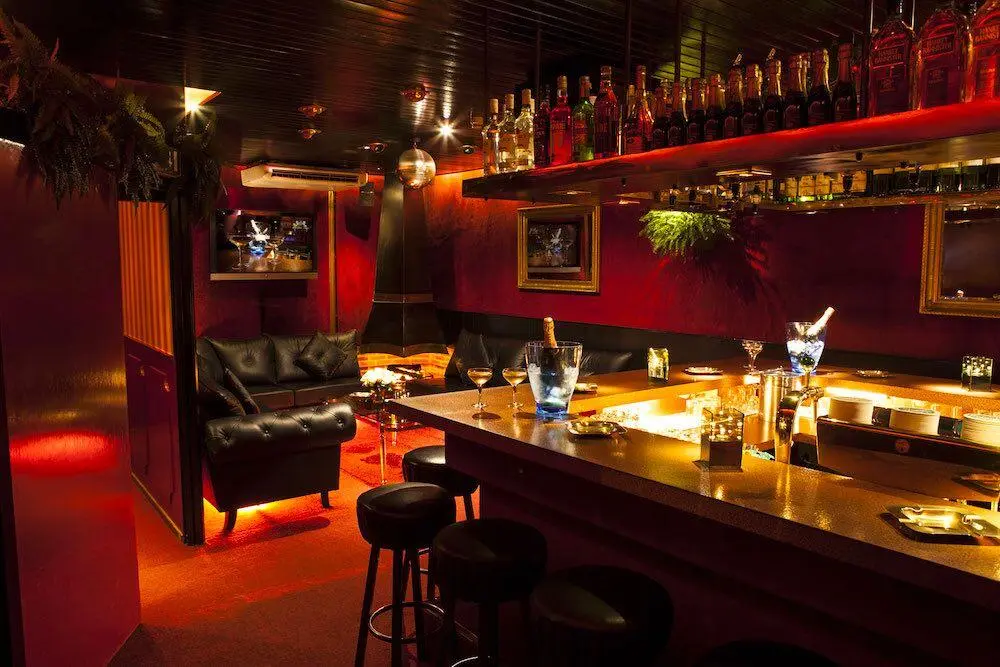 With 76 Google reviews of 4,1 / 5 stars, this erotic venue is already a very good recommendation. The main reason why Golden Key is listed at number six in this overview of best strip clubs in Amsterdam, is because it's more of a sex club than just a strip club. However the sex workers inside offer stripteases.
In other words; this is a brothel when customers can actually have sex with the ladies inside. Club Golden Key is centrally located in Amsterdam, on the Overtoom street – just next to the Vondelpark.
MORE DETAILS >
5 | Club LV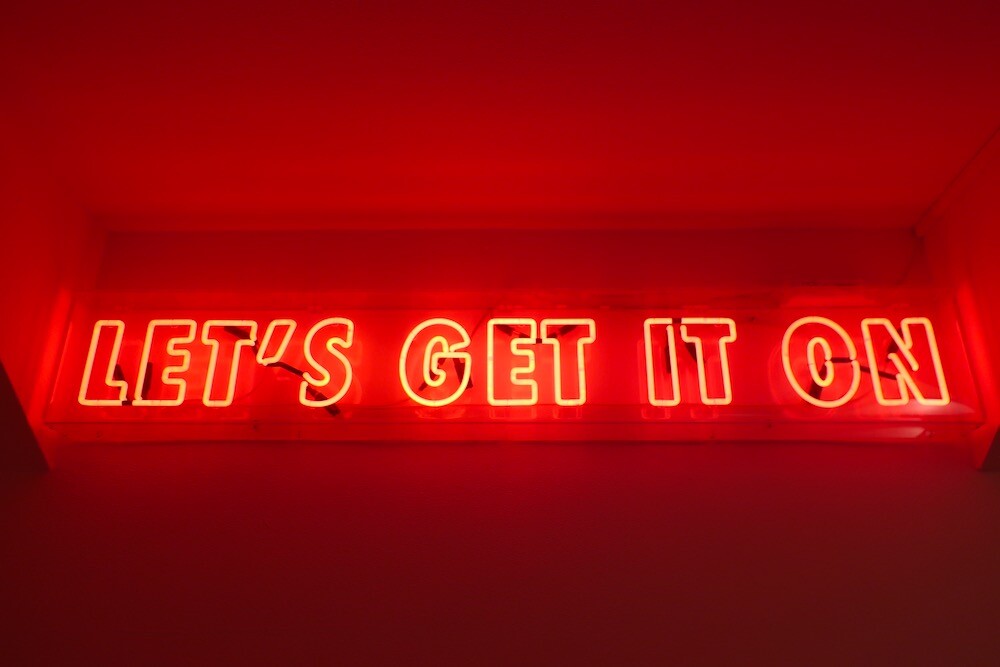 Whilst technically not a strip club, you can of course ask one of the ladies to strip for you in your private bedroom. Club LV has been a part of Amsterdam's erotic entertainment scene for over 14 years now.
Visit this club if you're purely looking for a sexual encounter. In the bar area you can pick and choose from a selection of 12 beautiful ladies. Once you've got your mind made up the two of you (or three) can go to one of the 8 spacious private rooms for some intimacy and privacy.
Club LV is owned by the same two women who run the best strip club in Amsterdam, which you can find at number one.
MORE DETAILS >
4 | Moulin Rouge Amsterdam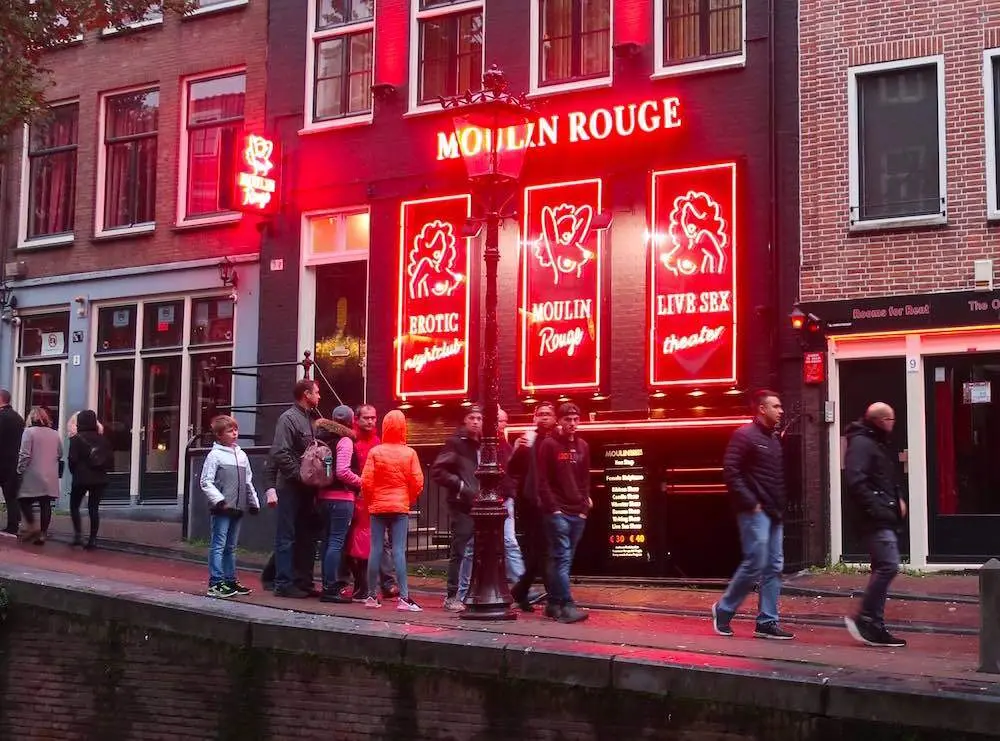 This isn't a French burlesque show. At Moulin Rouge Amsterdam you can expect live on stage sex. Beautiful performers put on their best act in this small and intimate erotic theater. Because of its small size you will always be seated close to the action.
Besides live couple sex you can also expect female stripteases, male stripteases, shows with bananas, vibrators and ribbons.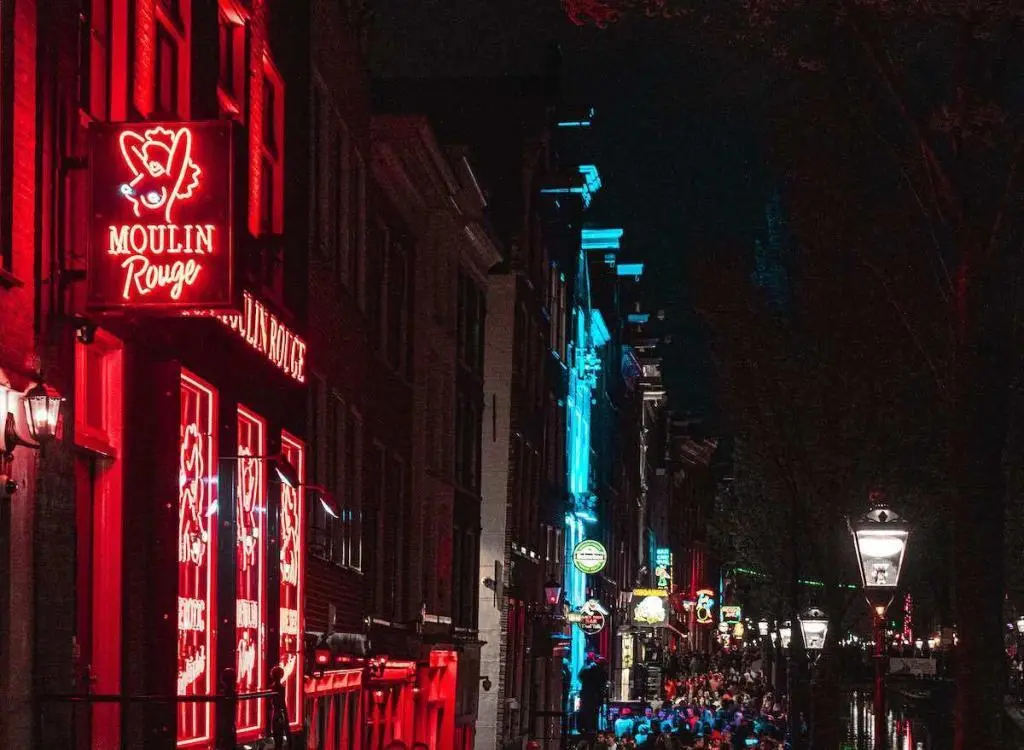 Moulin Rouge is situated on the main street in the Red Light District, just a 10 minute walk from Central Station. Another advantage is that this erotic venue is also fun for female customers. And, the doormen speak several languages and love to welcome you in your own language.
MORE DETAILS >
3 | Casa Rosso Amsterdam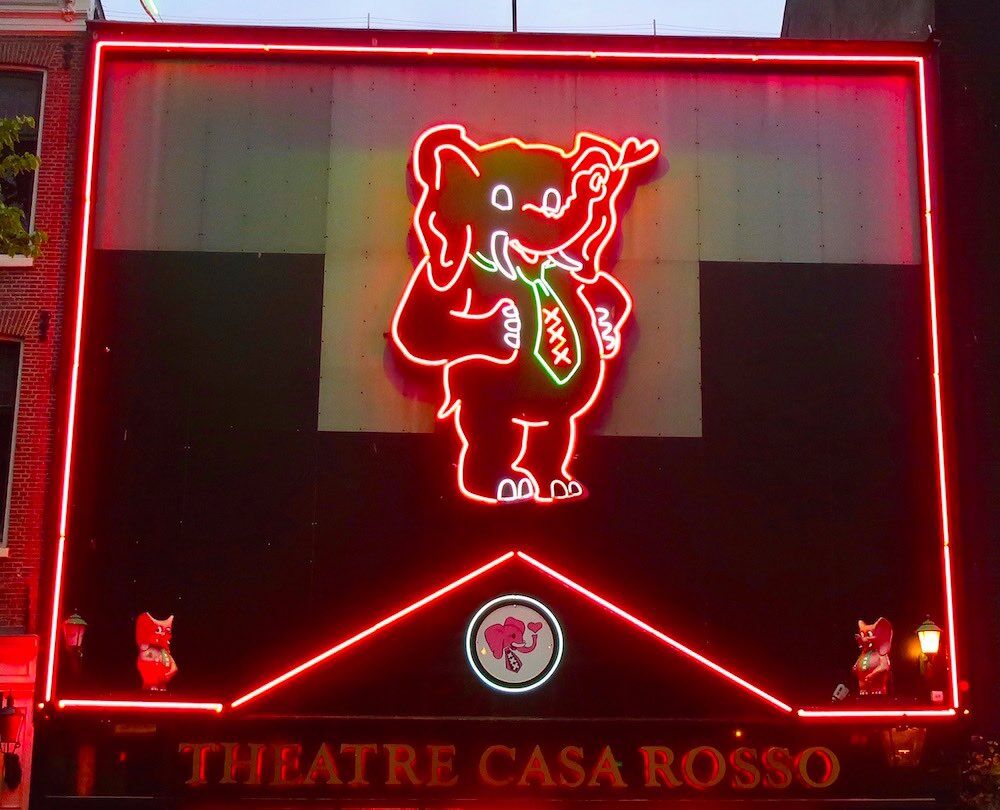 This is the most famous erotic venue in the Netherlands. It has been around for 50 years and experienced a lot. To be honest, Casa Rosso Amsterdam is more of a sex show where several acts are given by several performers in one evening, but there are also strip shows inside.
Reviews
Me and my girlfriend came. Was so excited and didn't know what to expect. Show was really nice. Sexy dancers very interactive. Funny sexy good music. Very great experience and would highly recommend this place!

⭐️⭐️⭐️⭐️ ⭐️| Lauren Harschman
I liked it very much! At first I was unsure because 40 euros for the show seemed a bit much. From my point of view it was worth it! I really enjoyed the show. There were many acts. Solo and couples, I enjoyed the solo shows more and found these more entertaining. There were also some solo acts that interacted with the audience and brought people onto the stage. We had a domina who was such a bombshell and such a good entertainer!!!!

⭐️⭐️⭐️⭐️⭐️ | Daniela Franken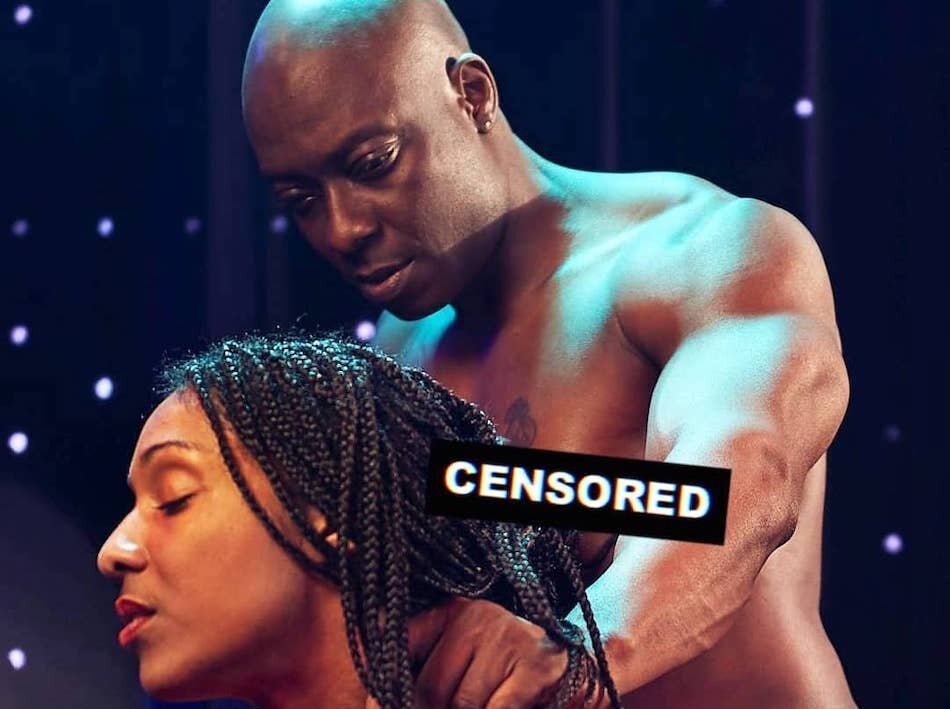 Over a period of around 60 to 90's minutes you'll see a wide range of acts performing on stage. This includes live couple sex, strip shows, cigar vagina smoking, a banana show and some fun crowd interaction. Here you can have a real "Only In Amsterdam" experience!
MORE DETAILS >
2 | Male Strip Club in Amsterdam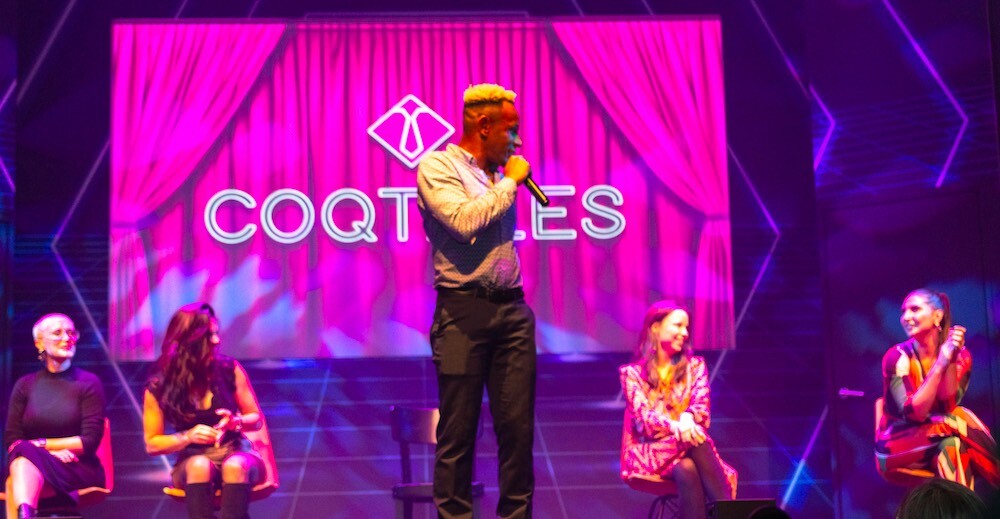 This is without a doubt one of the best strip clubs in Amsterdam. Not only because it's for female customers only but also because it offers an amazing night out with a great show and a very cool interior. This place was set up for real exciting girls night out.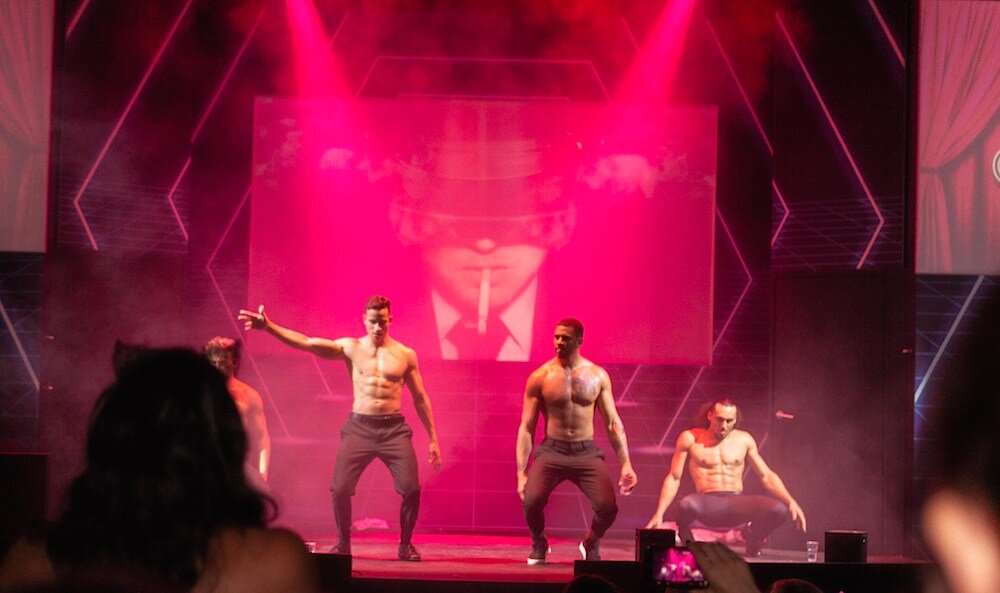 Once inside you can get very nice cocktails, wines, beers or champagne here. Of course there is also soft drinks and alcohol-free drinks. So-called VIP places are offered where you can sit at the very front with your own table. There are also cheaper places in the back.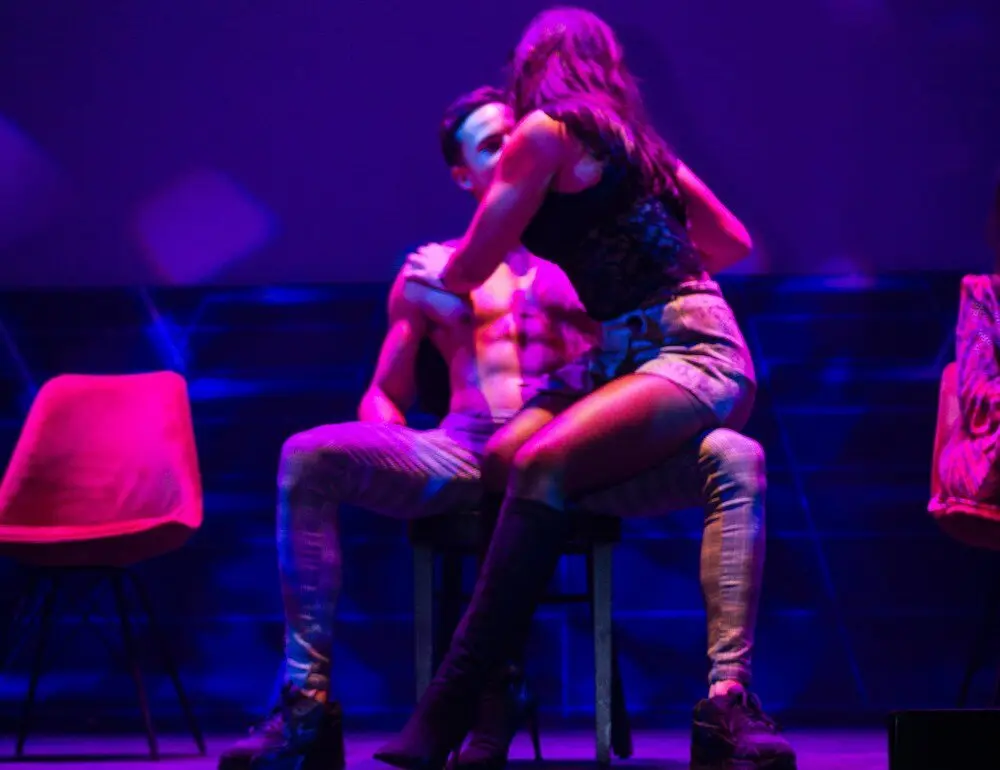 The evening is hosted by the male host who is also the owner. And, there are four different male strippers who give multiple shows. This venue also offers lap-dances. If you want, you can treat one of your friends on a lap dance from one of the hot guys. This place is recommended for ladies who want to have a real night out in Amsterdam!
MORE DETAILS >
1 | Club BonTon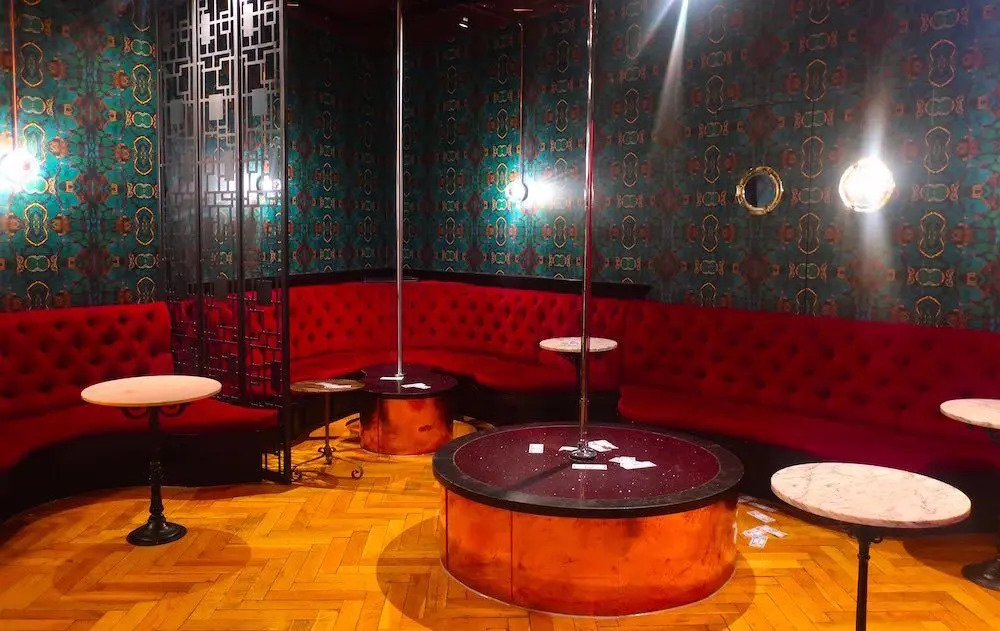 Club Bon Ton is definitely the best strip club in Amsterdam! Founded in 2019 and owned by two amazing female entrepreneurs, Club Bon Ton is a beautiful erotic venue that welcomes both men and women.
It's situated in a stunning canal house on the Stadhouderskade, just next to the Heineken Brewery and the Marie Heinekenplein. When you arrive at Club Bon Ton you are welcomed by the very neatly dressed bouncers. They are there for your safety.

Then you can enter the hallway, where you have to pay entrance and can hang your coat. After that you can walk to the first floor where the party takes place.
Club BonTon has currently 68 Google reviews and a score of 4,3 out 5.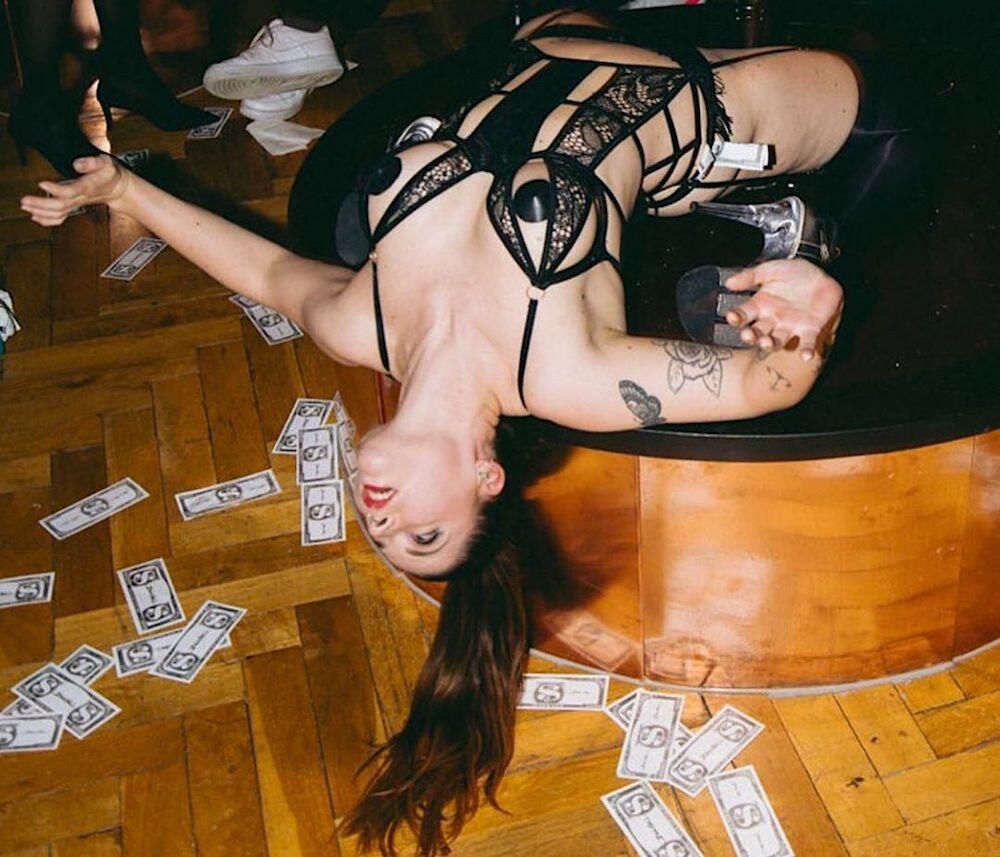 One of the first things you'll see is the beautiful interior: An amazing bar, a beautiful floor, three strip posts and several luxurious sofas. Everybody can have a fun, exciting night out at Club BonTon.
MORE DETAILS >
How old do you have to be a stripper?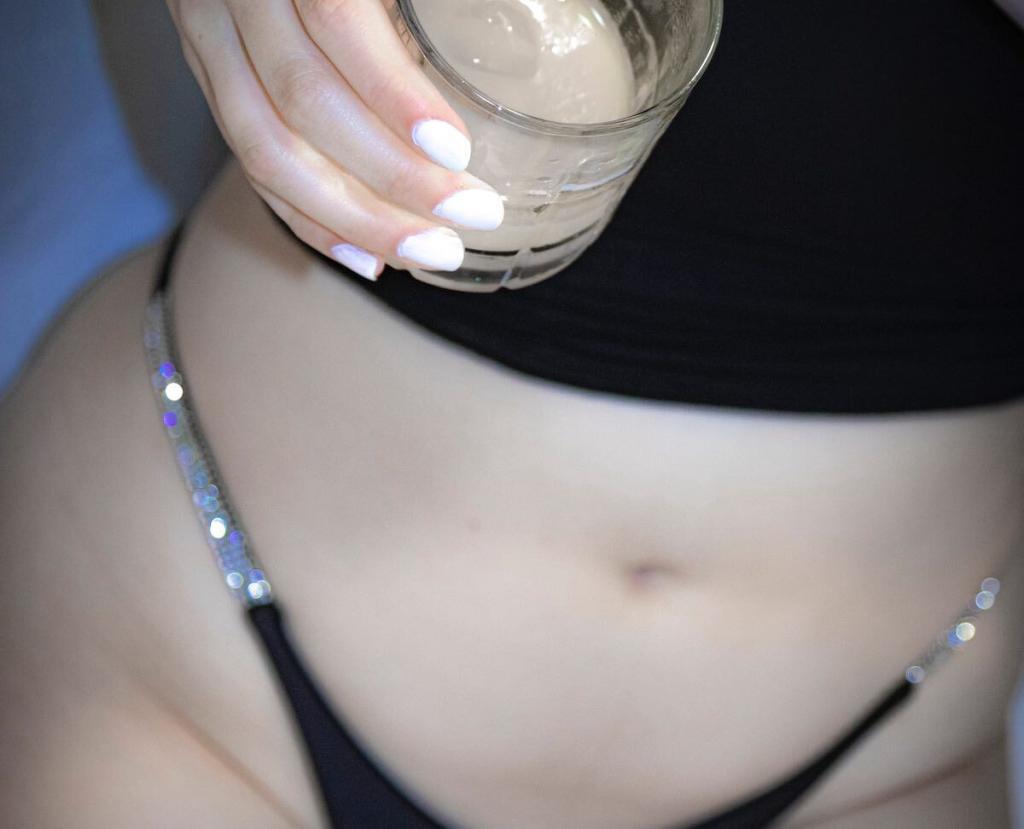 The age requirement for stripping in Amsterdam is 18 years old. Some clubs may require that strippers be 21 years old.
There are a few ways to become a stripper in Amsterdam. The most common way is to contact a club directly and inquire about auditions or open call nights. Many clubs have websites where they post information about upcoming auditions.
Another way to become a stripper in Amsterdam is to contact an agency that represents strippers. Some agencies will require that you have professional experience, but others may be willing to consider new talent.
How to dance like a stripper?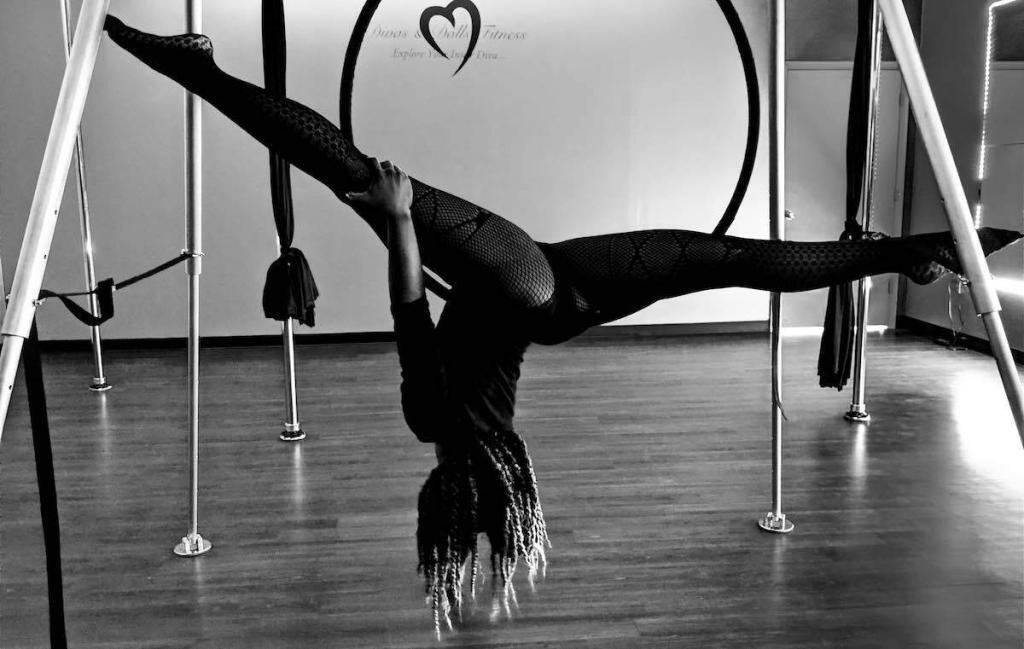 If you want to dance like a stripper, it's important to be confident and comfortable with your body. Start by finding a song that really gets you moving, then let loose and dance without inhibition.
Remember, there's no right or wrong way to dance; just have fun and enjoy yourself. When you're ready, add some sexy moves into your routine, such as grinding or shaking your hips.
As you dance, keep your energy up and make sure you're staying aware of your surroundings. If you want to give your dance an extra sensual edge, incorporate some slow, suggestive moves.
And don't forget the all-important finishing touch: a smile. Whether you're dancing for yourself or someone else, if you exude confidence and enjoy yourself, you're sure to put on a great show.
ALSO READ:
Amsterdam Audio Tour In The Red Light District
MORE AMSTERDAM TIPS >