The Ultimate Dutch Pancakes Guide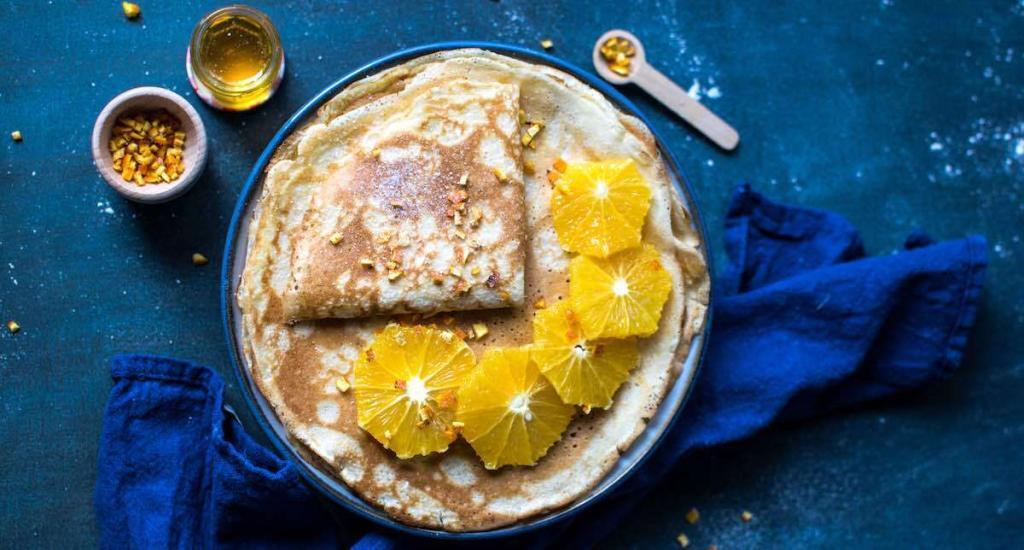 So what is the best place to get Dutch pancakes in Amsterdam? In this article we won't be mentioning the best mini Dutch pancakes in Amsterdam only the very best big ones! We've selected the best 5 options for you below.
Best Dutch Pancakes in Amsterdam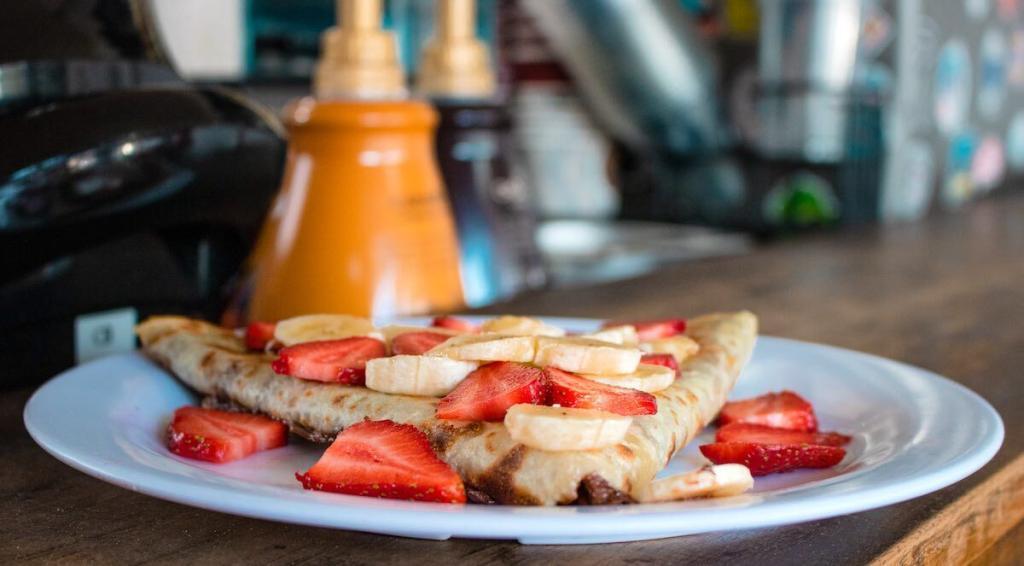 1 | Madam Pancake – All Day Dutch Pancakes
Those who do not necessarily have to eat their breakfast in the morning can go to Madam Pancake for a diverse all-day-breakfast menu. With the matcha pancakes as a center show piece. Matcha is a Japanese green powder tea and is also known as the superfood among the superfoods.
For a good start of the (mid-) day, the menu is full of healthy options. For those who want a somewhat heavier soil, there is The Hangover (€ 11.95), with toppings such as bacon, sausage, caramelized onions and sour cream.
Adress | Lange Niezel 18
2 | The Happy Pig – Rolled Up Dutch Pancakes Outside
If you like to combine eating your pancake with a stroll through the streets of Amsterdam, then The Happy Pig is the right place for you. This is because the pancakes are rolled up, cut into pieces and served in a paper bowl. A tasty bite to enjoy along the way. The concept of the restaurant is "Build your own pancake", where you can create your ideal combination with the endless toppings. Those who prefer vegan or gluten-free can also go here.
Adress | Rosmarijnsteeg 12
3 | Dutch Pancake Bakery Amsterdam: Corner Bakery
After the popular red velvet cake, there is now also the red velvet pancake. Available at the Corner Bakery, which is known for its dishes full of color. In the shop's showcases there are beautiful cakes, pastries and baking that perfectly match the playful interior. The red-colored pancakes are topped with a creamy cream cheese sauce that is characteristic of the red velvet cake. If you order the pancakes, you will also receive a plate full of colorful fruit.
Adress | Several locations
What are pancakes called in Amsterdam? Dutch pancakes are called pannenkoeken. Pannenkoek is pronounced as: [pɑnəˌkuk]. A literal translation to English would be pan-cookies.
4 | Upstairs
The Upstairs Pancake House is a a bit small but very nice. The restaurant, located in a typical Amsterdam house from 1539 with steep stairs, has a capacity of just eighteen people and is therefore the smallest pancake house in Europe. At Upstairs they work as much as possible with organic local products. The meats that the restaurant receives fresh from the local butcher's shop can be found in the tasteful and richly filled pancakes with pulled beef (€ 13) and chicken ragout (€ 12).
Adress | Grimburgwal 2
5 | Moak Pancakes – Pancakes The American Way
You can recognise Moak Pancakes by the long lines that are always at the entrance. The two restaurants with an American old school hip-hop vibe are extremely popular and for a reason. They are known for their thick, airy, richly filled American pancakes.
The restaurant has a large and diverse menu, with the most unusual combinations of toppings and fun names. Consider The Golddigger, the most expensive pancake in the Netherlands. For a whopping 100 euros you will receive a generous pancake experience, including 22 carat gold leaves, a glass of champagne and Versace service.
Adress | De Clercqstraat 34H + Jodenbreestraat 144
Pancake Day In Amsterdam
Unlike in the UK Amsterdam doesn't celebrate a pancake day. Over here everyday is pancake day! 😉
Pancake day is a special day celebrated across in United States, Canada & United Kingdom. It's a day when people come together to enjoy delicious pancakes and share their love of this popular breakfast food. But when is pancake day?
The answer may surprise you. Pancake day is actually a movable feast, which means it falls on a different date each year. This year, pancake day will be celebrated on Tuesday, March 8th. So mark your calendars and get ready to enjoy some delicious pancakes!
How many calories in pancakes?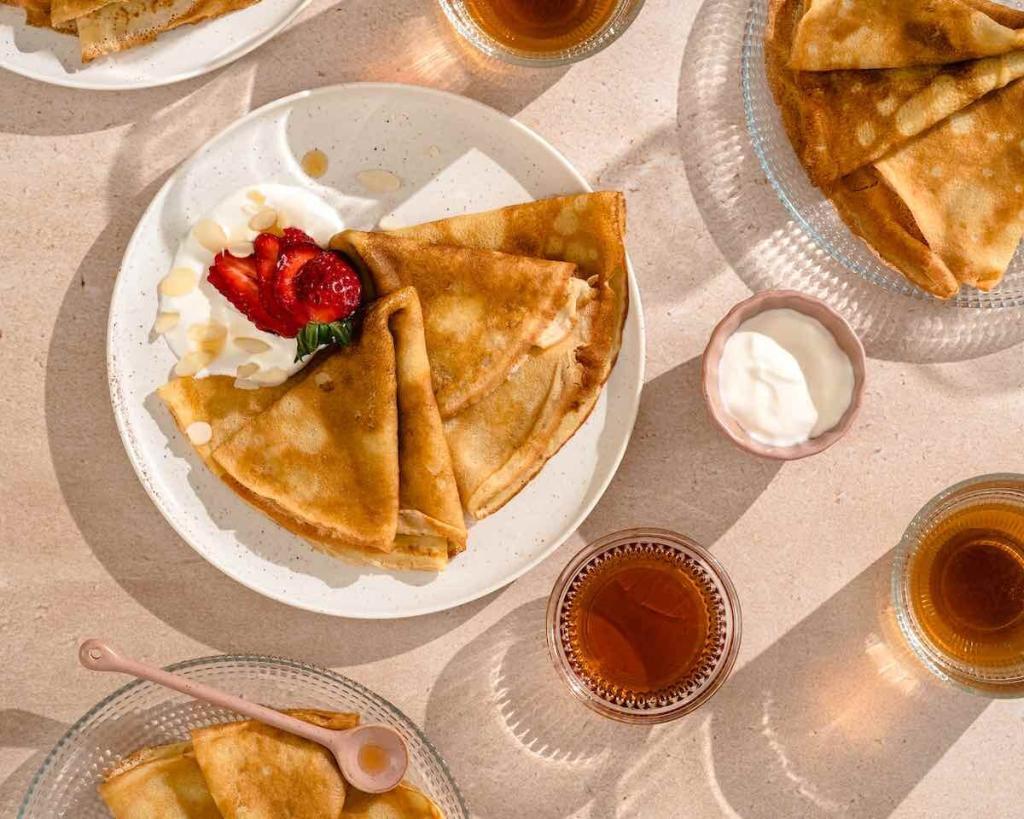 Pancakes are delicious, and they're also pretty nutritious – as long as you don't drench them in syrup, of course. A typical pancake has around 100 calories, which isn't too bad. But if you start piling on the toppings, the calories can quickly add up. For example, a single tablespoon of butter has almost 100 calories, and a quarter-cup of syrup has over 200 calories. So if you're looking to watch your calorie intake, it's best to keep it simple with just a few pancakes – and maybe skip the pancakes entirely if you're really watching your weight!
Who invented pancakes?
There are many theories about who invented pancakes, but the truth is that we may never know for sure. Some say that the first pancakes were made by the ancient Greeks, who cooked them on hot stones. Others believe that the Chinese were the first to make pancakes, using a batter made from rice flour and water. Regardless of who was the first to make them, pancakes have become a beloved breakfast food around the world. In America, they are often served with syrup or fruit, while in France they are usually eaten with savory toppings like cheese or ham. No matter how you eat them, pancakes are a delicious way to start the day.
How to make healthy pancakes?
There's no need to feel guilty about indulging in pancakes for breakfast – especially if you make them healthy! Here's how:
Use whole grain flour instead of white flour. This will give your pancakes more fibre and nutrients.
Add some healthy toppings like fresh fruit, yoghurt or nuts. These will add even more nutrients and make your pancakes more filling.
Use a healthy cooking oil like olive oil or coconut oil. This will help to prevent your pancakes from sticking to the pan and making them greasy.
Use milk instead of water in the batter. This will make your pancakes richer and more flavourful.
Following these tips will help you to make delicious and healthy pancakes that you can enjoy without guilt!
What are German pancakes?
German pancakes, or as they are more commonly known in the States, Dutch baby pancakes, are a type of pan-fried cake that is puffier and thinner than your average pancake.
German pancakes are made with a batter of eggs, milk, flour, sugar, and melted butter. They are usually served with powdered sugar and lemon juice. German pancakes are thought to have originated in Germany, but they gained popularity in the United States during the early 1900s.
German immigrants brought the recipe for German pancakes to America, and they quickly became a breakfast favorite. Today, German pancakes are enjoyed all over the world.
ALSO DISCOVER:
Amsterdam Red Light District: Ultimate Travel Guide
5 Best Spicy Restaurants in Amsterdam