10 Best Cheap Hotels In Amsterdam City Centre
This list offers the best cheap hotels in Amsterdam city centre. Every hotel has its pros and cons but with the information in this article you should be able to find an affordable hotel that works best for your planned Amsterdam city trip.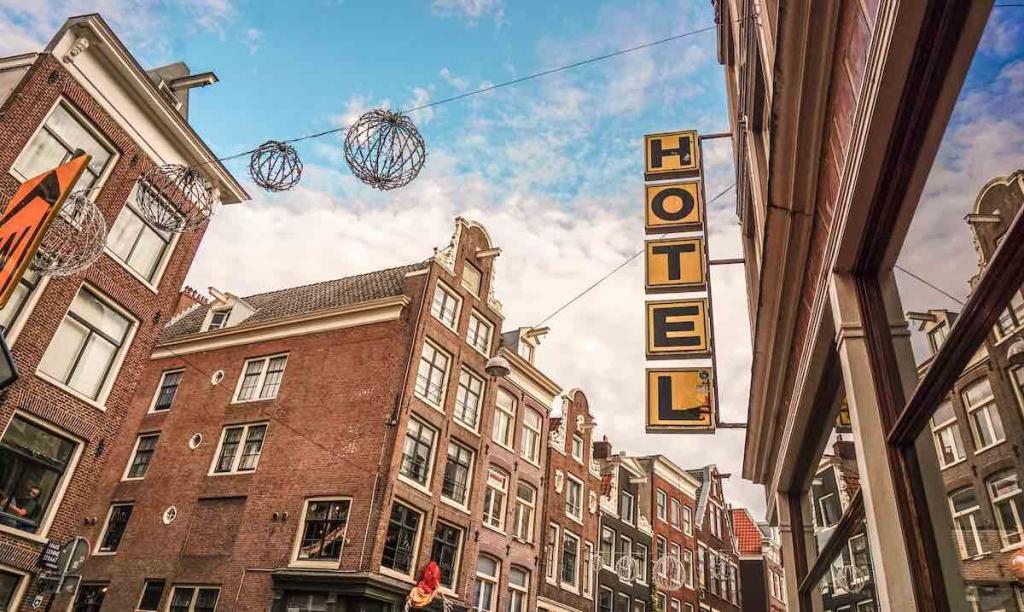 SHOW CHEAPEST HOTEL >
Top 10 Cheap Hotels in Amsterdam
10 | Hotel La Belle Vue | € 120,- per night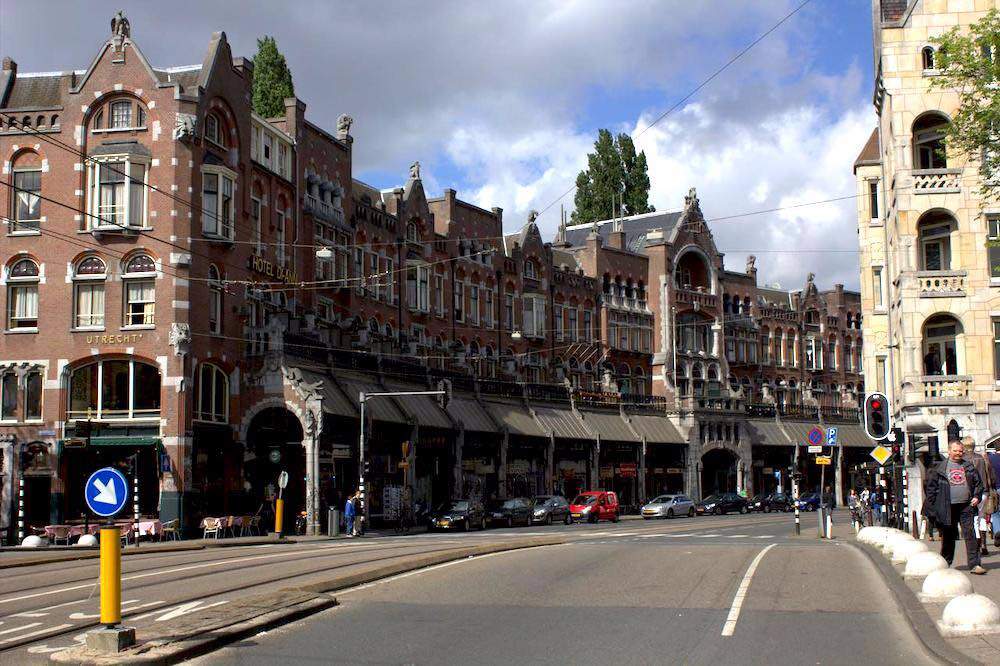 A good hotel at a great location with reasonable value for money. The hotel is situated between the main attractions Dam Square, Amsterdam's main square, Westerkerk and the Anne Frank House. Everything within the old historic centre is within reasonable walking distance.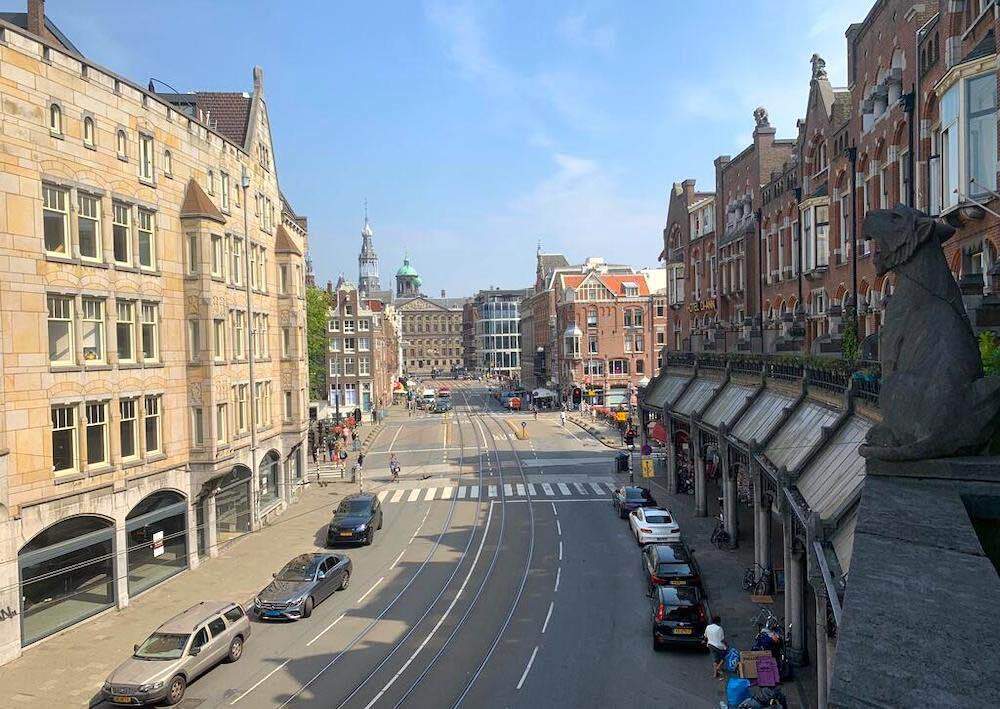 Located close by to the west is the Jordaan district. Here you can find many great restaurants and bars mainly filled with local Amsterdammers. And, the canals are around the corner.
I WANT TO STAY HERE! >
9 | City Hotel Amsterdam | € 114,- per night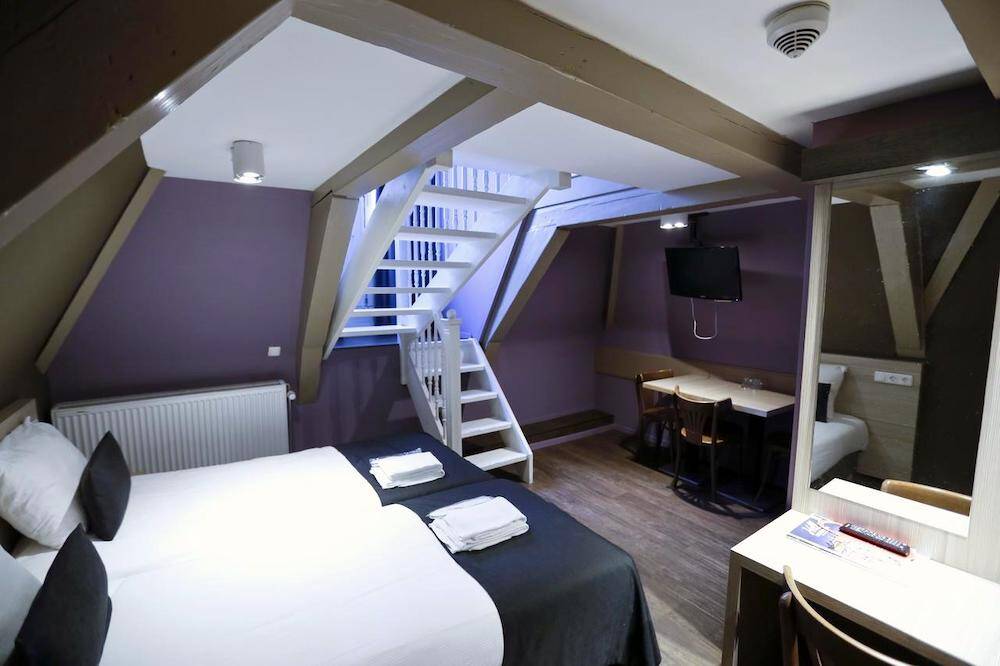 The first hotel on our list is located close to the historic 15th century city centre of Amsterdam. The Red Light District, Amsterdam's oldest area, is a 5 minute walk away. Amsterdam's main square, Dam square is a 10 minute walk.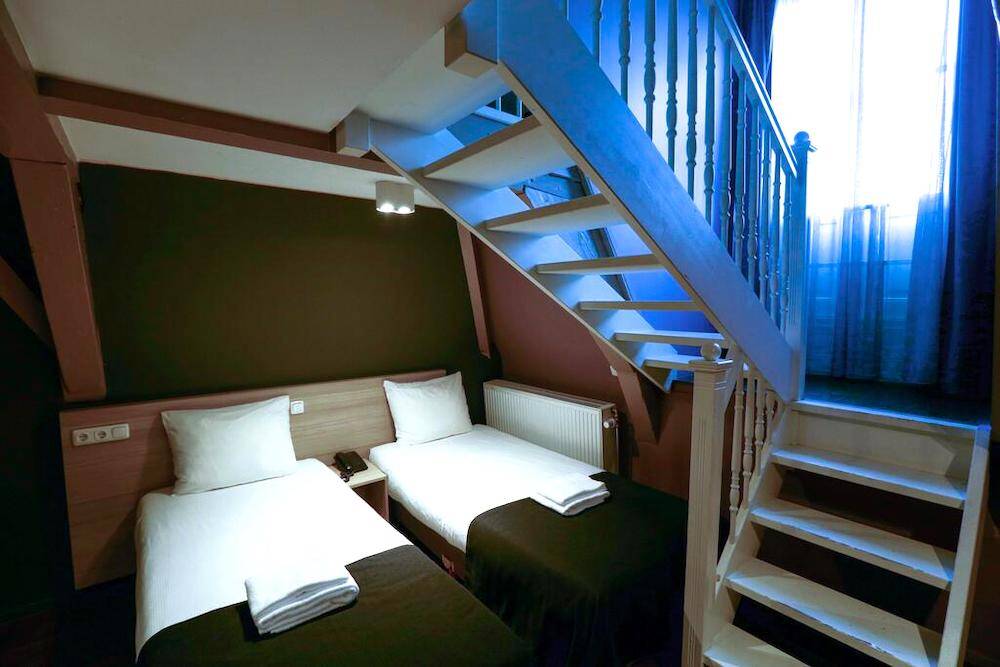 The hotel itself is situated in a historic 18th century building. The hotel stands next to a busy street so this might be a problem for those who prefer peace and quiet.
I WANT TO STAY HERE! >
8 | Hotel City Garden Amsterdam | € 97,- per night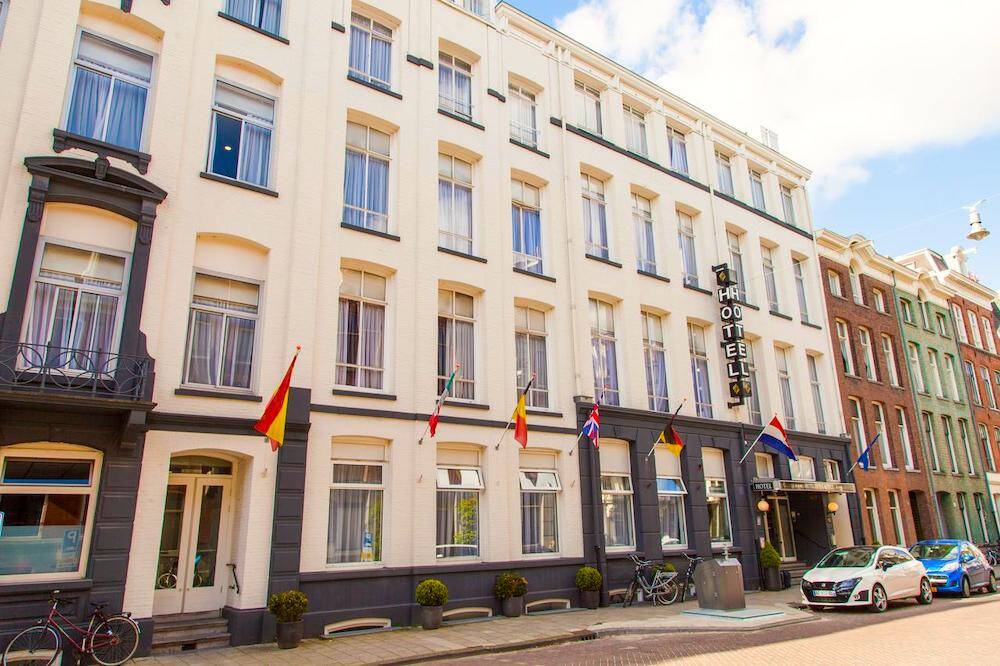 The Hotel City Garden Amsterdam isn't located in the old centre of the city. However, it's located right next to the Vondel Park, Amsterdam's largest and most beautiful park, and the museum district.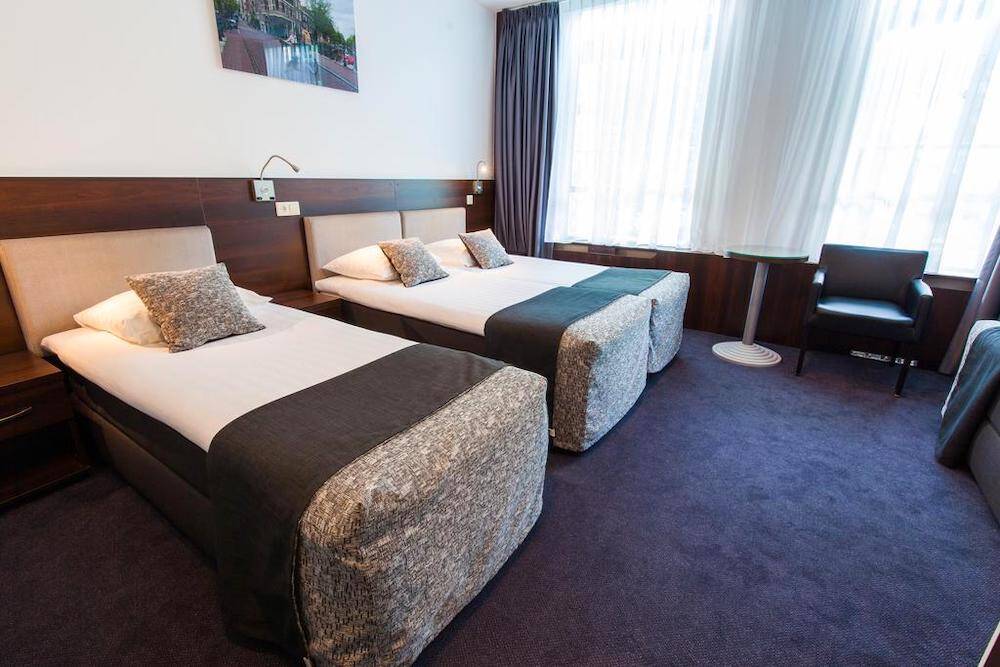 If you want to visit Amsterdam's top museums like the Van Gogh Museum, Rijksmuseum, and Stedelijk Museum this hotel is a great and affordable option. A great spot away from the old city centre bustle.
I WANT TO STAY HERE! >
7 | Amsterdam House Hotel | € 97,- per night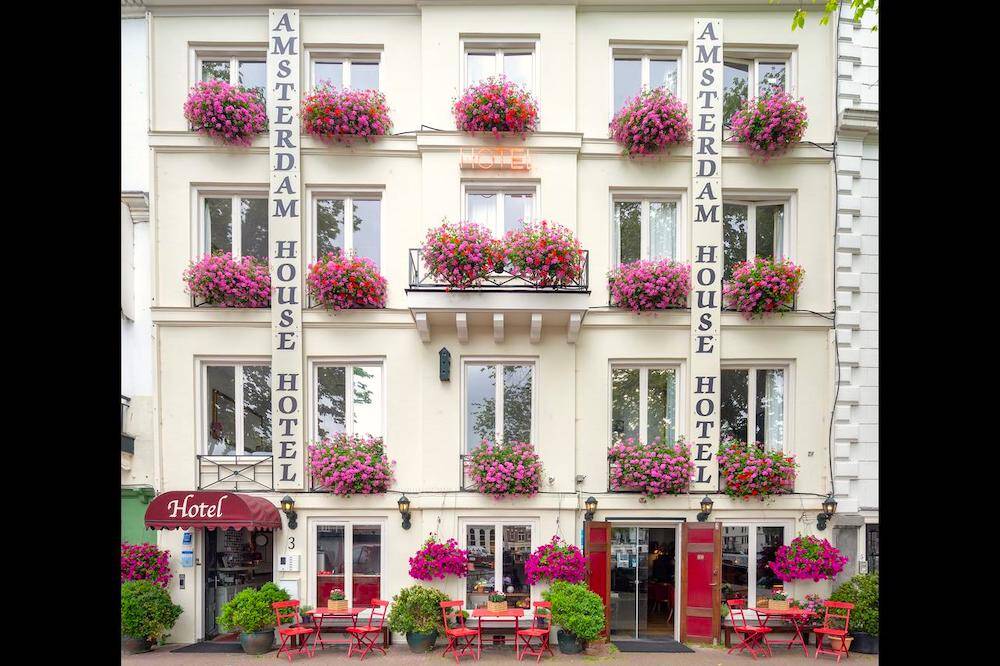 This hotel is located right in the centre of the old city centre. In our opinion the best location on this cheap hotels in Amsterdam city centre list. It's a great place to stay if you want to explore Amsterdam's historic centre on foot as everything is within reasonable walking distance. The hotel also has an amazing view over the Amstel River.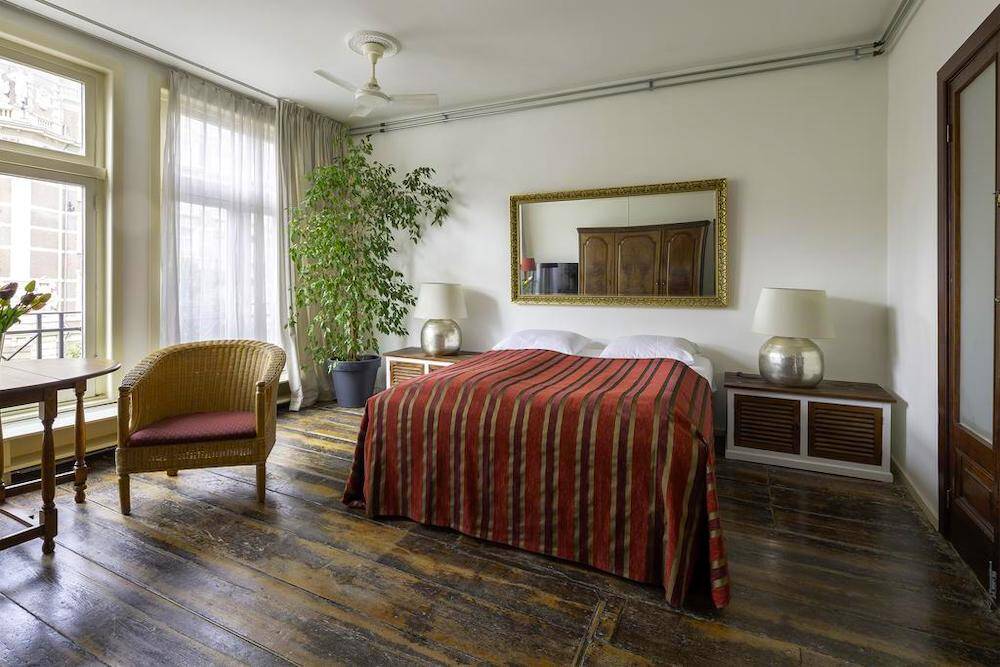 For those who like to party the Rembrandt Square entertainment area is just a 3 minute walk from your hotel room door. And, the Red Light District is just a 10 minute walk away.
I WANT TO STAY HERE! >
6 | Cafe Modern Hotel | € 94,- per night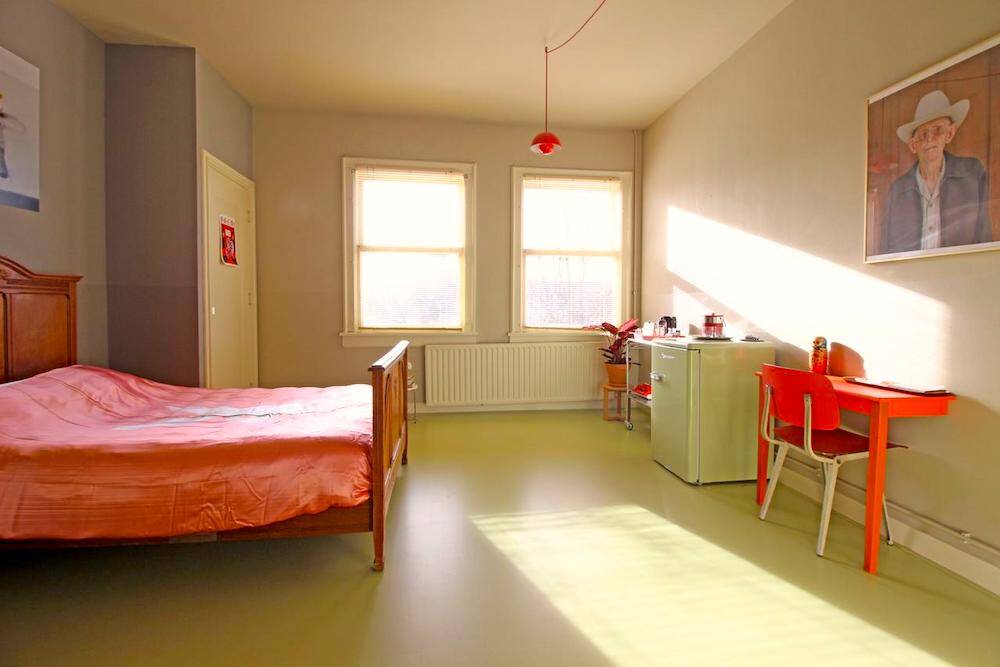 This hotel isn't technically located in the city centre as its in the northern part of Amsterdam, just over the IJ river. However, a short and free ferry trip across the IJ river will put you in Amsterdam's historic city centre.
TIP: Rent a bike when you book this hotel. It will save you lots of time and it's fun too!
The Northern part of Amsterdam is also an upcoming part of town with a lot of new hot spots where you'll mostly only see locals.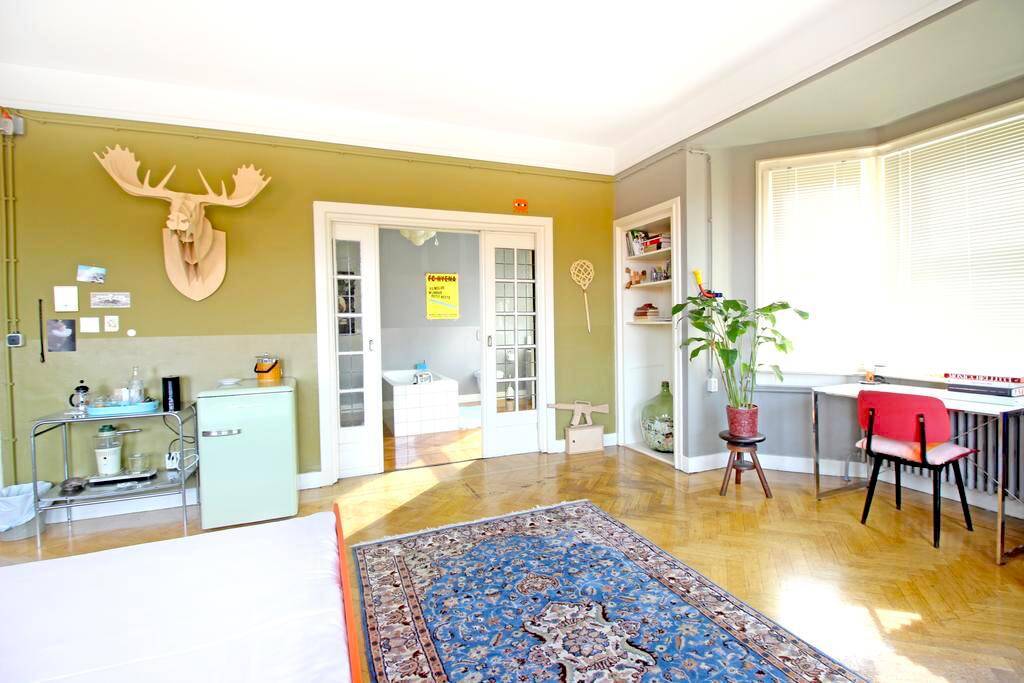 The ADAM Tower is close by, just like club Shelter. If you'd like to stay in area that is not that busy, than this hotel is a great choice!
I WANT TO STAY HERE! >
5 | Dina-Perla Lodges | € 91,- per night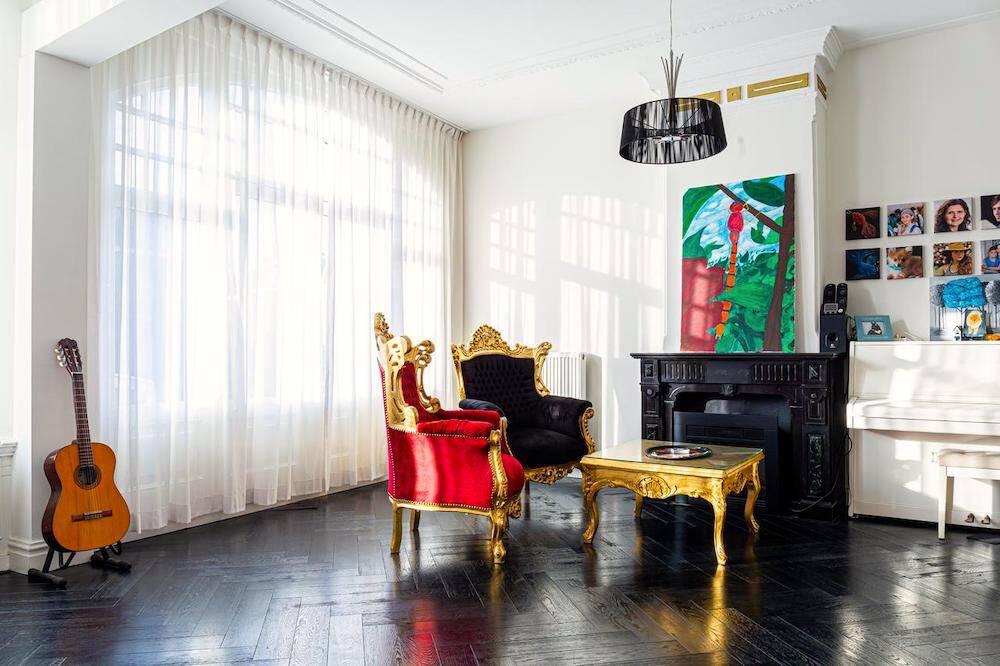 This bed and breakfast is located close to Amsterdam's museum district, just about right next to the Amsterdam Concert Hall. This classical music concert building is known around the world for its high quality sound. It's considered to be one of the best concert halls in the world.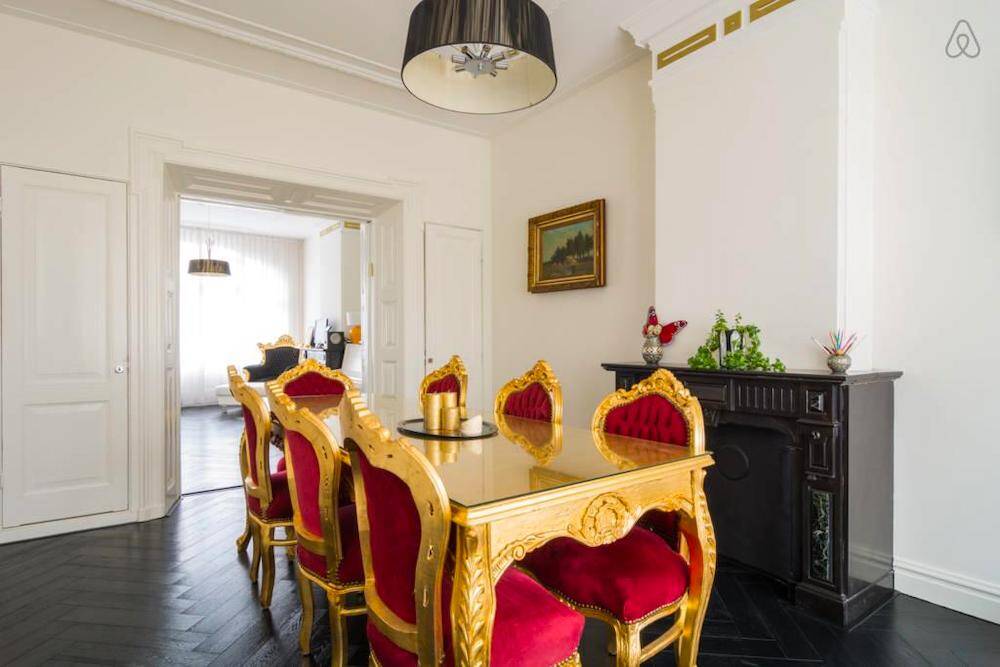 If you plan on visiting all the main museums – like Rijksmuseum – and a concert this is your best low-budget option. Dina-Perla Lodges is also located close to De Pijp area, a locals hotspot, where there are many great restaurants, bars and terraces.
I WANT TO STAY HERE! >
4 | Generator Amsterdam | € 78,- per night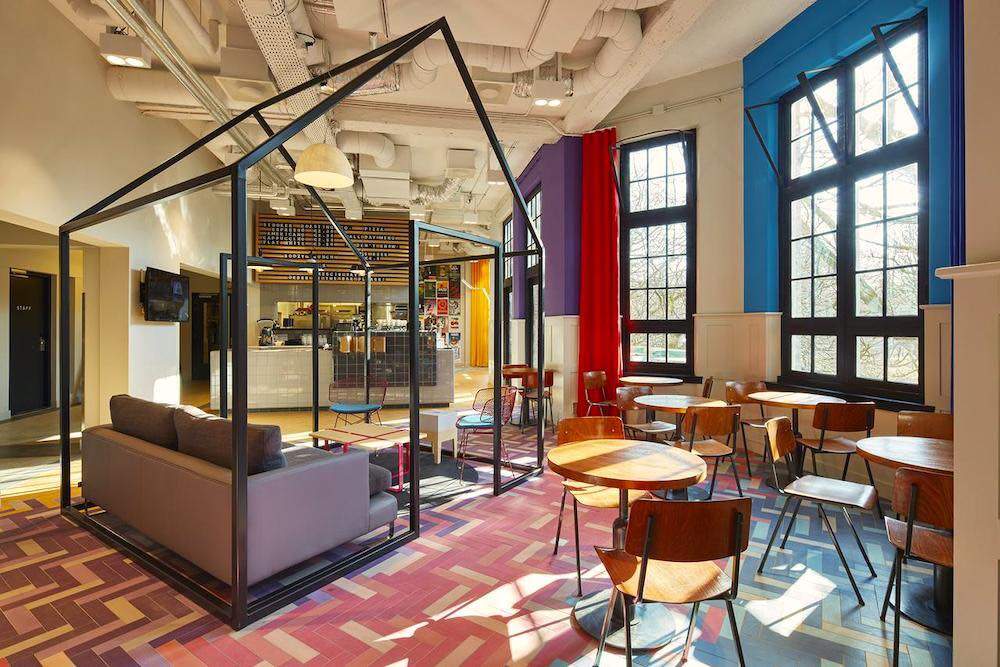 Hotel Generator Amsterdam is located in the more eastern part of Amsterdam which becomes obvious when you hear that its connected to the Oosterpark (Eastern Park). Attractions such as the Amsterdam Zoo Artis and the Jewish district are reachable with a 5 minute walk.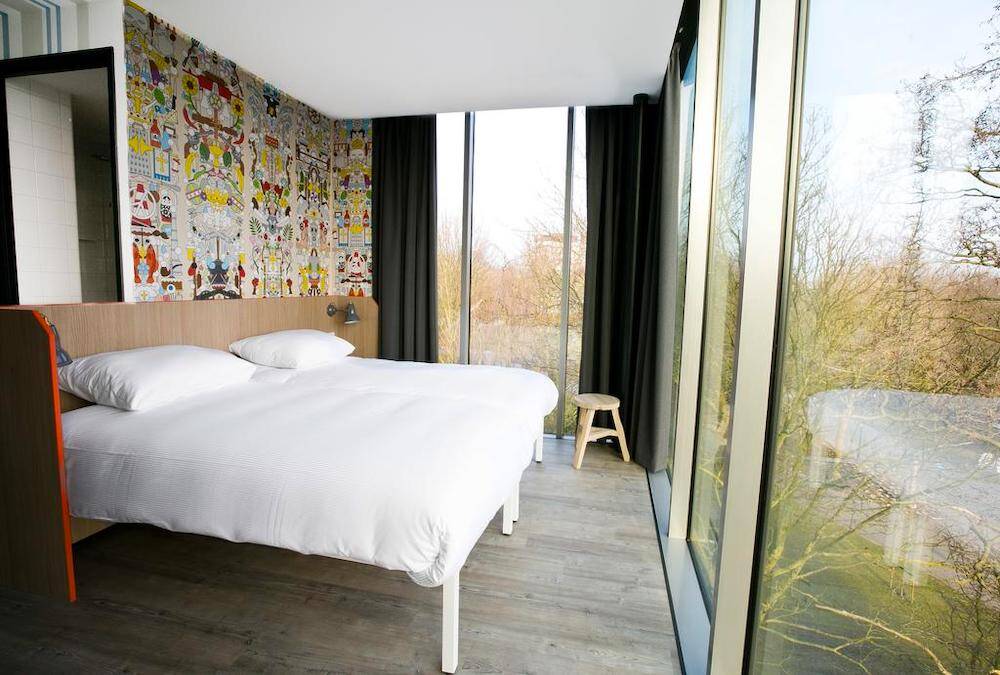 Other parts of Amsterdam might be a bit too far away so we'd advice you to get some public transport tickets, both tram and bus stops are close by. Or, rent a bike! Around the hotel there are many great bars and restaurants.
I WANT TO STAY HERE! >
3 | Budget Hotel Hortus | € 69,- per night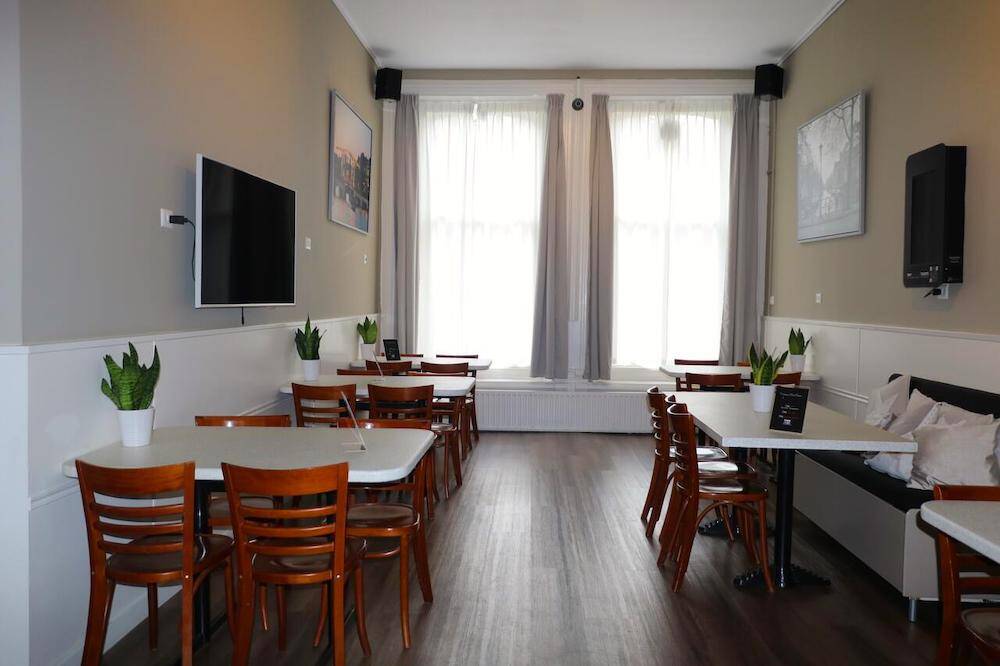 This cheap hotel in Amsterdam is located in the middle of the jewish district, containing many building dedicated to Amsterdam's rich jewish history. It's only 71 euro! Other close by attractions include the Amsterdam botanical garden and the Rembrandt House.
Budget Hotel Hortus is located a bit further to the centre of Amsterdam compared to the previous cheap hotel in Amsterdam. If you'd like to stay in the eastern part of the city we would advice this hotel purely based on the location.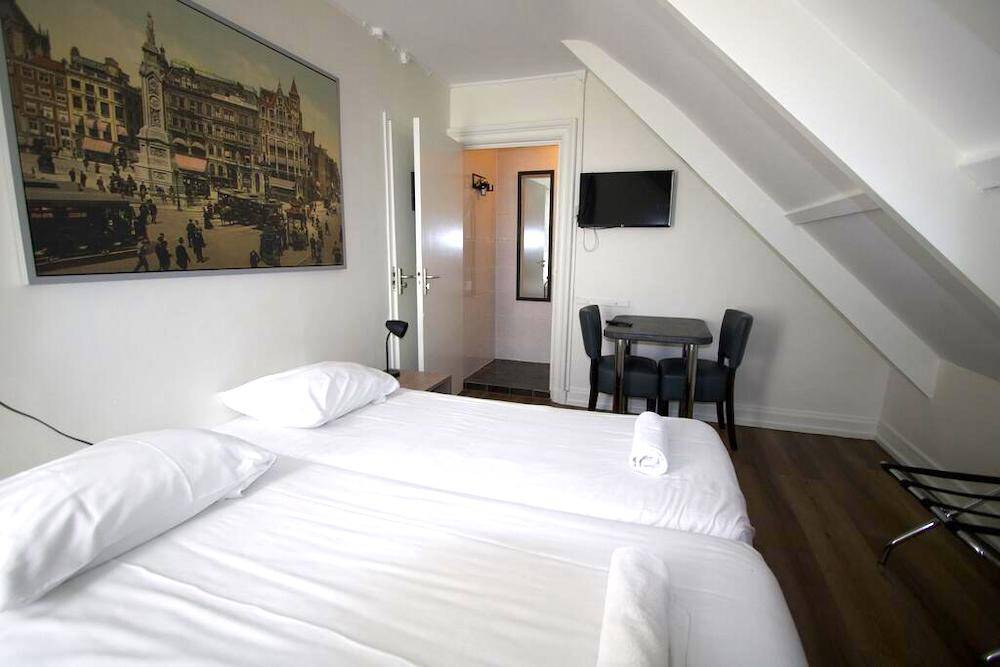 I WANT TO STAY HERE! >
2 | ClinkNOORD Hostel | € 48,- per night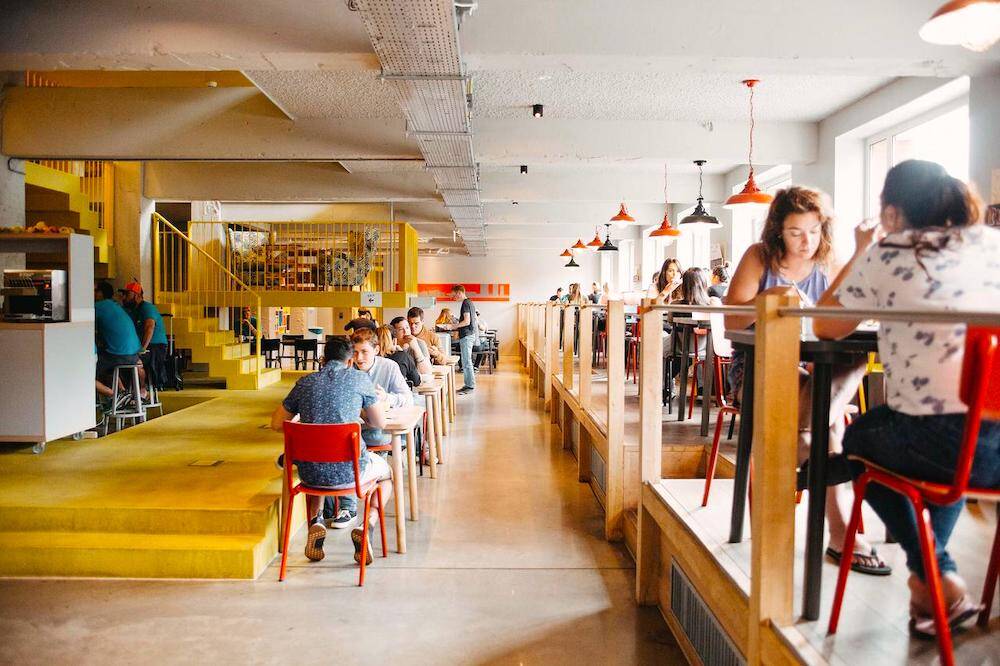 This hostel is located in the Northern part of Amsterdam and just a 3 minute free ferry ride away from the centre. This hostel in Amsterdam cost just 48 euro per night! The hostel is located right next to techno Club Shelter making it perfect for those who also want to experience the best of Amsterdam's night life.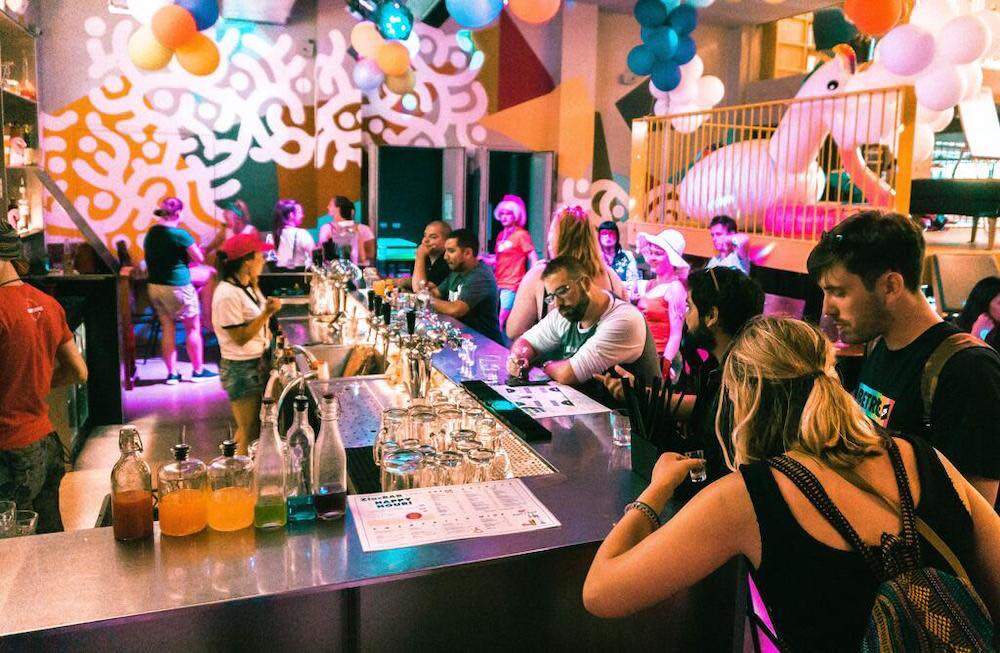 The ferry to Amsterdam North operates 24 hours a day and is totally free. Another creative and party hotspot in the Northern part of Amsterdam is the NDSM Wharf. Every summer there are many festivals here. This area can easily be reached via a direct ferry connection from Amsterdam Central Station.
I WANT TO STAY HERE!
1 | Hans Brinker Hostel Amsterdam | € 34,- per night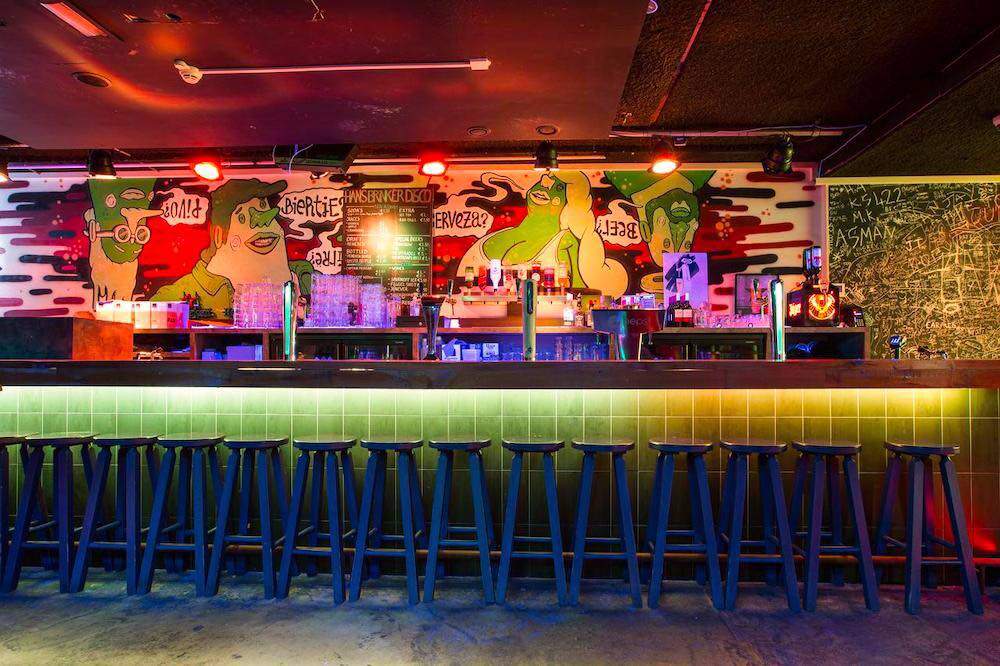 This is the cheapest hotel in Amsterdam of proper quality. That's why it's number one on the list of cheap hotels in Amsterdam city centre. This hostel is the only location on this list that is situated on the 17th century canal ring that is a part of the UNESCO world heritage list.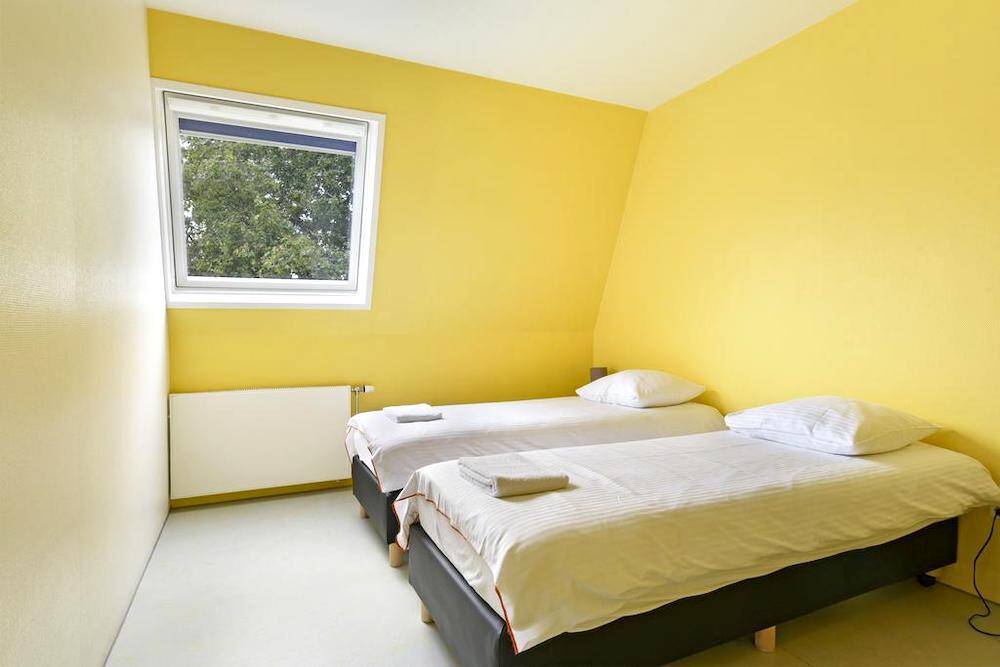 From this hostel both the Museum District and Amsterdam's historic centre are within easy walking distance. The entertainment area of the Leidse Square is also just a 4 minute walk away.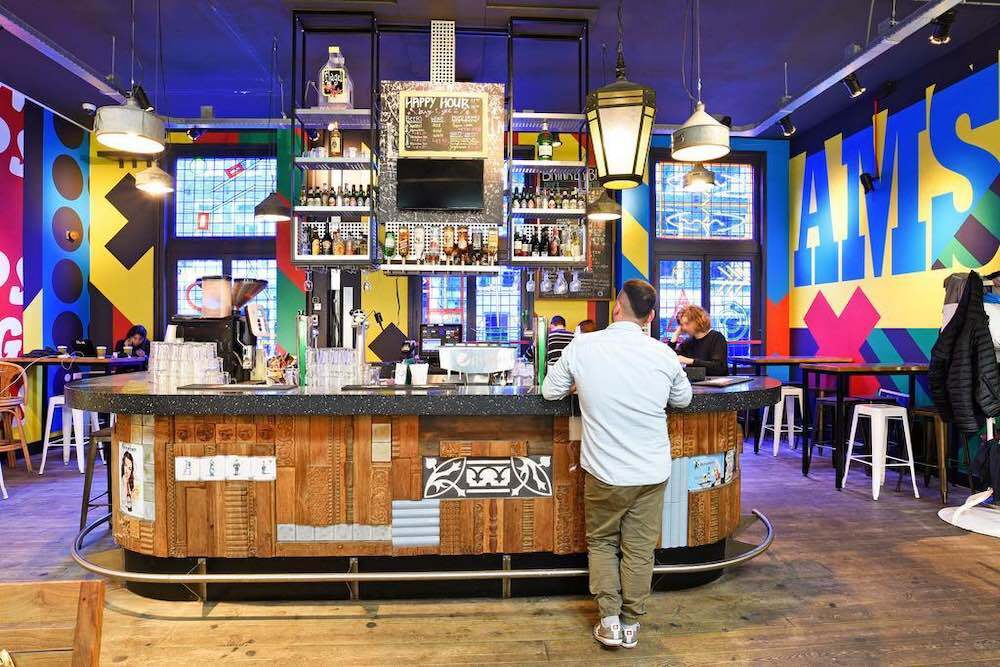 During those summer days the Vondel Park is also within easy walking distance and a great place to relax. And that for just 34 euro per night!
SHOW HOSTEL
Tips for Finding the Best Deals on Cheap Hotels in Amsterdam City Centre
To secure the best deals on cheap hotels in Amsterdam City Centre, consider booking in advance. Many hotels offer early bird discounts for those who plan ahead. Additionally, utilizing online travel platforms can help you compare prices and find exclusive promotions. Be sure to read reviews from previous guests to get an idea of the hotel's quality and customer service. Lastly, consider visiting Amsterdam during off-peak seasons, as hotels tend to offer more competitive rates during quieter periods.
Additional Considerations for a Budget-Friendly Stay in Amsterdam City Centre
Aside from finding a cheap hotel, there are additional
considerations to keep in mind for a budget-friendly stay in Amsterdam City Centre. Transportation options play a significant role in managing expenses, and opting for public transportation like trams and buses can be a cost-effective way to explore the city. Consider purchasing a multi-day transportation pass to save even more. Additionally, take advantage of the city's bike-friendly infrastructure by renting a bicycle, which is not only budget-friendly but also allows you to experience Amsterdam like a local.
Exploring the city's free and low-cost attractions can also help you stick to your budget. Amsterdam is home to numerous museums, parks, and markets that offer free or discounted entry. Some popular options include Vondelpark, the Begijnhof, and the free lunchtime concerts at the Concertgebouw.
To save on meals, consider seeking out local eateries and street food stalls instead of touristy restaurants. Amsterdam's street food scene offers a variety of delicious and affordable options, such as Dutch pancakes, herring sandwiches, and stroopwafels. Additionally, visit Amsterdam street markets like Albert Cuyp Market or Foodhallen, where you can sample a wide range of affordable international cuisines.
Lastly, be mindful of hidden costs and additional fees that may arise during your stay. Some hotels charge extra for amenities like Wi-Fi, luggage storage, or city taxes. Take these expenses into account when budgeting for your trip and clarify any additional costs with the hotel before booking.
By considering these additional factors alongside choosing a cheap hotel, you can have a budget-friendly and enjoyable stay in Amsterdam City Centre. Plan ahead, take advantage of local resources, and make informed choices to make the most of your travel budget while experiencing the vibrant atmosphere and attractions of this captivating city.
Frequently Asked Questions
Where is the centre of Amsterdam?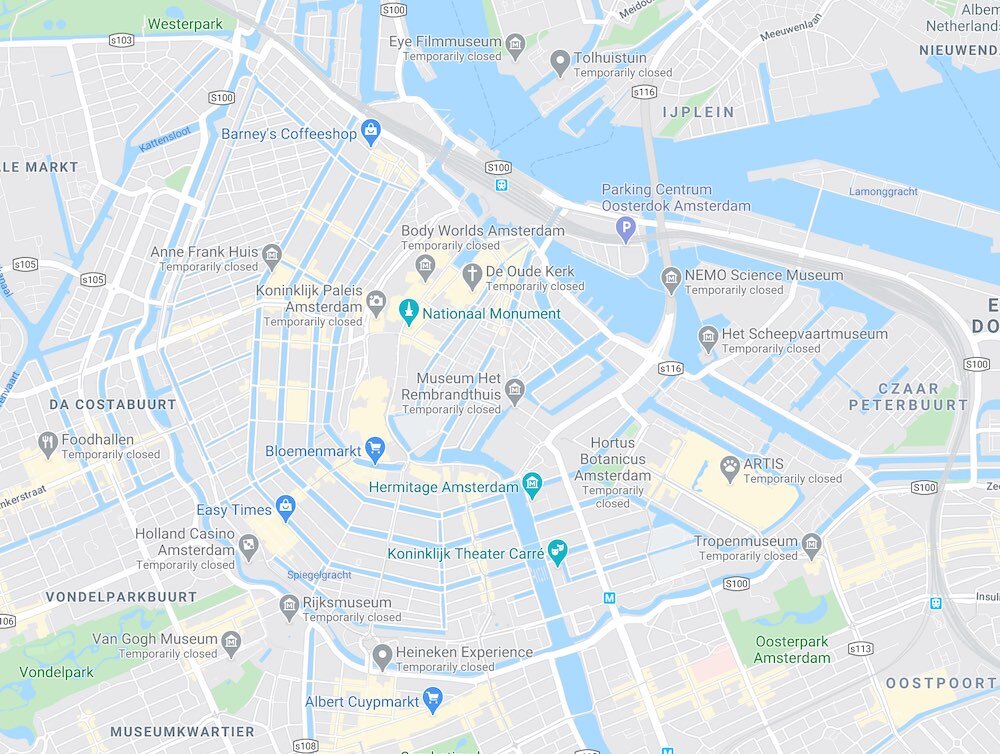 The centre of Amsterdam is defined by the canal rings when you look at the above pictured map. The canal rings that you see on the map were added in the 17th century. These canals are called the Singel, Prinsengracht, Herengracht & Keizersgracht.
The area within that large canal ring is the old medieval city centre. If you book a hotel inside or on the canal ring you book a hotel in the city centre. Everything in the city centre is within reasonable walking distance as Amsterdam isn't that large of a city.
Where should I stay in Amsterdam for the first time?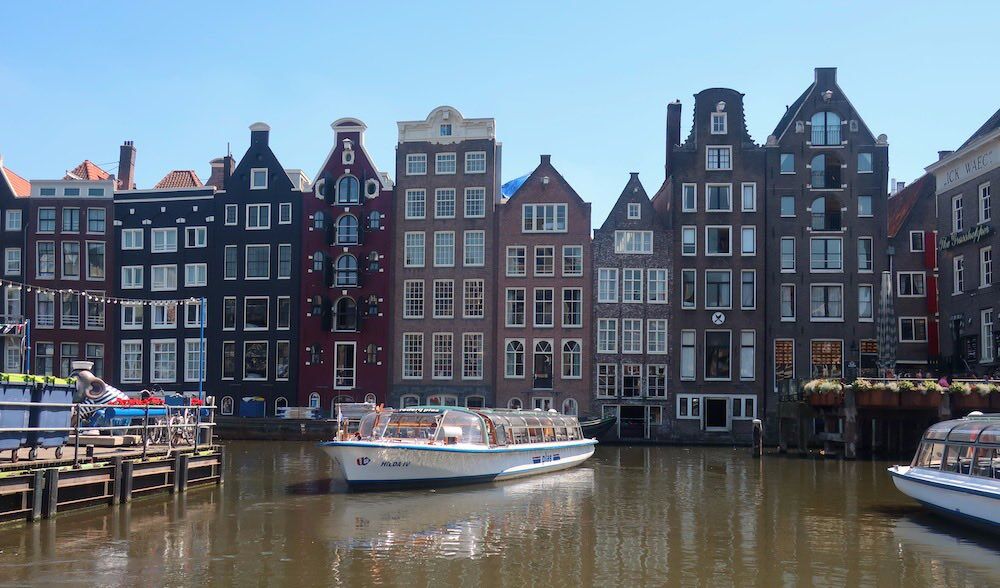 We advice anyone visiting Amsterdam for the first time to book a hotel in the city centre as described above. Especially if you're here for a short time. Because everything is in walking distance you will have the best experience.
If it's not your first stay we'd go for a hotel outside of the centre in another neighbourhood that might be of interest to you. Perhaps in De Rivierenbuurt, around the Oosterpark or at the NDSM wharf for example.
Where should you not stay in Amsterdam?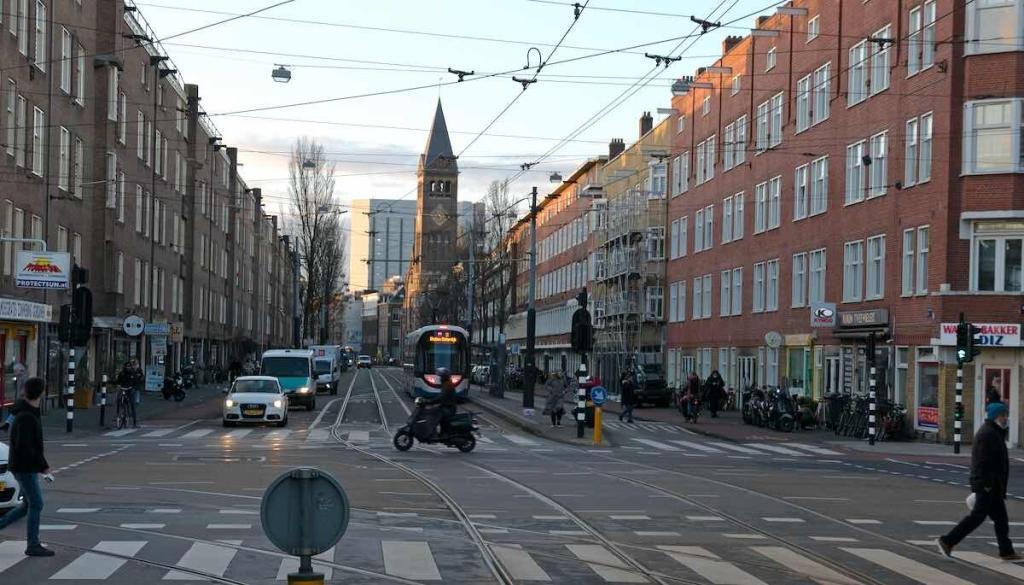 Do not book a hotel in the western part of Amsterdam (like the area Bos en Lommer) or the far eastern part (Molukkenbuurt). There is more street crime in those parts of town in comparison to the rest of the city.
ALSO READ:
Top 10 Hotels in Amsterdam Red Light District
17 Flight Tips For Long Flights
Do you know other cheap hotels in Amsterdam? Share them with the world in the comment section below.
5 Comments