Best Street Markets in Amsterdam
Whether you like searching around of an unique (Dutch) souvenir, bargaining over a pack of red tulips, eating Dutch delicacies, or simply absorbing the local atmosphere, Amsterdam's street markets are greatly browsable affairs. Whatever you do, don't leave Amsterdam without haggling for souvenir.
Check out this useful list with 7x Amsterdam Street Market.
Flea Markets
Amsterdam Street Market: Waterlooplein markt

The Waterlooplein market was named after the square on which it stand in Amsterdam's Jodenbuurt district. Even though its tourist status means it is a bit overpriced, you'd be bothered to leave empty-handed, because of the wide range of products available here at the Waterlooplein markt: exotic jewelry, 2nd hand books, vinyl records, art, vintage clothes and loads of t-shirts. Enter some of the stores that surround Waterlooplein market, like the organic supermarket Eko-plaza, Episode or Out of the Closet (a shop that raises money for the AIDS Healthcare Foundation.
Art
Amsterdam Street Market: Spui
Spui square, in the Nieuwe zijde area – surrounded by the American Book Center wand Waterstones booksellers – is the beating heart the literary scene in Amsterdam. Every Sunday, from March till December, approximately 60 contemporary Dutch and international artists offer their work – paintings, glass objects, photos, jewelry, etc – at the Spui plein. When you're on the Spui square, see if you can spots 3 paris of bricks on the street bearing the words: "A translation from one language to another", written in Dutch, English, Arabic and Surinamese.
Flowers & plants
Amsterdam Street Market: Bloemenmarkt


The most famous Flower Market in Amsterdam is the floating flower market called the Bloemenmarkt. Located in the Nieuwe zijde area needs a little presentation. Amsterdam's Bloemenmarkt was founded in 1862 and it claims to be the only floating flower market in the world. Stretching from Muntplein along the Singel as far as Koningsplein, it brings the well-known Dutch flower industry right into the city centre on a row of floating stalls. The Bloemenmarkt has a tremendous selection in tulips, narcissi, bulbs, roses, sunflowers and potted plants. Before buying (tulip) bulbs, make sure that the offered amount of bulbs are in the bag.
Flower Market Amsterdam Review
Currently (on 5 March 2020) the Flower Market has more than 34.500 Google reviews. It's rated with a 4,2 out 5.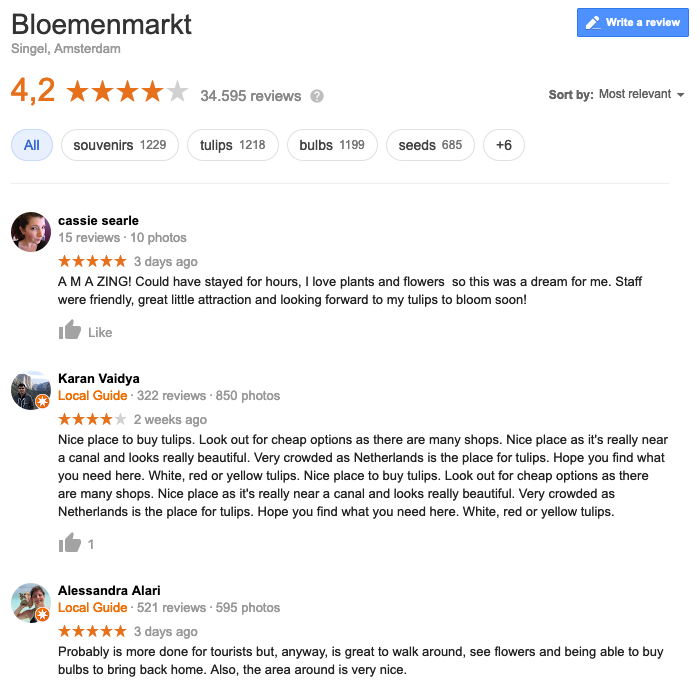 Amsterdam Flower Market Bulbs
There is also a huge downside about this flower market in Amsterdam. On 14 October 2019, the City of Amsterdam published a news item that stated that there is structural deception of consumers when selling tulip bulbs at the Flower Market. The municipality commissioned an independent research agency to buy and plant tulip bulbs. Of the 1364 bulbs – purchased at different points of sale – only 14 eventually blossomed. That is 1% of the total. In addition, none of these tulips matched the photo on the package.


Good to know: There are more than 8000 different tulips in the world, but not one tulip is blue. That color does not exist. That is not possible.
The assortment of sellers on the Flower Market in Amsterdam may consist of a maximum of 25% souvenirs. The municipality of Amsterdam wants mainly flowers, bulbs, plants, seeds and flower pots to be sold. Yet the reality is different. Ten entrepreneurs from the Flower Market were fined in the first quarter of 2020 by the municipality because they had too many souvenirs in their range. (source)


Etiquette: Only touch what you think you will buy.
Amsterdam Street Market: Bloemen- en plantenmarkt on Amstelveld
Less touristic and greer is Amsterdam's Bloemen- en plantenmarket which sets up once a week on the beautiful tree-lined Amstelveld square, between Keizersgracht and Prinsengracht in the Southern Canals area.
This market is open on Monday's between 9 am and 6 pm.
Books
Amsterdam Street Market: Oudemanhuispoort
One of the best kept secrets of Holland's capital can be found hidden in a tiny covered passageway in the Oude Zijde area. Its known as Oudemanhuispoort and it runs between the Kloveniersburgwal and the Oudezijds Achterburgwal. The Oudemanhuis Book Market has been around for more than two centuries. As early as 1757, stalls were placed within the arches of this historic passage selling silver, gold and books. Charmingly civilized, quiet and easygoing it now specializes in antiquarian and second-hand books, postcards, prints and even music.
Clothing
Amsterdam Street Market: Noordermarkt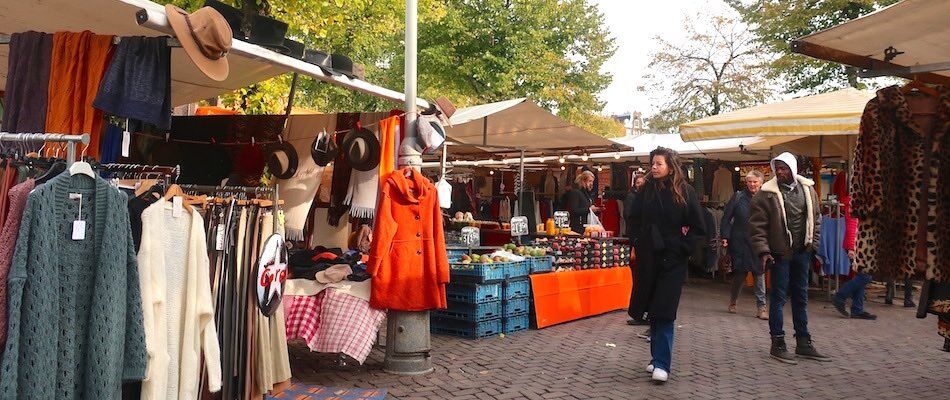 If you're looking for something more special than run-of-the-mill, secondhand clothes, head to the fantastic Monday-morning Noordermarkt. This market is named after the square it occupies in Amsterdam's Jordaan district. On Monday's between 9 am and 1 pm, you'll find trendy used clothes and accessories, containing some vintage gems for unbeatable prices.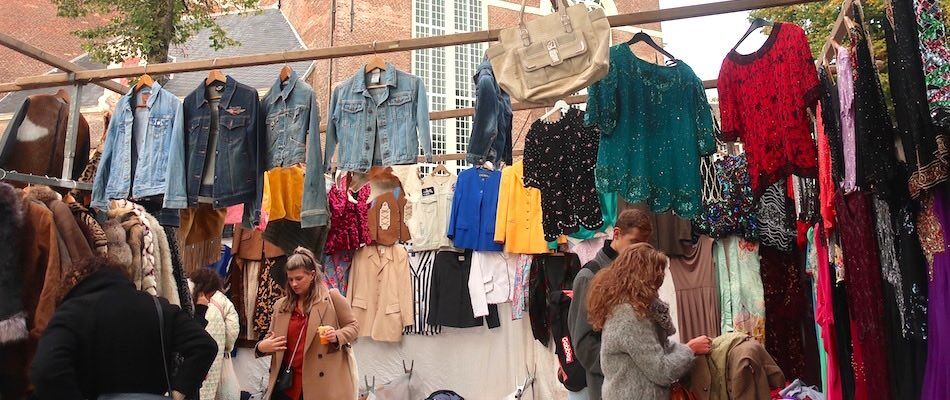 During the fall and winter, you'll find here warm sweaters and jackets too. The Noordermarkt also offers very nice secondhand tableware, paintings, carpets, books and furniture on Monday's. A very good place to get a nice souvenir! It's a 15 minute walk from Central Station and Dam Square.
Amsterdam Street Market: Lapjesmarkt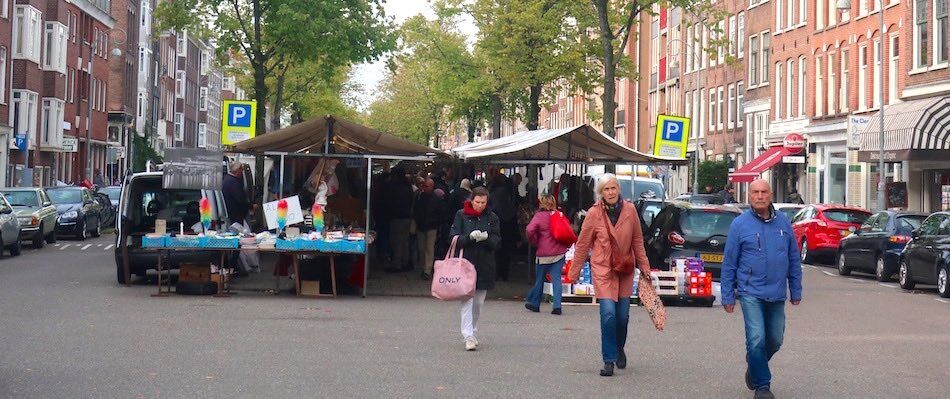 The Noordermarkt has a stiff competitor for the best bargains. Also only opened on Monday's between 9 am and 1 pm, the Lapjesmarkt is a fabric market with sought-after goods that runs from Noordermarkt along Westerstraat. It's located on the Westerstraat. This beautiful, old street is filled with typical Dutch cafes, coffee-bars and some shops.
Organic
Amsterdam Street Market: Boerenmarkt
Amsterdam has a few organic markets, which operate on Saturday's. The Boerenmarket, open between 9 am and 4 pm, is a farmers market situated in the shadow of the 17-century Noorder church (Noorderkerk), a little square in the Jordaan area. Holland's first organic market, is has occupied this spot since 1987 and is most likely the most charming one in Amsterdam, with its almost medieval allure. Here you can stroll from stall to stall, try bit-size portions of cheese or sampling wheatgrass juice, as wafts of freshly made bread perform the air and streets performers provide a nice background soundtrack.
Amsterdam Street Market: Biologische Versmarkt


On Saturday's on the Nieuwmarkt (or New Market Square) you can find the Biologische versmarkt – an organic fresh food market that returns the old city square in the Oude Zijde area to its former 17-cerntury functions as a marketplace. The Nieuwmarkt has a more central location (as its just a 10 minute walk from Central Station) which means it can get quite busyand you may have to elbow your way to the cheese stall. Also check out the trader who purveys everything raspberry and don't miss the delicious crepes or galette at the French-run stall just next to the Waag.
General
Amsterdam Street Market: Albert Cuyp Market


The Albert Cuypmarkt is the largest (general) market in Amsterdam. It's located in the Pijp area, is named after the 17-century painted Albert Cuyp and is visited by locals and tourists. Year-round, Monday through Saturday, rain or shine, colorful stalls runs almost the whole length of the Albert Cuypstraat. Most the stalls are extensions of shops that line the street (also worth a visit).


The Albert Cuyp Market has distinctly Dutch feel to it and stallholders tout just about everything: Freshly made 'stroopwafels', Dutch herring, kibbeling, fruit, nuts, olives, incense, electronics, healthy juices, footwear, plants, Dutch fries and kitchenware. However, it is the market's reputation for fabrics, not the cheap-looking clothes, that attracts bargain-hunters here. Midway up the Albert Cuyp Market, go (from 4 pm) into the Middle Eastern-style restaurant Bazar for an energizing cup of fresh mint tea.
ALSO READ:
16 Great Things To See in Amsterdam
20x Facts About Red Light District Amsterdam
MORE AMSTERDAM TIPS >