Hungry for delicious Spanish food? This list contains five restaurants and bars that serve the best paella in Amsterdam.
What is Paella exactly?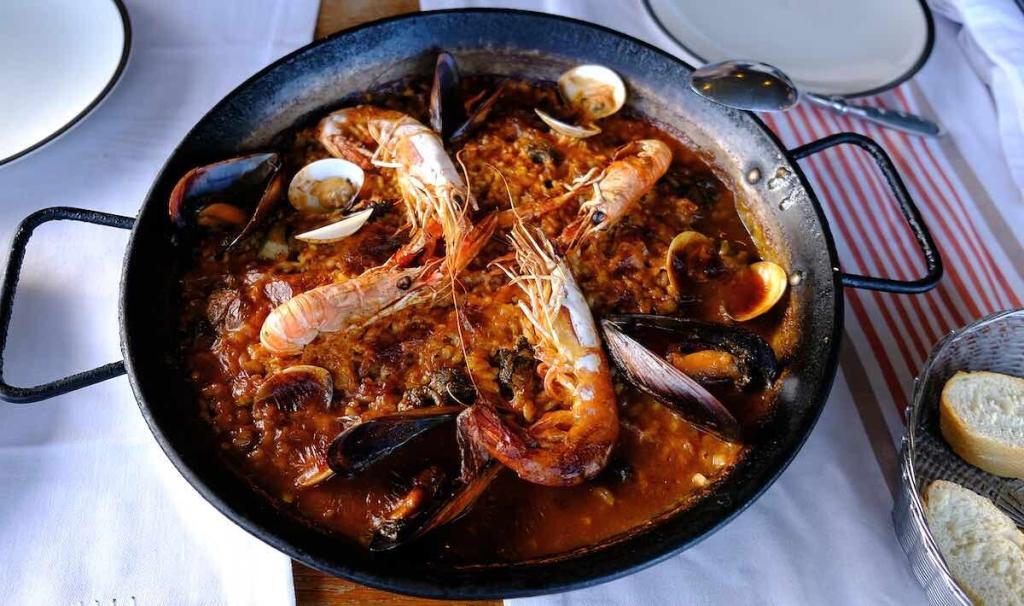 Paella is a rice dish that originated in Spain. It is typically made with chicken, seafood, and vegetables. Paella is usually cooked in a large skillet or Paella pan over an open fire. Paella is a very popular dish in Spain and is often served at family gatherings and celebrations.
It's typically made with white rice, but brown rice can also be used. Paella is often flavored with saffron, which gives the dish its distinctive yellow color.
This Spanish dish can be made with either chicken or seafood, but it can also be made with only vegetables. Quite often it's served with a side of bread and a salad.
Top 5 Paella In Amsterdam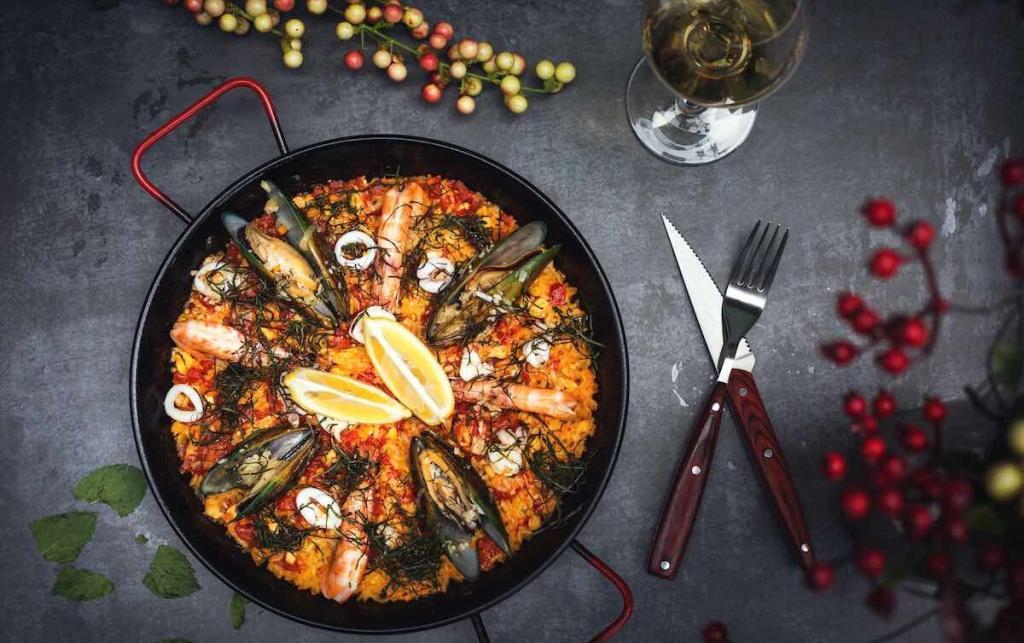 1 | Café Duende
Café Duende Dos is a household name among those Amsterdammers who're in love with Spain. In the restaurant with a blue-tiled bar and pictures of bulls, you immediately imagine yourself being in Spain.
You can go there for paella (€ 19.50 p.p., from two people) or tapas. On Sunday the paella is made in a pan of a meter diameter, enough for the whole neighborhood.
The chefs at Duende Dos are experienced Spanish chefs. For years they worked at restaurant Centra in Amsterdam Red Light District, the first actual Spanish restaurant in the Netherlands.
Restaurant location: Nieuwe Willemsstraat 3
2 | Restaurant Barça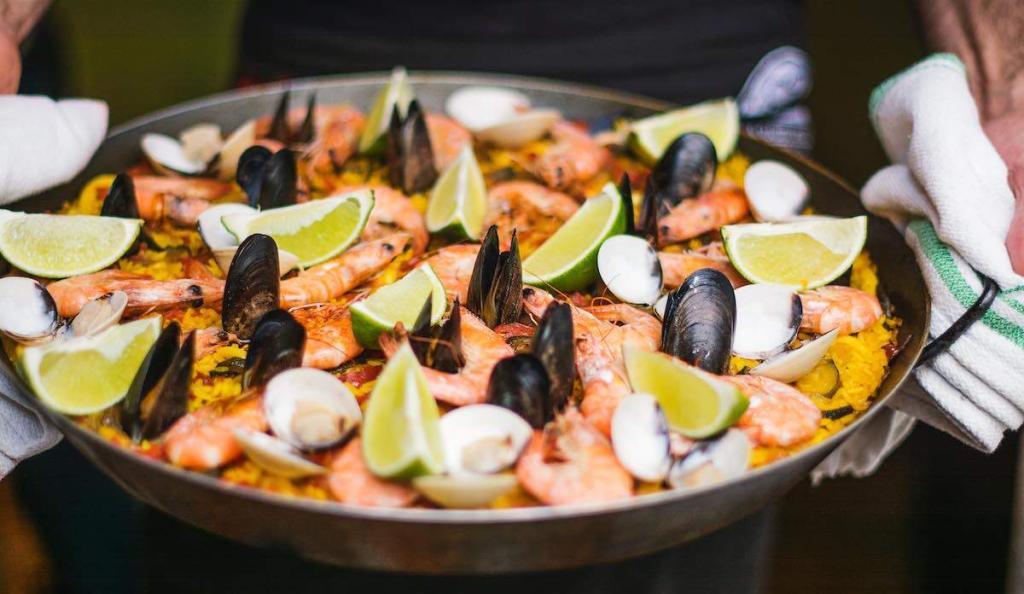 Barça on the Marie Heinekenplein (yes, a square named after the Dutch beer brand) specialises in Catalan tapas that serves, for example, a calamari twist with Korean kimchi mayo (€ 9).
However, a classic Valencian paella is also featured on the menu. The paella (€ 24 for one person) is traditionally filled with seafood, chicken and chorizo.
For those who want, it can also be prepared as a vegetarian dish. The paella combines well with one of the seven types of cava that Barça serves.
Restaurant location: Marie Heinekenplein 30-31
3 | Restaurant Vamos A Ver
At this place you can try four types of paella. They serve among others the paella especial (€ 38.50 for two people), with different types of fish and meat.
Vamos a Ver has been around for 21 years and is run by a couple: she's Dutch, he's a Spanish chef. For those who do not feel like paella, the special dish goat meat from the oven (€ 21.50) is a must.
Restaurant location: Govert Flinckstraat 308
4 | Restaurant Bocador
Restaurant Bocador is located at the Sloterplas. Visitors with a little bit of imagination shouldn't have a difficult time to pretend to have dinner on a beautiful day on the Costa del Sol.
Bocador offers two types of paella: the classic Valencian (€ 17.95) and the Paella mixta de Bocador (€ 17.50). All dishes are prepared in their charcoal oven, including the paellas. Spanish barbecue dishes, such as the lamb chops, are also prepared in this oven.
Restaurant location: Meer en Vaart 195
5 | Paella Restaurant Xampanyeria Centra
Centra was the first Spanish restaurant in Amsterdam around seventy years ago, and also the first Spanish restaurant in the Netherlands.
They went bankrupt in 2016, but with a restart fourteen months later and a major facelift, the doors were reopened. The paella (€ 18.50 p.p.) is only available from four persons and must be ordered the day before.
For those who go to Xampanyeria Centra with little to no money they still still get a taste of paella with their paella bitter-balls (€ 1.70 each).
Restaurant location: Lange Niezel 29
What's Paella made of?
Traditionally, Paella is made with white rice, green beans, chicken, chorizo, and saffron. However, there are many different ingredients that can be used to create this dish.
For example, seafood Paella often includes shrimp, lobster, or squid. Sometimes, the rice is replaced with pasta.
And while green beans are the most common vegetable used in Paella, others such as peas or artichokes can also be used. The important thing is to use ingredients that you enjoy and that will create a delicious and satisfying meal.
Which wine is best with paella?
Wine is a great choice for everyday meals, including Paella. The wine you choose should be based on the ingredients in the Paella.
If the Paella has seafood, then you should choose a white wine.
If the Paella has chicken or beef, then you should choose a red wine.
And if the Paella has both seafood and meat, then you should choose a rose wine.
Some good wines to pair with Paella include Sauvignon Blanc, Chianti, and Grenache Blanc.
How do you say food in Spanish?
Food in Spanish is comida. If you're talking about a specific type of food, like breakfast food, you would say desayuno.
You can also say food when referring to a meal, such as almuerzo for lunch or cena for dinner. And if you're talking about food that you eat on a regular basis, like snacks or desserts, you would say comestibles.
So as you can see, there are many different ways to say food in Spanish, depending on the context.
How to order Spanish food via delivery in Amsterdam?
While there are many different delivery services to choose from, we recommend using Deliveroo or Just Eat Takeaway. With Deliveroo, you can order food from a variety of Spanish restaurants and have it delivered right to your door.
Plus, delivery is quick and easy – simply create an account on the Deliveroo website or app, select your location, and browse the restaurant menus. Once you've found something you'd like to order, just add it to your cart and checkout. Your food will be on its way in no time!
Can you eat Paella when pregnant?
While it can be a delicious and healthy meal for pregnant women, there are a few things to keep in mind. First, pregnant women should avoid eating undercooked or raw fish and shellfish due to the risk of food poisoning.
Second, it is important to choose paella that is made with low-mercury fish, such as tilapia or salmon, to limit exposure to potentially harmful toxins.
Finally, pregnant women should also be sure to stay hydrated since dehydration can lead to premature labor. With these considerations in mind, pregnant women can enjoy paella as part of a healthy and balanced diet.
ALSO DISCOVER:
Dutch Snacks at FEBO Amsterdam
5 Best Sites To Get A Sex Date in Amsterdam
MORE AMSTERDAM TIPS >