Where To Stay In Amsterdam Area?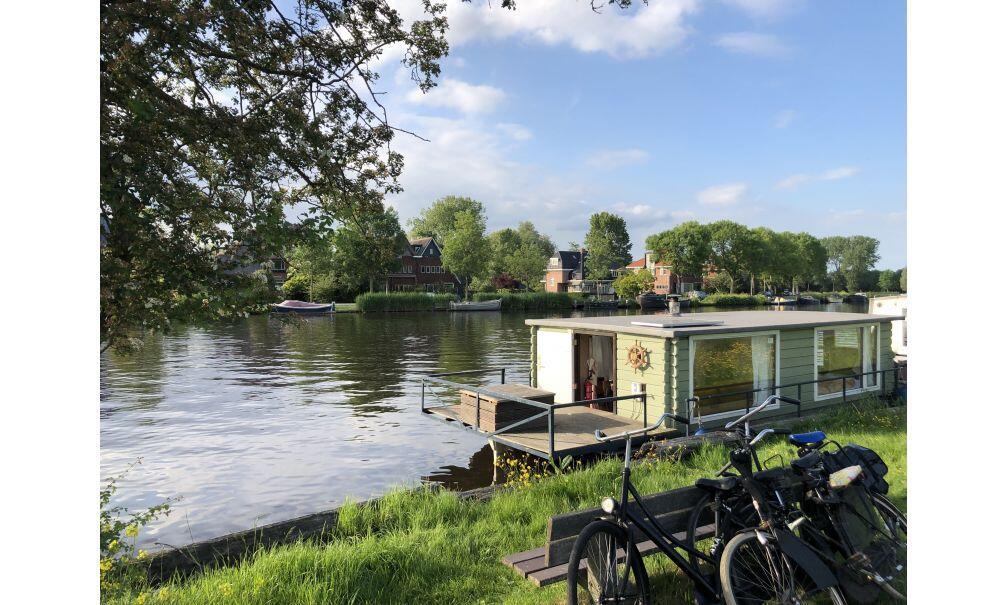 The Netherlands is a relatively small country. A beautiful, small country! A big advantage is that everything is close by. From Amsterdam to Maastricht – a marvellous city in the southern part of the Netherlands – is only 2.5 hours away by car.
Drive a bit further and you are in Belgium, Germany or Luxembourg. The Dutch public transportation is also really good. It's quite easy to travel within the Netherlands.
10 Secret Accommodations Near Amsterdam
This list contains 10 beautiful accommodations near Amsterdam personally selected for you.
SHOW BEST ONE! >
And Amsterdam is not too big either. With a bicycle you can basically be anywhere in the city within 30 minutes. And, there are many Dutch villages and small towns around Amsterdam that tourists hardly know about. The best hidden gems are close to Amsterdam.
1 | Private Island Near Amsterdam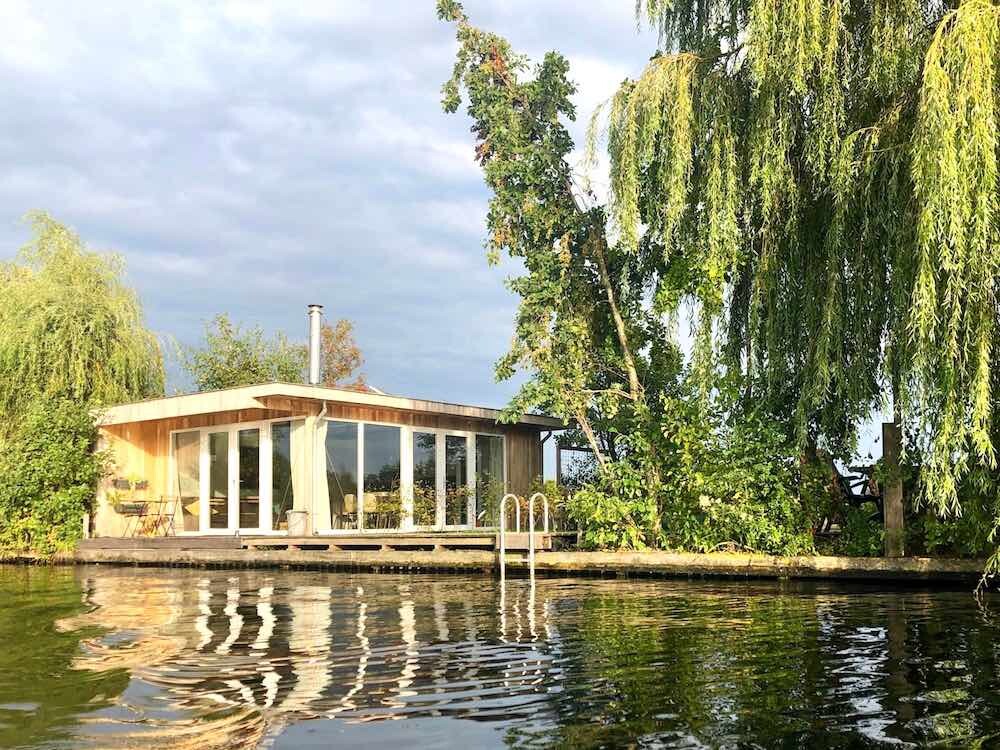 Have you always wanted to stay on a small, private island? Then this is one for you! This accommodation is also situated on the lake you see on the very first aerial photo. This beautiful island is located on the Vinkeveense Plassen – a gorgeous lake with clean & clear water and many small beaches. It's only a 33 minute ride away from Amsterdam.
Stay here between May and September and enjoy wonderful summer days in the typical Dutch landscape.
The owner of this accommodation is Tinny and she has several accommodations on the Vinkeveense Plassen, where she lives with her partner. All her houses are very unique and definitely worth a look!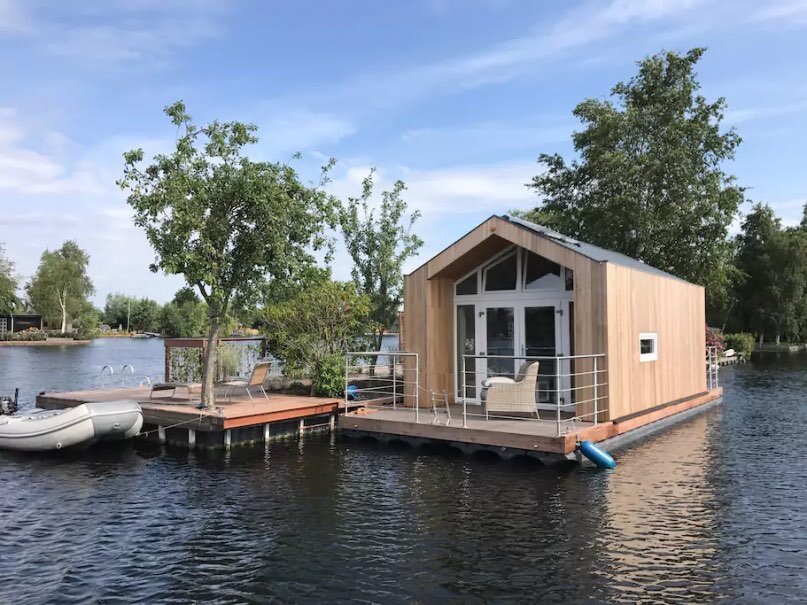 Tinny is a lovely woman! She will welcome you on arrival and will take you by boat to your private island on this amazing lake close to Amsterdam.
You can join her with your luggage on her boat or you can rent a boat from her for just 30 euros a day. If you rent a boat, you can discover the Vinkeveense Plassen during you stay by yourself. This is what we did and it's highly recommended.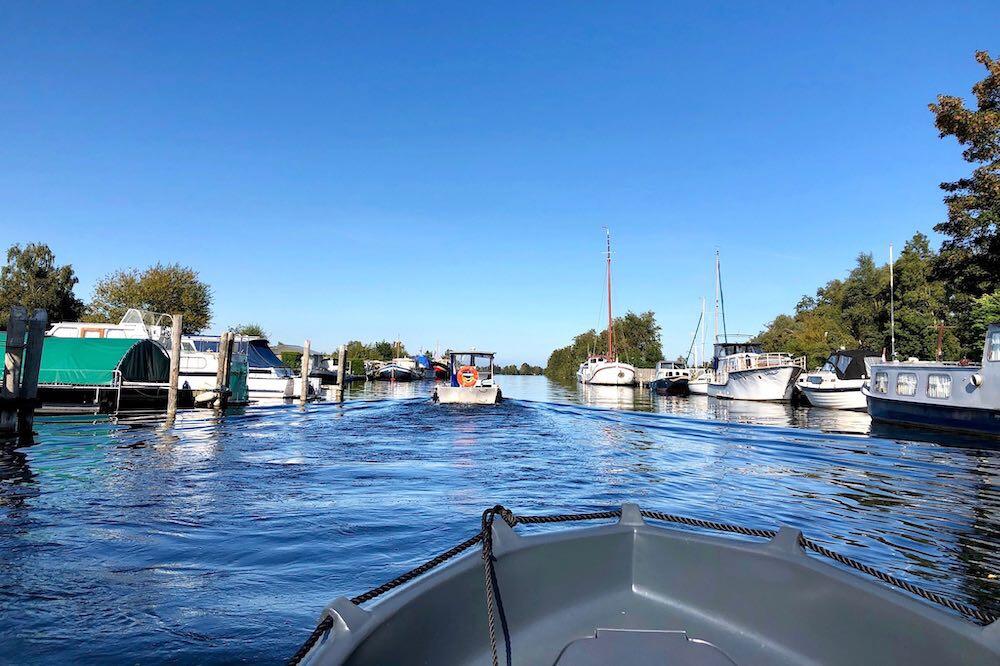 When you arrive at your private island near Amsterdam, she will help you with the belongings and give you instructions about the holiday home on the island.
The house is equipped with everything you need during your stay; kitchen, shower, toilet, beds, sofa, barbecue and lots of space to enjoy the outdoors. Swimming, kayaking, boating, barbecuing, snorkelling, sailing, sunbathing, etc. It is all possible here!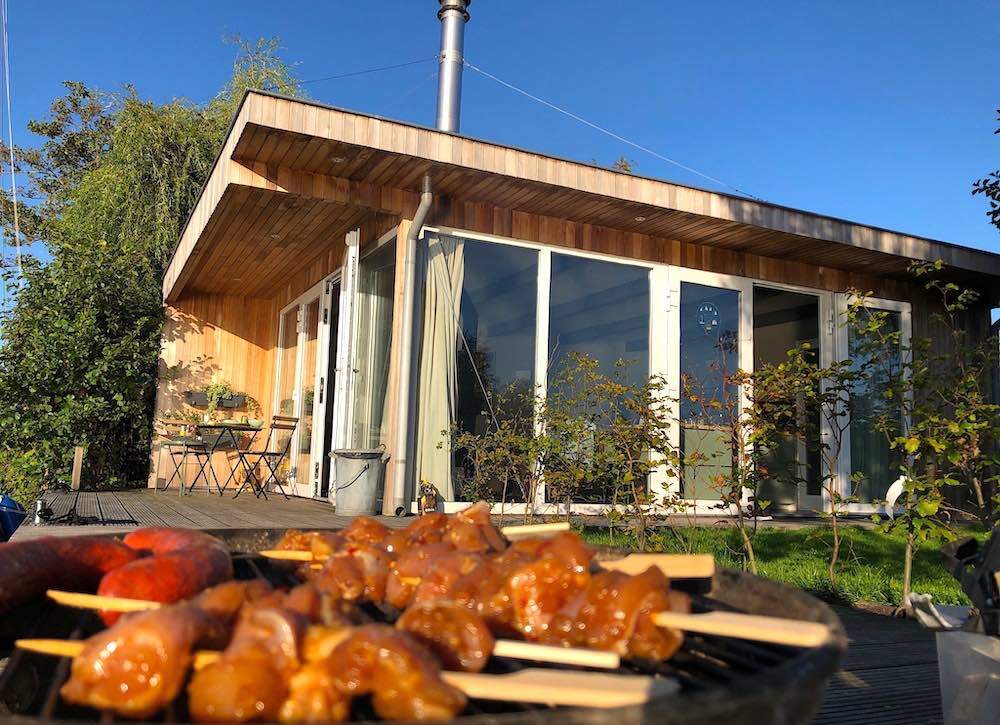 Good to know: you need to bring your own supplies. A visit to the local supermarket is recommended. Check out Google Maps, or book this accommodation and ask Tinny for details.
Vinkeveense Plassen is really one of those places where only locals go to. Book this accommodation near Amsterdam and enjoy the wonderful nature, the soothing water, the beautiful sunsets and the unique Dutch experience. You will not regret it at all!
SHOW ME! >
2 | Hiker's Cabin In Weesp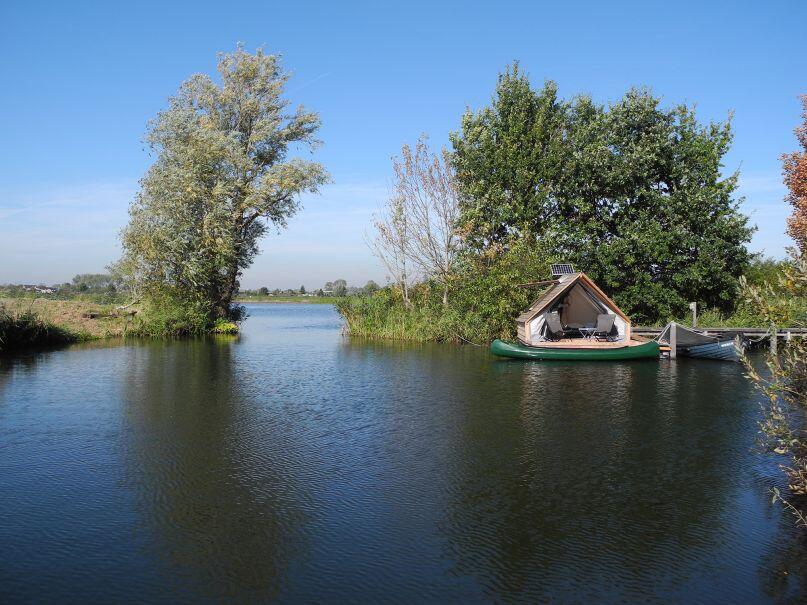 Just 18,5 kilometres away from Amsterdam one can find a beautiful little city called Weesp. Also known as Little Amsterdam because it has a few canals, beautiful bridges and typical Dutch architecture as well.
This is one of those accommodations near Amsterdam that is perfect for nature lovers who still want to be kinda close to the big city. Quiet, beautiful surroundings and a very unique accommodation.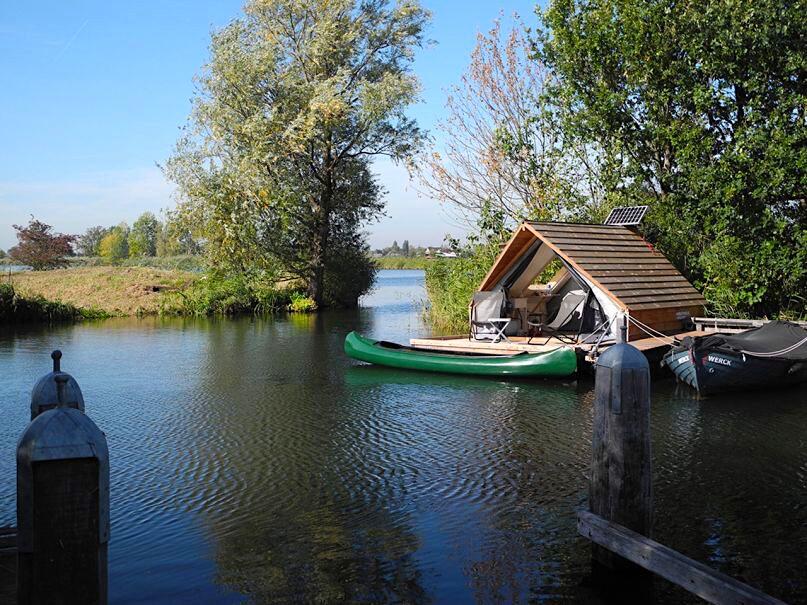 From a passion for the outdoors and hospitality, the idea was born to combine these two great passions into a unique experience on the Vecht river. By building a "classic" hiker's cabin on a floating raft, a whole new and contemporary accommodation option was created. Experience the peace, enjoy nature and discover the unique environment at this nature house!
Additionally you can order breakfast-service, a canoe, bed linen and towels.
At Fort Uitermeer, this accommodation is quietly located in a bowl in the sloep harbor surrounded by the nature reserve of, among others, the Naardermeer and the Vecht river.
Fort Uitermeer is an old fort that is included in the New Dutch Waterline and later the Defense Line of Amsterdam. It is located in the North Holland municipality of Weesp on the east bank of the Vecht, southeast of Weesp. The fort also offers a great restaurant!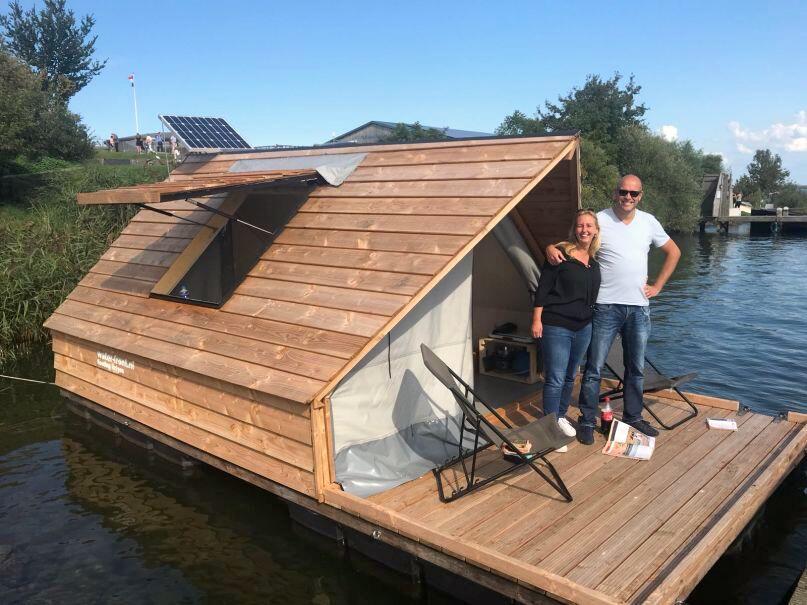 You can take an Uber or go here by public transport. Just take bus line 106 from Weesp station. From Amsterdam by train to Weesp will cost you 25 minutes and from Weesp by bus to this accommodation takes not more than 15 minutes. You can also cycle from Weesp station.
This accommodation is recommend for people who like nature and who want to experience something unique.
MORE DETAILS >
3 | Amsterdam Countryside Stay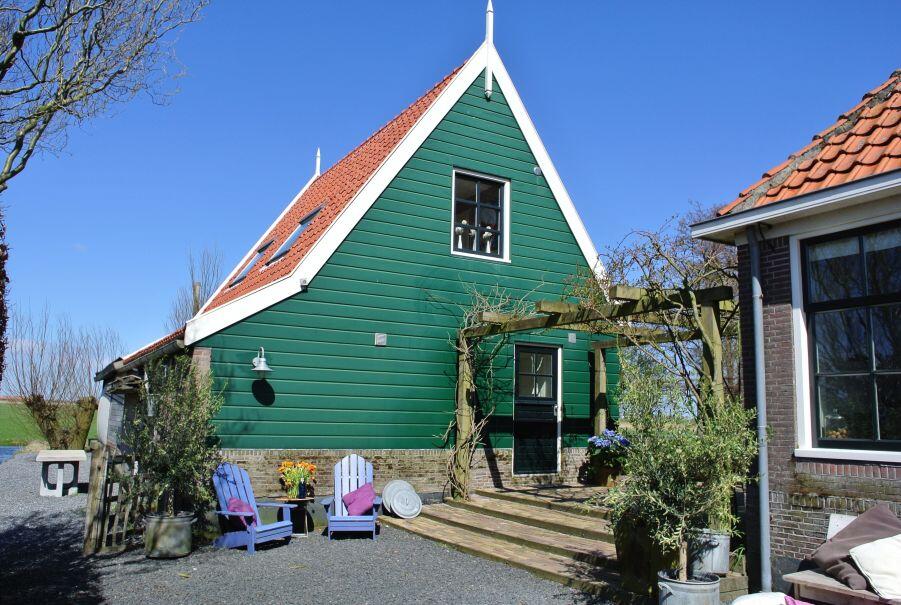 Without a doubt, we think this is one of the best accommodations near Amsterdam, because this residence can offer the real Dutch experience with luxury and many possibilities.
North-east of Amsterdam, only 8.5 km away from Central Station, you will find the beautiful town of Ransdorp. It is bizarre to see the contrast between the cosmopolitan city of Amsterdam and this quiet Dutch village and that while it is so close together.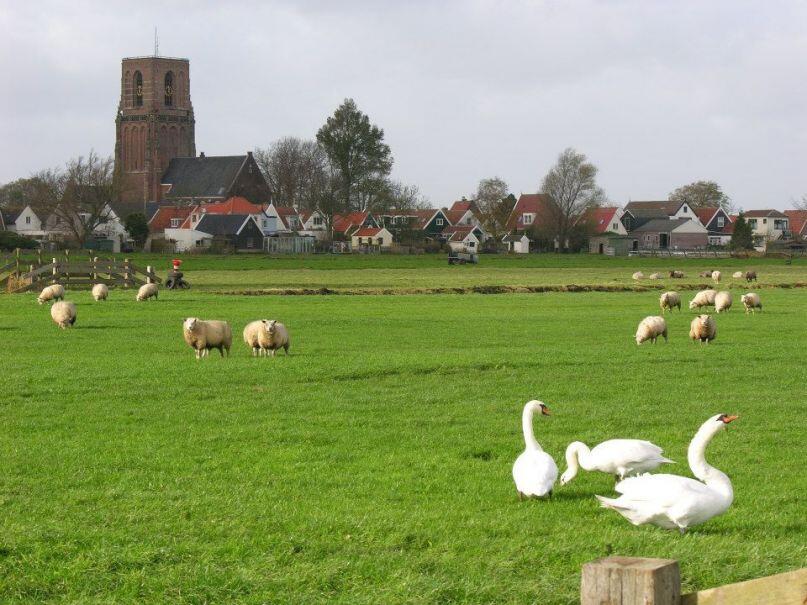 This area is called Waterland and is very suitable for walkers, cyclists, swimmers, skaters and other outdoor activities. Many routes are available for cycling, walking or boating.
This detached accommodation near Amsterdam is located in a protected nature reserve and on a restored 18th-century farm. It offers the same peace as previous two accommodations, but with more comfort.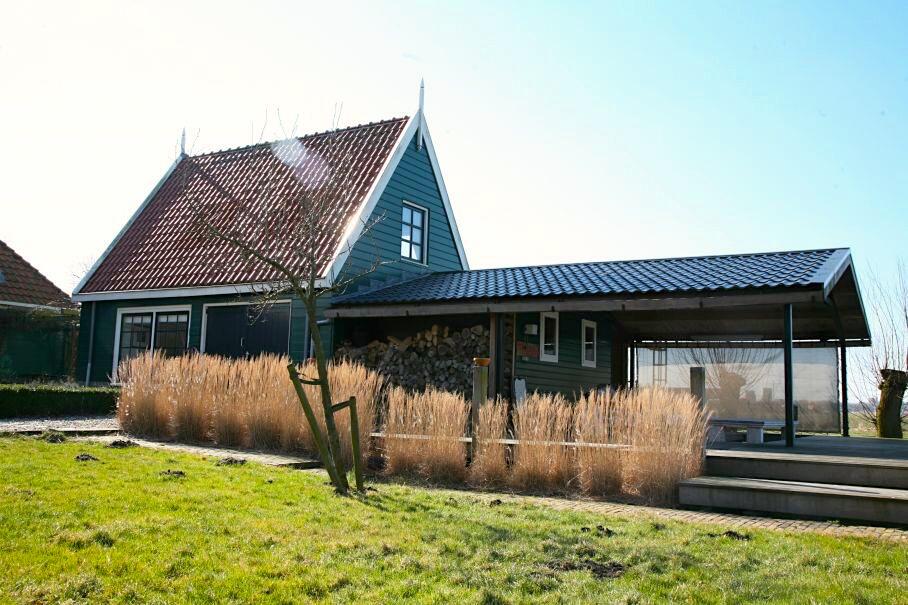 You can find many good restaurants along the banks of the IJ river, but also in the surrounding villages such as Holysloot, Durgerdam, Schellingwoude, Monnickendam, Volendam and Broek in Waterland. Shops are numerous in the immediate vicinity. The nearby Land market is a covered marketplace where you can buy fresh, local and organic product, seven days a week, and where you can even have lunch or dinner.
MORE DETAILS >
4 | Windmill Accommodation Near Amsterdam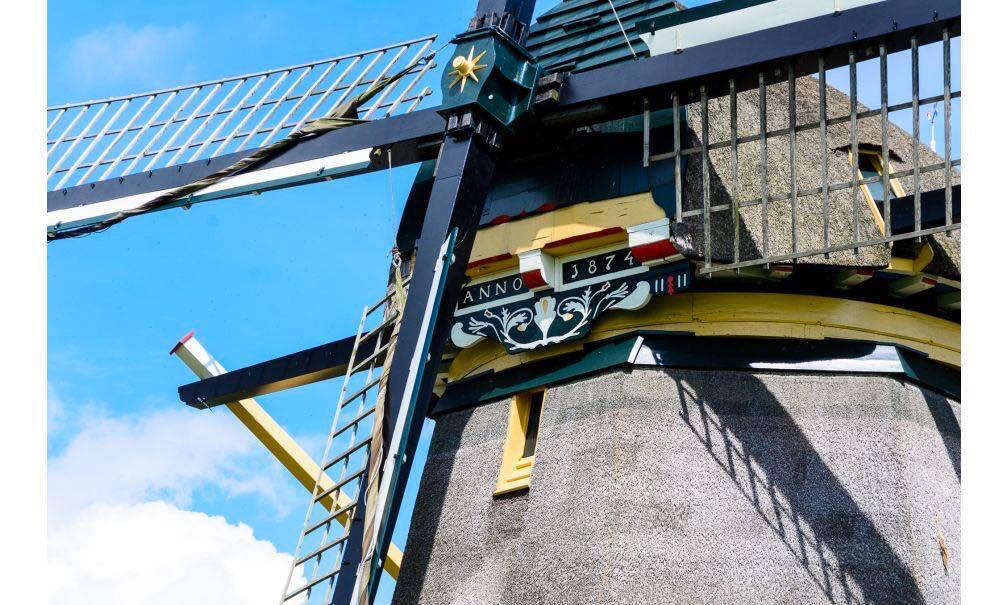 One of the most Dutch things is a windmill. Amsterdam has 8, but there are many more outside Amsterdam. And what could be more fun than seeing a windmill? Right, to stay in a windmill!
This is definitely one of our favourite accommodations near Amsterdam, because the residence is very unique, it has an incredibly beautiful view, it is luxurious and it is very easily accessible.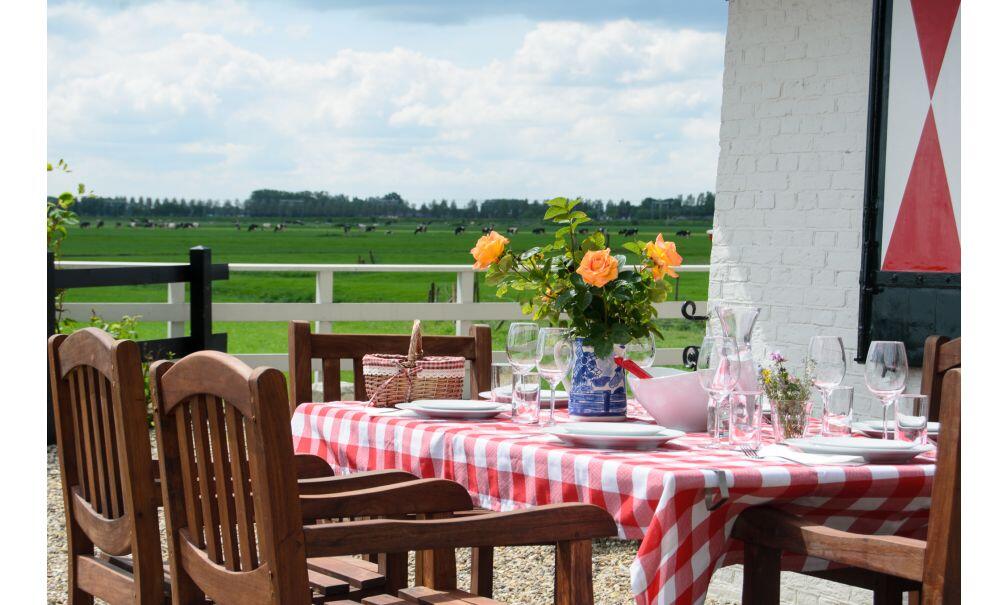 This windmill-accommodation is situated in Abcoude – a beautiful place south of Amsterdam. It only takes 24 minutes by train to get from Amsterdam Central to Abcoude. This picturesque village offers many typical Dutch scenes, such as windmills, small rivers, tiny bridges, fortresses, centuries-old architecture, cheese shops, cows in the meadows and whatnot.
The quiet, but lively center has many good restaurants and bars that attract nice people. For example, there is a restaurant on a corner where you can eat great and also have a great view in the summer.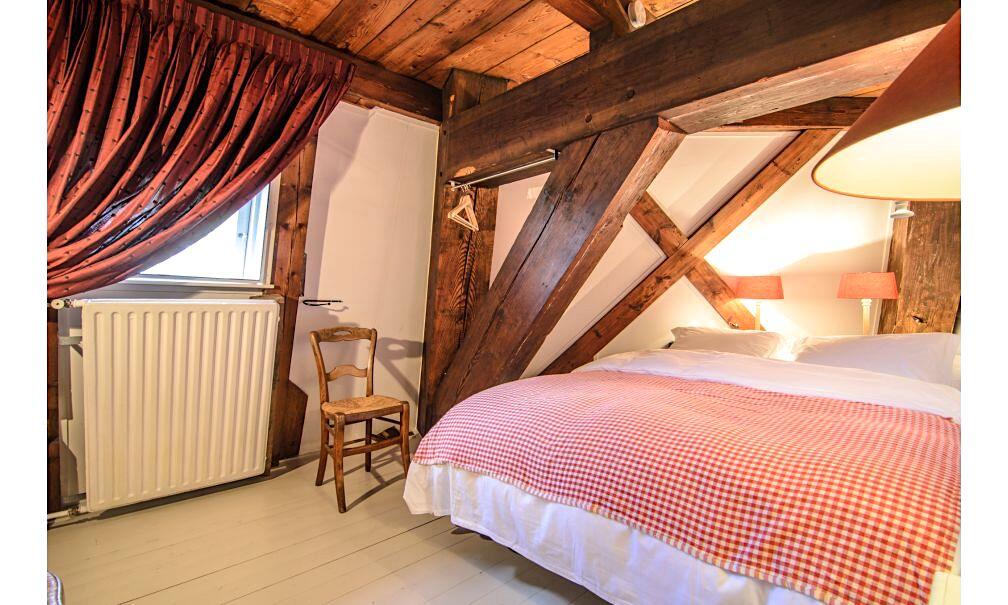 The windmill accommodation is within walking distance of Abcoude station. In the Dutch countryside. With three bedrooms, it offers space for six people. Nice for couples, families or friends. Enjoy the beautiful Dutch landscapes in a windmill with luxurious facilities such as king-size beds, a bath, free bicycles, etc.
Wanna experience the real Dutch thing? Book this gorgeous windmill accommodation near Amsterdam!
MORE DETAILS >
5 | Authentic Roma Wagon On Dutch Lake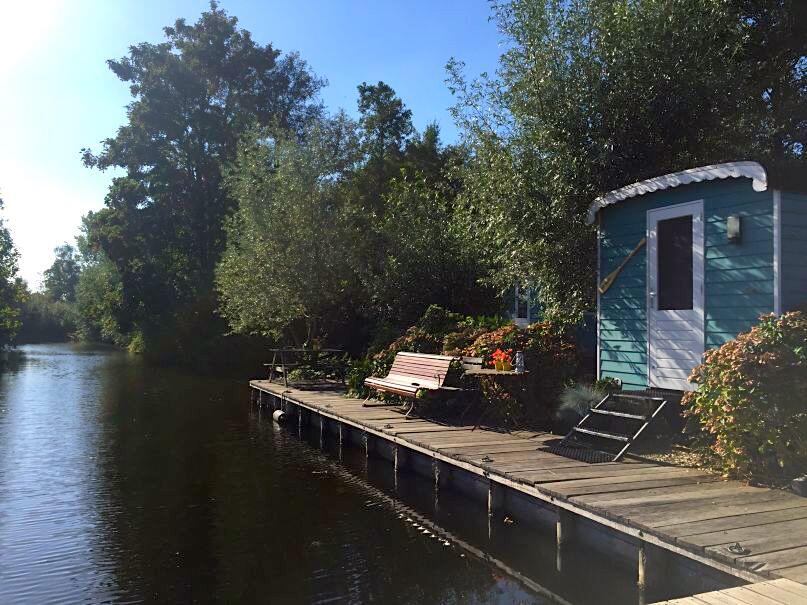 One of the other great accommodations near Amsterdam is this residence, also on the Vinkeveense Plassen – just like the number 1 in this list. This stay is only a bit cheaper and less luxurious. Nevertheless, the nature of Vinkeveen is beautiful and the view is breathtaking. This accommodation is an authentic roma wagon with a beautiful and relaxing view over the water. There is a bathing ladder at the jetty, which allows swimming in the very clear water.
This accommodation is excellent for couples or families with older children. Due to the water surrounding the residence, it is not advisable to sit here with babies and toddlers.
Stay at the Vinkeveense Plassen and see where the Dutch enjoy their free-time. Take the canoe during the day, swim in the clear water and enjoy a barbecue and a cold drink in the evening. You'll love it here!
MORE DETAILS >
6 | Bridge Keeper House in Amsterdam North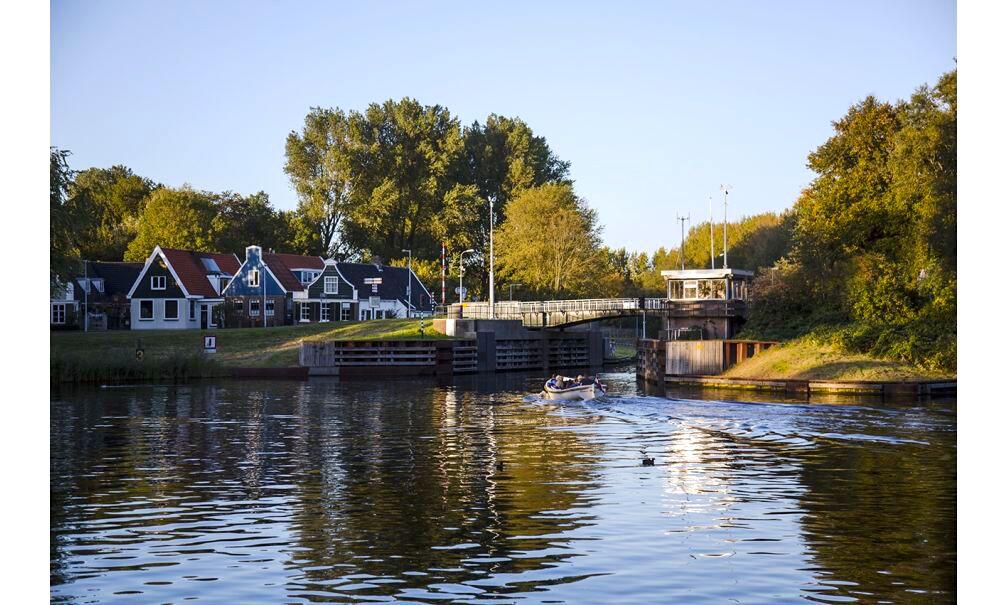 Are you looking for a stay that is closer to Amsterdam and yet is very special? Then choose this fantastic bridge keeper house. Experience Amsterdam from one of its many bridges, and experience the Dutch city from a different perspective! This bridge keeper house is suitable for two adults and has a double bed, a bathroom, coffee and tea making facilities and free WiFi.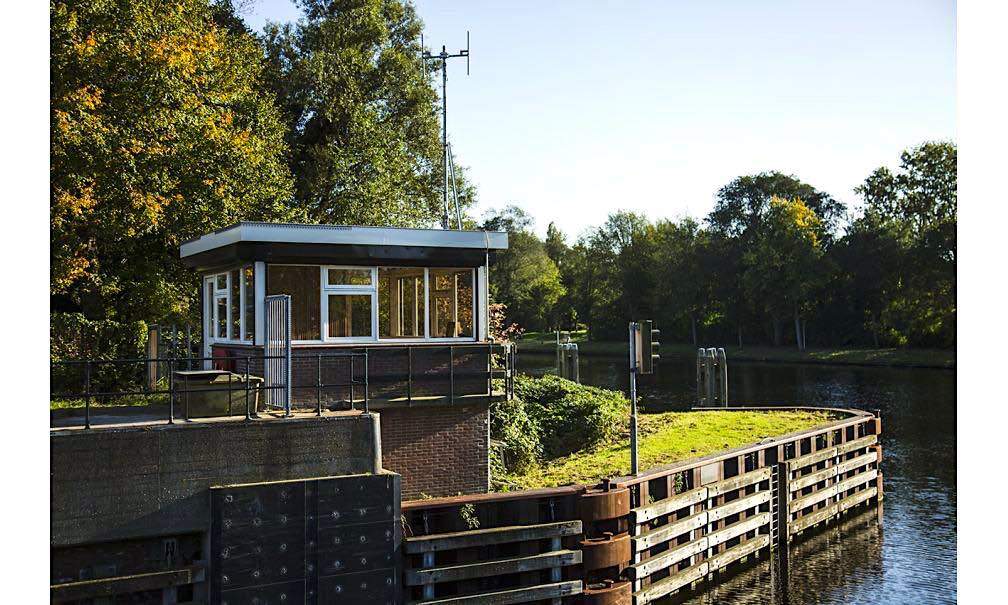 This unique accommodation is located on a bicycle route in a rustic environment, with a view over a small lake in Amsterdam North. Here the swans are your neighbors. In the street are picturesque Dutch houses and within walking distance you can find a beautiful 18th century mill. The bridge keeper house is perfect for a stay for cyclists on the LF7 Oeverlandroute. Amsterdam Central Station can be reached with a short bike ride (14 minutes), including a nice & free ferry ride.
Here you can enjoy peace, but you are still close to the Dutch capital.
MORE DETAILS >
7 | Hidden Gem On Magnificent Lake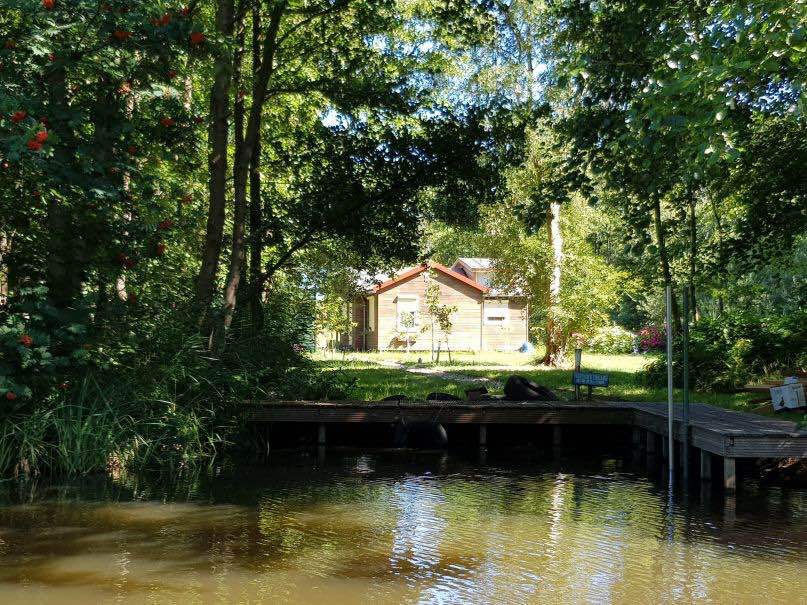 Number seven in the list of special accommodations near Amsterdam is this one in Ankeveen. This is a small Dutch village with only 1500 inhabitants, a 30-minute drive from Amsterdam. That's 20 kilometres.
Just like Vinkeveen (number 1 on the list), Ankeveen has a beautiful lake called De Ankeveense Plassen – which is great for sunlovers, swimming, diving, kayaking, or sailing.
And even next to that lake, one can find another beautiful lake called De Spiegelplas (Mirror Lake). This is really such a place that no tourist knows about.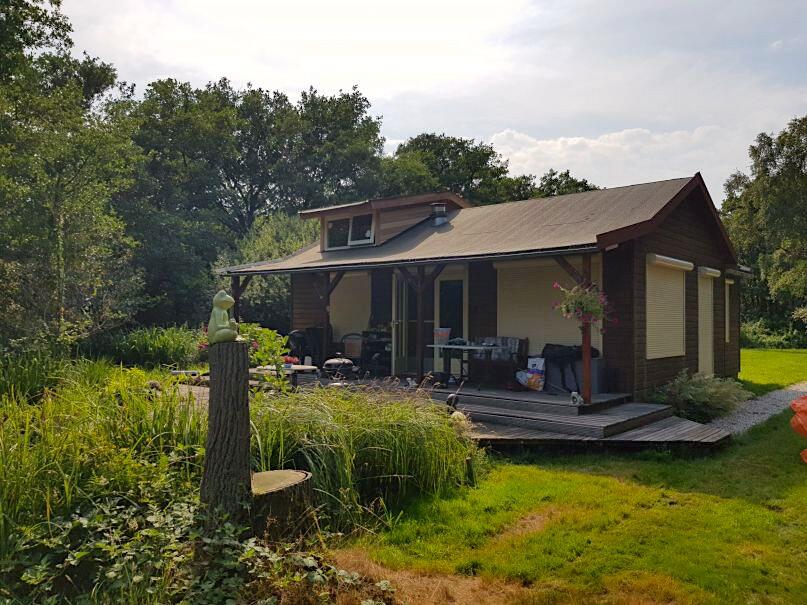 This is one of those accommodations near Amsterdam that even has its own swimming pond and jetty with bathing ladder. Four canoes are available too. Bicycles are also available on the mainland. Two barbecues with wood and free parking.
The house is 70 m² and has two bedrooms and a spacious living room. It has a television and a DVD player. Kitchen with American fridge. On walking distance there's a fine restaurant directly on the mainland.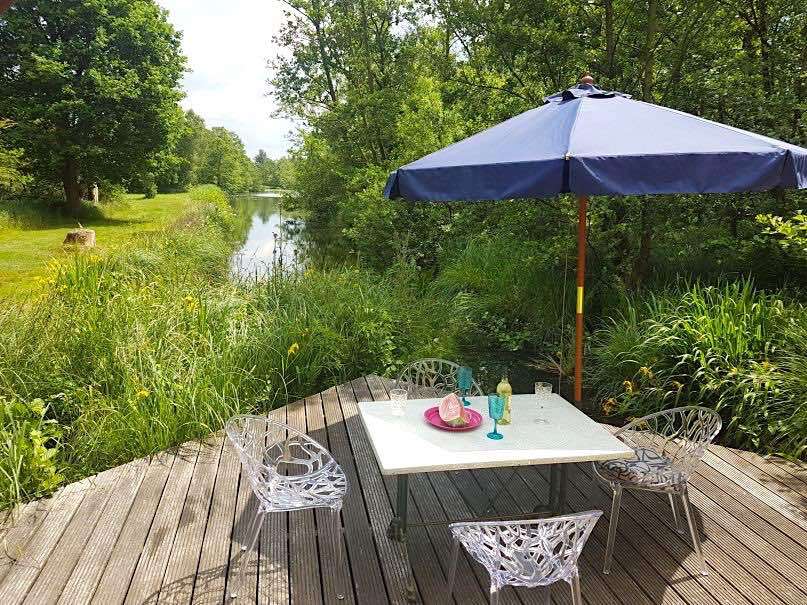 Summers are really nice here, but also in winter time this is a fantastic accommodation near Amsterdam. If it freezes in the Netherlands, you can ice-skate on the lake of Ankeveen. It is one of the best places in the country to do that. It is not without reason that many Dutch people come here to skate on the beautiful frozen lake.
We put this accommodation near Amsterdam at number seven because it is less accessible than the others above. Ankeveen has no train station and it is also very difficult to get here by bus. It is best to go here with by Uber. This costs about 45 euros from Schiphol.
MORE DETAILS >
8 | Houseboat On Amstel River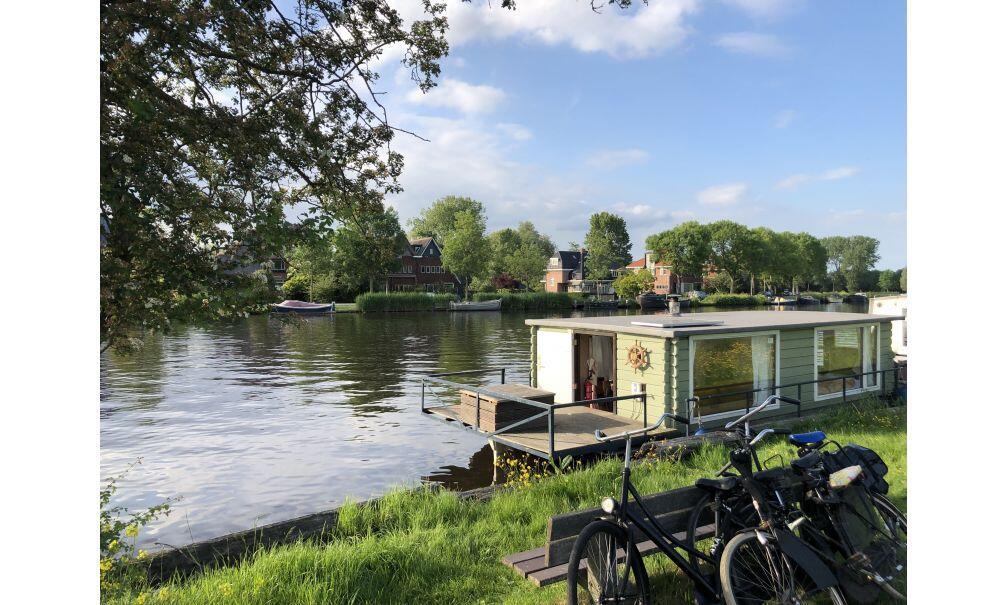 Who doesn't want to stay on a Dutch houseboat? Everyone right? This is one of the few accommodations near Amsterdam where this is possible. This holiday home – which even has a sauna on board – is located in one of the small villages next to the capital; Ouderkerk aan de Amstel.
This place is very well known to Dutch people, but not to foreign tourists. On this nice houseboat you can enjoy the rising and setting sun every day, many animals around the water and all kinds of boats that pass by.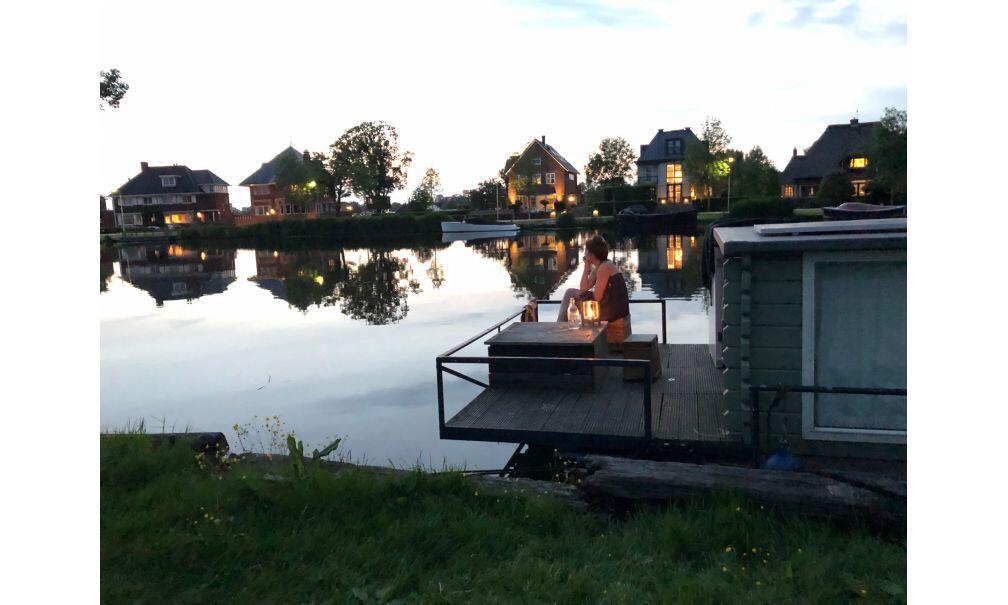 Beautiful rural area near Ouderkerk aan de Amstel, next to the wonderful cycling route 'De Rond Hoep' of almost 20km. During the day you can go to Amsterdam by bike (which is only 8 km away), have dinner on the houseboat and then afterwards into the sauna, followed by swimming in the Amstel.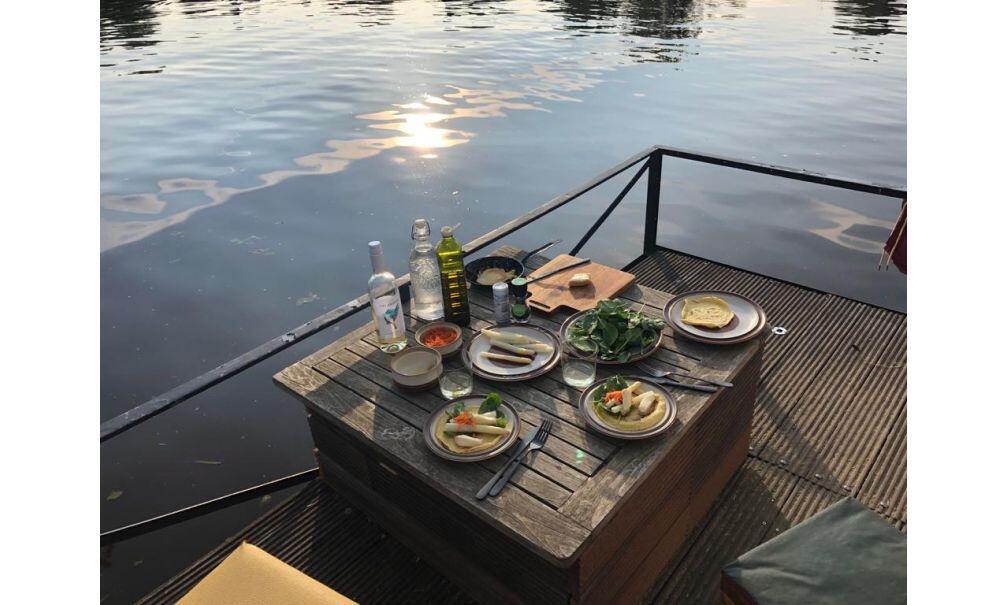 This houseboat is very basic in terms of facilities, but that only gives more holiday feeling. Although the top sauna on board is of course very luxurious. This accommodation near Amsterdam is really nice in the hottest months of the year, which are July and August.
MORE DETAILS >
9 | Adorable Accommodation on Amsterdam's Countryside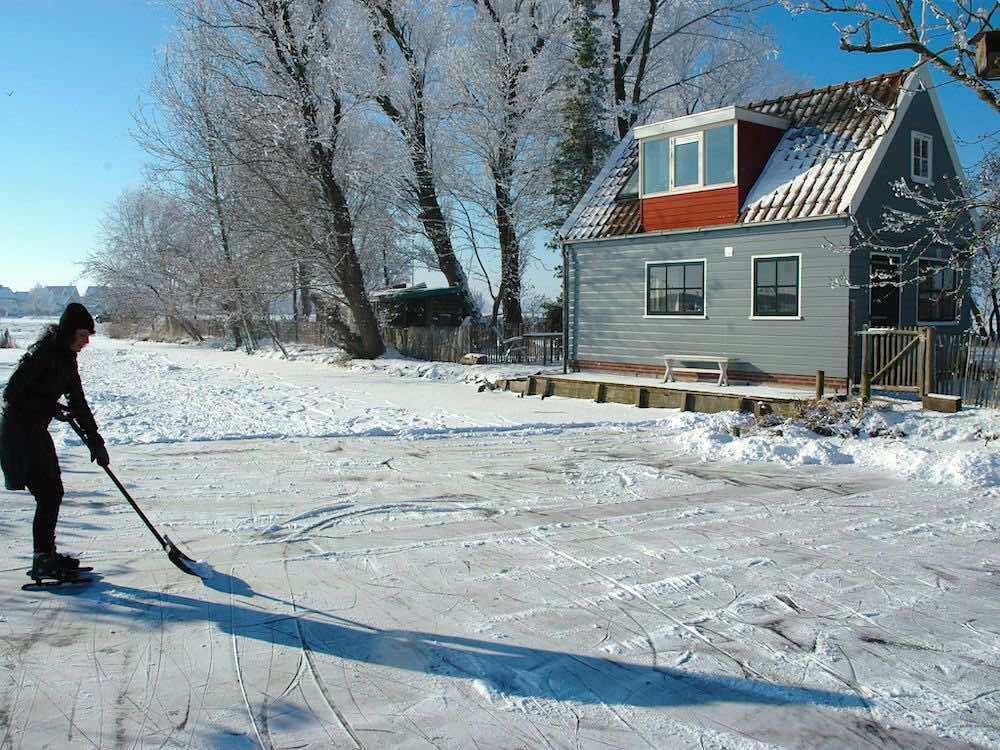 At number nine on the list of amazing accommodations near Amsterdam; this cozy guesthouse which is located on the waterfront in picturesque Durgerdam, 10 km from Amsterdam's city centre. Most foreign tourists undoubtedly consider Durgerdam as Amsterdam, as it is so close to the capital.
In Durgerdam you will find really cute, Dutch houses in beautiful colors. There are also many historic wooden houses here. Your eyes will not get bored here.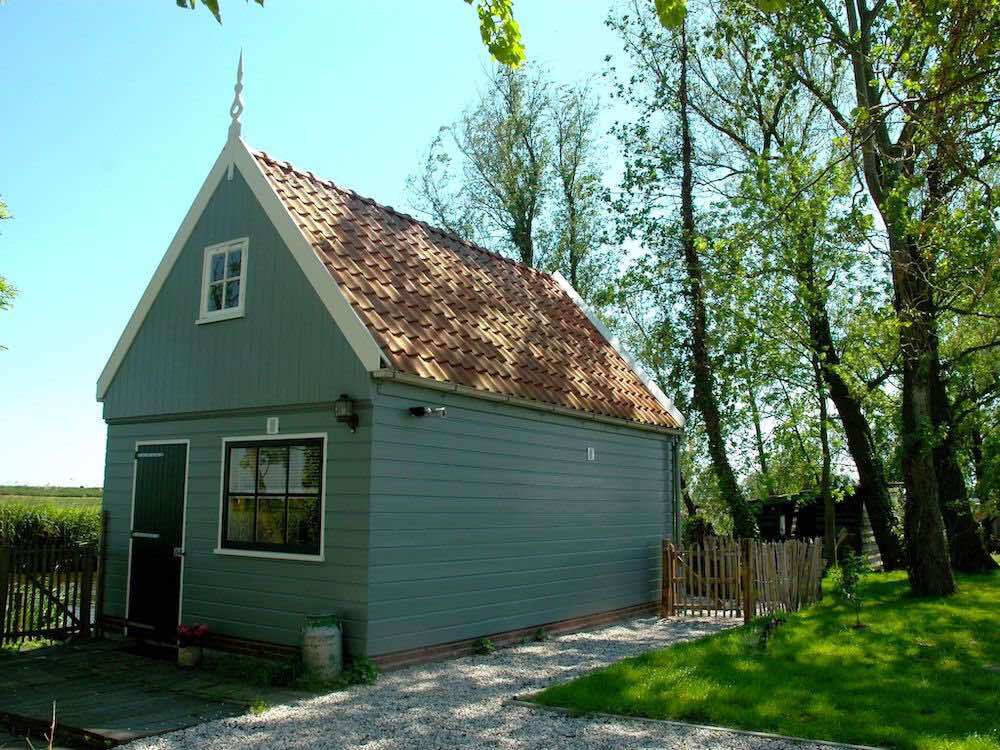 Downstairs you will find the cozy living room, a kitchenette and a bathroom. Upstairs is the bedroom with 1 double bed.
This location is ideally suited to enjoy rural and urban life. Peace, space and beautiful nature in a protected bird area with lots of water, sheep, horses and rare birds. In the summer you can rent a whisper boat or sail on the nearby IJsselmeer. The center of Amsterdam is easily accessible by bicycle, bus or car.
At this adorable accommodation near Amsterdam you can skate, swim, cycle, sail, walk and barbecue right outside your door. Isn't that amazing?
MORE DETAILS >
10 | Private Island On Mirror Lake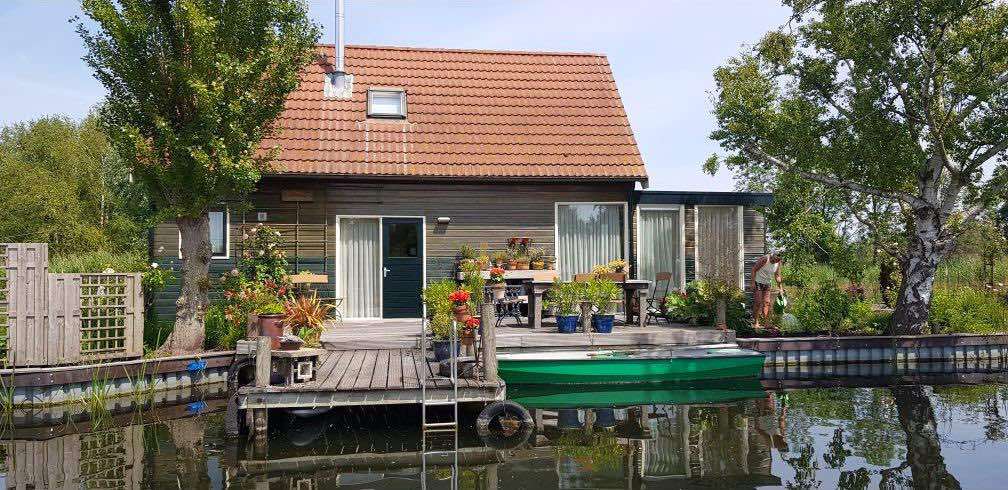 The last one the list of 10 amazing accommodations near Amsterdam is this super nice stay in the Dutch village Nederhorst den Berg on a lake called: Mirror Lake. Or in Dutch; Spiegelplas. One of our team members was born and raised in this village. He can tell you all about it.
Nederhorst den Berg has about 3500 inhabitants and is located 25 km from Amsterdam. The Spiegelplas is one of the cleanest lakes in the Netherlands. Here you can swim, sail, dive and enjoy the sun on the small beaches.
Strangely enough, this beautiful, old village is still undiscovered. Perhaps this is because it is not very easily accessible by public transport. It has no station and the bus (line 106) from Weesp only goes to Nederhorst den Berg once an hour.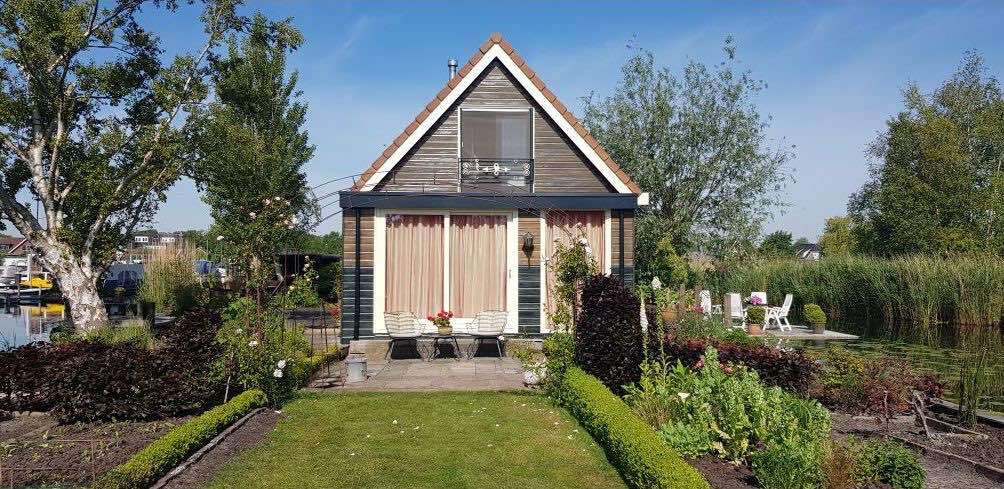 This unique residence on this beautiful Dutch lake is ideal for people who really want to relax and those who love nature. This accommodation near Amsterdam is really only recommended between June and September. Then the lake is warm enough to swim in.
The biggest drawbacks of this residence is that it is difficult to reach from Amsterdam by public transport and that there are relatively few facilities in the village.
MORE DETAILS >
ALSO READ:
10x Cheap Hotels in Amsterdam City Centre
12x Free Must See in Amsterdam
5 Comments