Dutch Food in Amsterdam
Here's a delicious list with 12 Amsterdam must eat snacks for your upcoming visit. Ever heard of patatje oorlog, poffertjes, kroketten, drop, hutspot or tompouces? All typical Dutch food which you can all buy in Holland's capital. Check out the Amsterdam must eat snacks overview:
Dutch Cheese


In the Netherlands we love our cheeses. We successfully compete, in cheesy exports, with economies like Germany and the United States. Tourists can improve their knowledge of Dutch geography simply by tasting and learning about our cheeses.
World renowned brands like Gouda, Edam, Leiden and Maasdam are all named after towns and cities in the Netherlands. If you get the chance order a "cheese plank" in a restaurant which gives you some great tasters or visit one of the many cheese stores in Amsterdam.
Stroopwafels


The internationally most well known Dutch cookies! Loved by everybody who gives them a trie. Stroopwafels are made up out of two thin waffles that are glued together by a thin layer of sweet syrup.
Our tip: heat them up over your cup of coffee. The coffee flavour gets into the waffles and the syrup gets heated and melts just a little. Perfection!
Kroketten (From The FEBO) Or Bitterballs


Looking for a fast and tasty bite to eat? Then you'll love these! You can pull these hot snacks strait out of a vending machine wall at all FEBO snackbars. The 'kroket' (crocket) consists of meat ragout on the inside which is covered in breadcrumbs. This mixture is then deep-fried and served without any sauce.
The original Dutch crocket ragout is made from beef or veal. These days you can also choose between many different options like Shrimp, chicken satay or a vegetarian crocket. Bitterballs are basicly just small crockets served in ball shapes. These are usually eaten whilst having drinks or during celebration parties.
Stamppot And Hutspot


This is Dutch stew. One of the few dishes in the Netherlands that is actually 100% Dutch. It originated from the Dutch city Leiden. It's typically eaten during the cold winters over here. Sometimes it's even served during Christmas. The dish is made from potatoes that are mashed together with other vegetables. Combinations include sauerkraut, carrot, kale or onion.
The dish is usually served with a large sausage and gravy. Hutspot is kind of like Stamppot; potatoes, carrots and unions are cooked together until they are done. Then they are mashed and also served with sausage and gravy.
Poffertjes (Mini Pancakes)


You can get these little fluffy pancakes at most pancake houses or street bakeries. They taste best right from the press. Add some molten butter and powdered sugar for a sweet taste explosion.
Original Dutch Fries With Mayo


The Dutch are know for putting a boatload of mayonnaise over their thick fries. The traditional way to eat these delicious fries is from a piping hot paper cone. These fries much thicker than the French once and are then slathered with a rich tasty topping. Options include mayonnaise, ketchup, curry ketchup, sate sauce and finely chopped onions.
Patatje Oorlog
Fun fact: Did you know that the Dutch use the term 'patatje oorlog' when they want to order fries with mayonnaise, satay sauce and onions? 'Patatje oorlog' means: war fries. It has been used since the 1970's. In the early 1990's, during the Balkan war, this term (patatje oorlog) was discredited. Some snack bars changed the name to peace fries (or 'patatje vrede' in Dutch); a term that never caught on.
Dutch Kibbeling With Ravigotte Sauce
You didn't like that salty raw herring? Give kibbeling a try! It's also made from fish. It consists of a fish mix of white fish (usually cod) that is battered and then deep fried. The dish is served with a delicious cold ravigotte sauce for your dipping pleasure. This snack is the most tastiest when served hot. The best place to get it is at one of the many outdoor fish stands and trucks in Amsterdam.
Amsterdam Must Eat Snacks: Oliebollen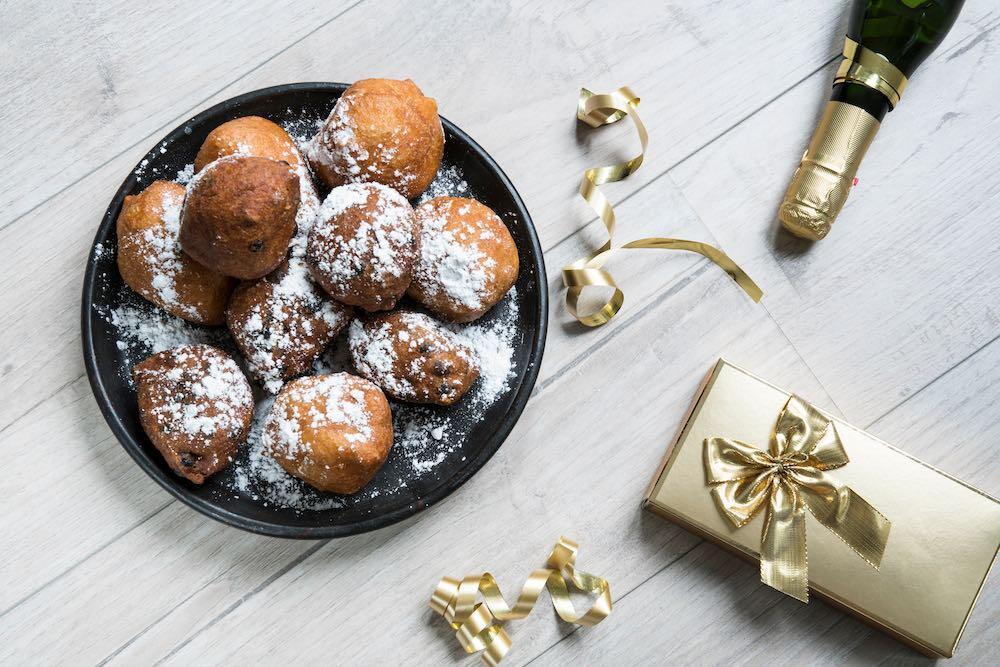 Dutch donuts, but with a twist. "Only eaten around New Year's Eve" by most Dutchies. Well, not just New Year's Eve! In Amsterdam you'll come across many 'oliebollen' (oil balls) stalls during the rest of the year. Sometimes these oliebollen are also for sale on Christmas markets in Amsterdam.
Foreigners are particularly impressed by the fact that an oliebol contains fewer calories than the name suggests (80-90 calories per oliebol). Oliebollen are a bit like donuts, which are oh so popular in America. That is why Americans in particular can appreciate this one on our Amsterdam must eat snacks list.
Ontbijtkoek


Ontbijtkoek (gingerbread) literally translates into "breakfast cake" and the Dutch eat more than 100 million slices of ontbijtkoek every year. More than three-quarters of the Dutch eat Ontbijtkoek for breakfast or as a snack. This ginger tasting cake can only be bought in loaves, and is a lovely hearty snack for in-between. Put on some thick full cream butter on it for that extra taste sensation.
Raw Dutch Herring


Haring is the Dutch word for herring. It's a national institution, eaten lightly salted or sometimes with pickles. It's probably the ultimate Amsterdam must eat snack. Without herring the city wouldn't be what it is today. More about that during our tours! Everyone who visits this great city should give it a try. This quick snack can easily be purchased all across the city. We prefer eating it with a sandwich, some unions and pickles. Other people just eat the fish covered in finely chopped unions.
Dutch Drop (licorice)


Hard, soft, sweet or salty: we love our liquorice. "Drop" can be found in every supermarket in the Netherlands. The Dutch boast the highest per capita consumption of licorice in the world. Did you know that the average Dutch person consumes more than 4 pounds (2000 grams) per year? This is one snack that you can't miss out on when visiting Amsterdam.
Tompouce


Our personal favourite from our Amsterdam must eat snacks list. Reportedly, this pastry was first made in the Netherlands by a pastry chef from Amsterdam. A tompoece consists of a layer of puff pastry with a thick layer of vanilla pastry cream over it. On top of that is another layer of puff pastry covered with a layer, usually pink, frosting.
During King's Day and European and World Cup Football tournaments the glaze is often made orange. Tompouces are strictly regulated to ensure consistency in size, shape and colour. A national favorite during special occasions! You can get them at the HEMA for 0,80 euro cents.
So, now you have seen all Amsterdam must eat snacks. Which one is your favourite?
ALSO READ:
10 Tips For Cannabis Use in Amsterdam
10 Accommodations Near Amsterdam That No One Knows About
MORE AMSTERDAM TIPS >
10 Comments