Self Guided Amsterdam Walking Tour
We've developed a unique Amsterdam Audio Tour app specifically for Amsterdam Red Light District. In it, 22 local an international experts will tell you all about one of Holland's most unique areas.
Amsterdam Audio Tour With Virtual Guide & GPS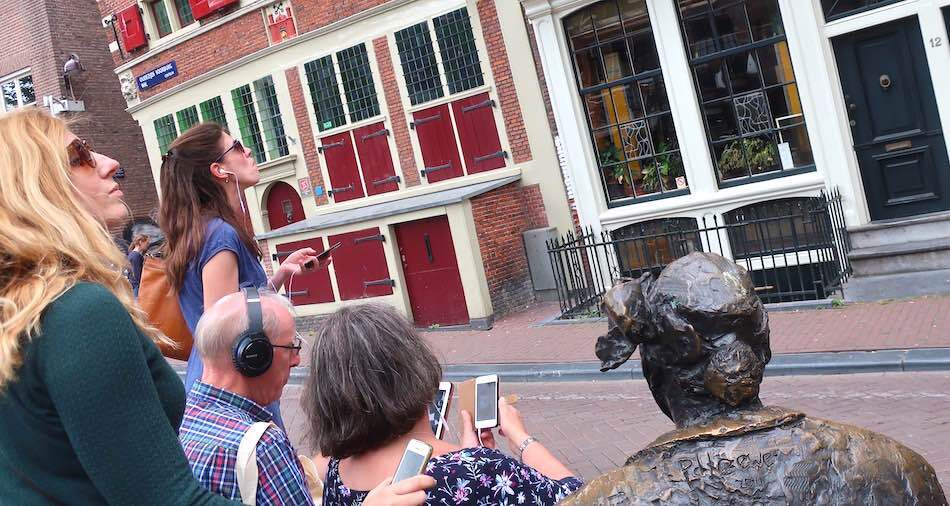 During the tour your virtual guide Sophie will talk and walk you through Amsterdam Red Light District, also known as "De Wallen". She will tell you all about the wheelings and dealings that happen in the area and she'll introduce you to 22 experts in their fields along the way. These experts share their knowledge and unique perspectives with you so you'll really get to know De Wallen; its history and its current iteration.
Get to know what's it like to be sex worker in Amsterdam, learn what area used to be like, hear real stories from real locals and learn everything about the Dutch culture, tolerance, drug policy, Dutch food, sex education in Holland and much more.
22 Experts As Amsterdam Tour Guide: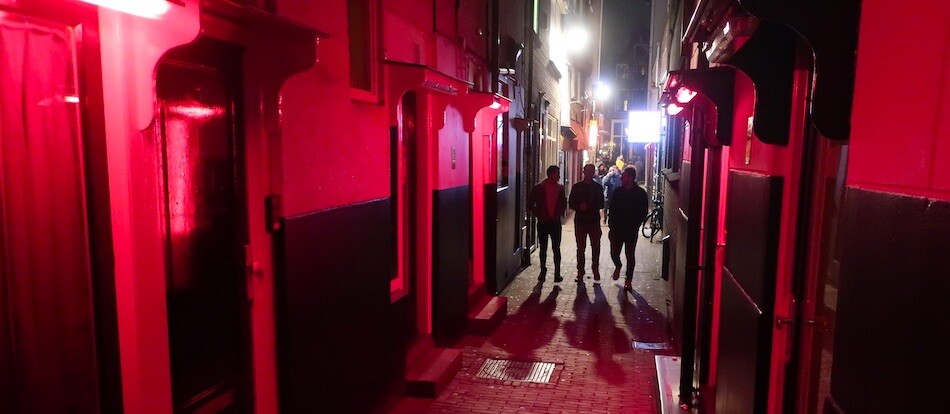 These 22 experts are part of this Amsterdam Audio Tour:
Patrick – The Red Light District police officer.
Jerzy Gawronski – Amsterdam's archaeologist & professor of maritime at the University of Amsterdam.
Veronique Verschueren – "smart shop" owner.
August de Loor – Amsterdam's drug consultant.
Walther Schoonenberg – Amsterdam's best architectural historian.
Russell Shorto – Journalist, Author & historian who has written one of the best books on Amsterdam's history.
Birgit Buchner – Director at a hidden Catholic church museum.
Dennis de Borst – CEO of the the famous Dutch FEBO snackbar chain.
Martine & Louise Fokkens – Twin sisters as prostitutes for 50 years.
Kate Lister – Lecturer & researcher of the history of sexuality & owner of the famous Twitter-account Whores of Yore.
Herman Vuijsje – Dutch writer & sociologist.
Mariska Majoor – Holland's best known sex worker activist.
Elard Tissot van Patot – CEO of Amsterdam Red Light District Tours.
Theodoor van Boven – Owner of world's first condom shop.
Kasia – A Romanian window sex worker.
Diana van Laar – Owner of Amsterdam's first gay bar.
Jan Otten – Owner of Casa Rosso and Amsterdam's last peep show.
Hugo van Heijningen – Founder of Red Light Radio (a radio station located in a former window brothel).
Lyle Muns – Local politician & male sex worker.
Piet Middelkoop – Retired police officer who worked in the Red Light District during rough 1980's.
Henny Tinga – Front woman of the Salvation Army in Amsterdam.
A Little Preview of Amsterdam Audio Tour:
American historian Russell Shorto:
"This kind of tolerance is part of the Dutch identity. It goes all the way back to the Middle Ages and the battle against water. People built up dams and dikes, creating land where there was none."


Lyle Muns, Male Sex Worker:
"Personally, I'm an escort, so I go to my clients, rather than working in a brothel or behind a window. I do so because it gives me a lot of liberty… I don't need to rent a room and work the whole day and I can just go to a client for an hour, come back home, and do my other stuff. This is also why I became an escort in the first place; it gives me the freedom to pursue other things as well, such as my political career. Because I'm so open about my work, it doesn't stand in my way, although I do get a lot of questions about it. Hopefully, in the future, sex work will be viewed as a normal profession or side job."
"Hopefully, in the future, sex work will be viewed as a normal profession or side job."
"And whether you're standing behind a window, or work as an escort; being a sex worker in Amsterdam is particularly enjoyable because there is a lot of support from the government… They offer health services that are freely available, such as std-checks. There are social services that help you out when you're having emotional issues. And, most importantly: it's legal. You won't find any police harassment like sex workers experience in other countries. I am really grateful for that."


Amsterdam's City Archeologist Jerzy Gawronski:
"The word 'Wallen' comes from the canals that cross section the Red Light District; the Oudezijds Voorburgwal and the Oudezijds Achterburgwal. A 'burgwal' means 'defensive wall' with a canal in front, but now the name is used for the canals itself, which were dug as a defence for the city."
University Lecturer & Researcher Of The History Of Sexuality Kate Lister:
"Whore" originally derives from the Germanic "horon", meaning "one that desires". That's also why I use the term. Not to stigmatize sex workers, but to puncture the shame inherent in that word, and as a statement that by definition, we are all historical whores. We all desire."
Kasia, A Romanian Window Prostitute:
"You need to be at least 21, you need a place to live to have a registered address, you need a registration at the Chamber of Commerce. And if you are from outside of the EU you also need a work permit. And you need to find a brothel that wants to rent you a window."
Pros of the Amsterdam Audio Tour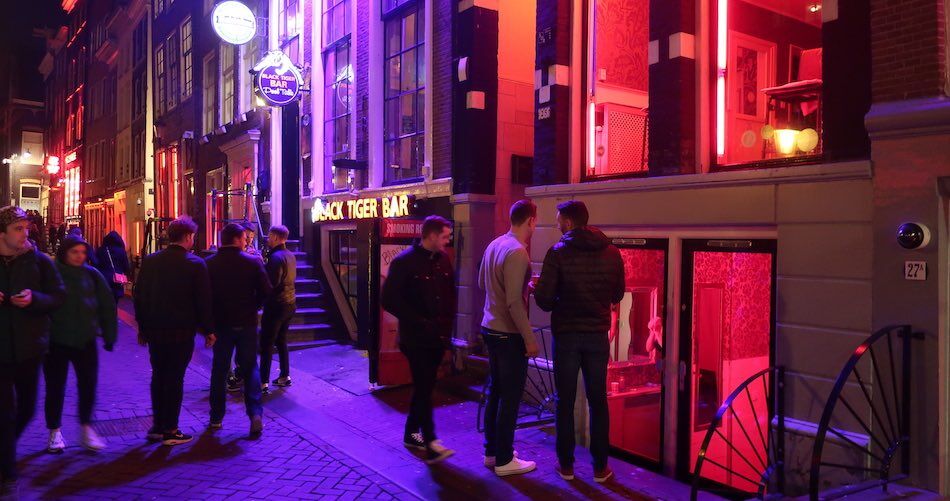 Flexibility: You can do the audio tour at any time. You don't need anyone else to do this tour. You can also choose to listen to the content at home as an audiobook, while seeing lots of (old) pictures!
An unique app: This is the only audio tour in Amsterdam that includes a great variety of experts. It's one of a kind!
Low priced: This Amsterdam audio tour app is priced at just 4,99 euro. That's a real bargain if you compare it to a normal walking tour.
Informational: 22 Experts and their knowledge in the palm of your hand.
Modern: The newest way to discover a city like Amsterdam.
Accessible: Downloadable to all smart phones.
Exhaustive: All subjects that are connected with the Red Light District are discussed.
Fun: It contains good jokes too.
Exciting: Explore Amsterdam's most fascinating area alone, or sync up with your friends, family or co-workers.
No waiting around: for other people, or speed it up to your liking.
Amsterdam Audio Tour Specifications


Language: English.
Duration: max. 1u 50m.
Required: Smartphone & headset.
Included: GPS-map, dozens of pictures & stories.
Stops: 32.
Not required: Internet connection during the tour.
Download file size app: 42 mb.
Price: 4,99 euro per download.
Download The Amsterdam Audio Tour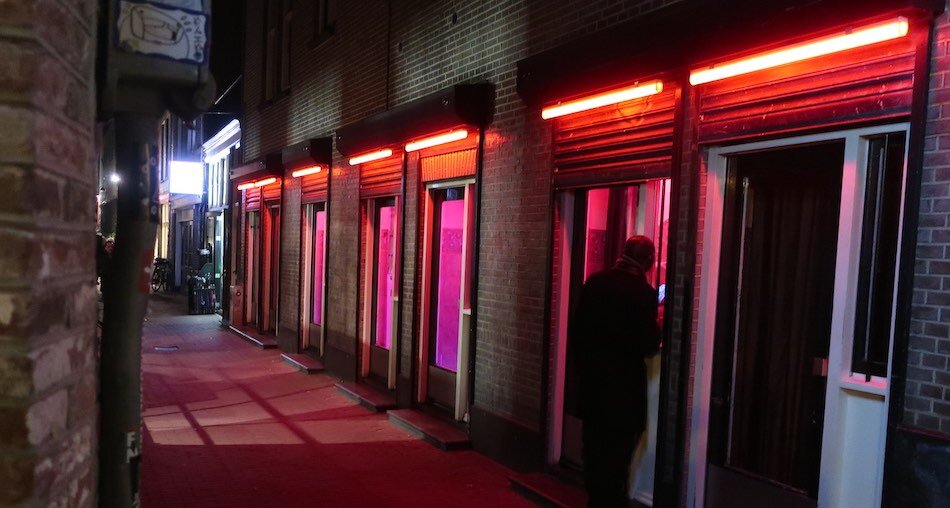 The Amsterdam Audio Tours App can be purchased either through the Apple App Store or the Google Play Store for Android users. Learn about the Red Light District of Amsterdam whilst exploring the area, or just from a comfy chair in your home or hotel.
GET THE APP >
ALSO DISCOVER:
Amsterdam Brothel Tour With Prostitute Tour Guide
31 Fun Things To Do In Amsterdam
5 Popular Sex Date Apps In Amsterdam
MORE AMSTERDAM TIPS >