10 Best Hotels in Amsterdam Central
Amsterdam is a beautiful city with so much to see and do, but it can be hard to know where to start. With all of the choices out there, how can you make sure you're picking the right hotel for your stay in Amsterdam? Our list of the 10 best hotels in Amsterdam central will help make your decision easy. Each of these hotels has been carefully selected based on location, amenities, reviews and price.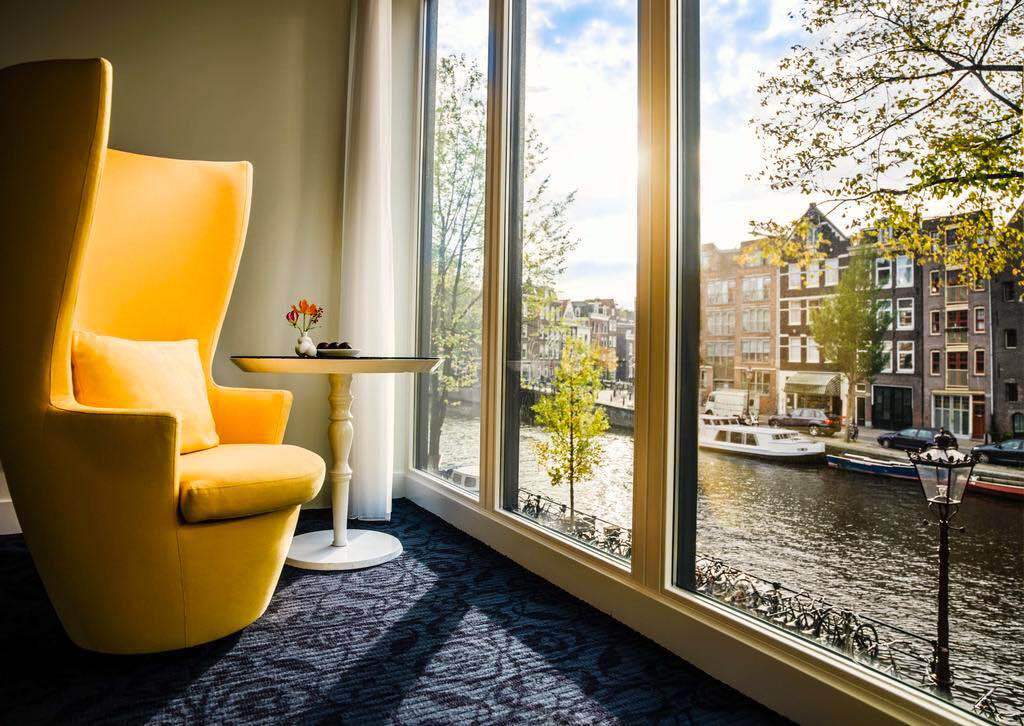 Don't go halfway by saving money on hotels. Make sure you'll have an amazing experience! Treat yourself to one of the following hotels in Amsterdam central.
I WANT THIS HOTEL >
These fantastic hotels in Amsterdam central contain pros, cons, photos and reviews of other travellers. This way you know for sure whether you are making the right choice.
TIP: Book as early as possible and get a discount!
Best Hotels In Amsterdam City Centre
1 | Hotel W Amsterdam | > 365 per room per night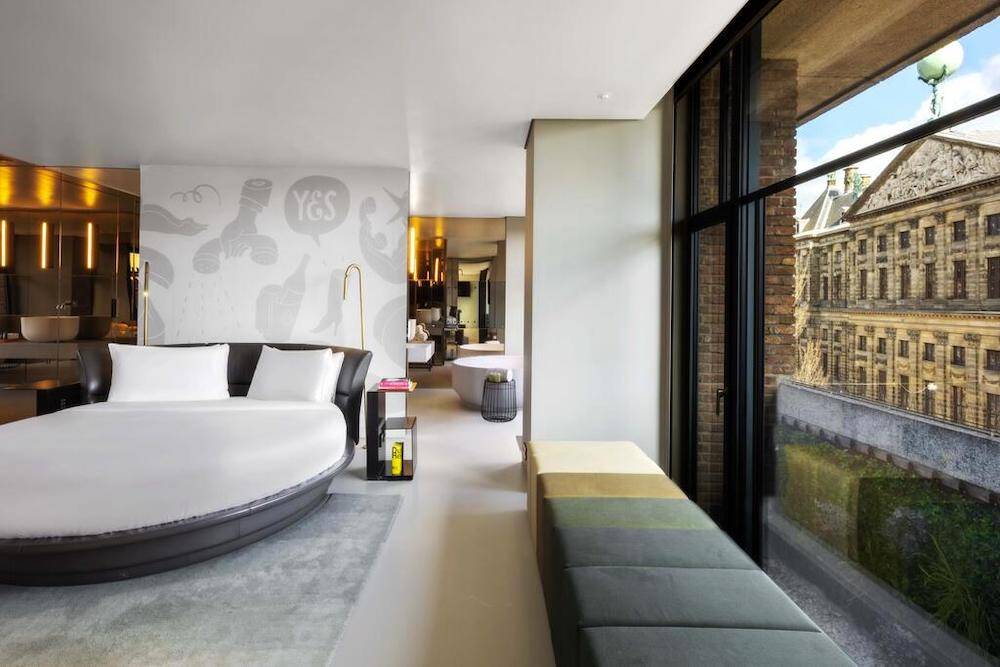 This hotel in Amsterdam central has perhaps the best location of all hotels. It is located just behind Dam Square and overlooks the Royal Palace. This hotel in Amsterdam central has perhaps the best location of all hotels.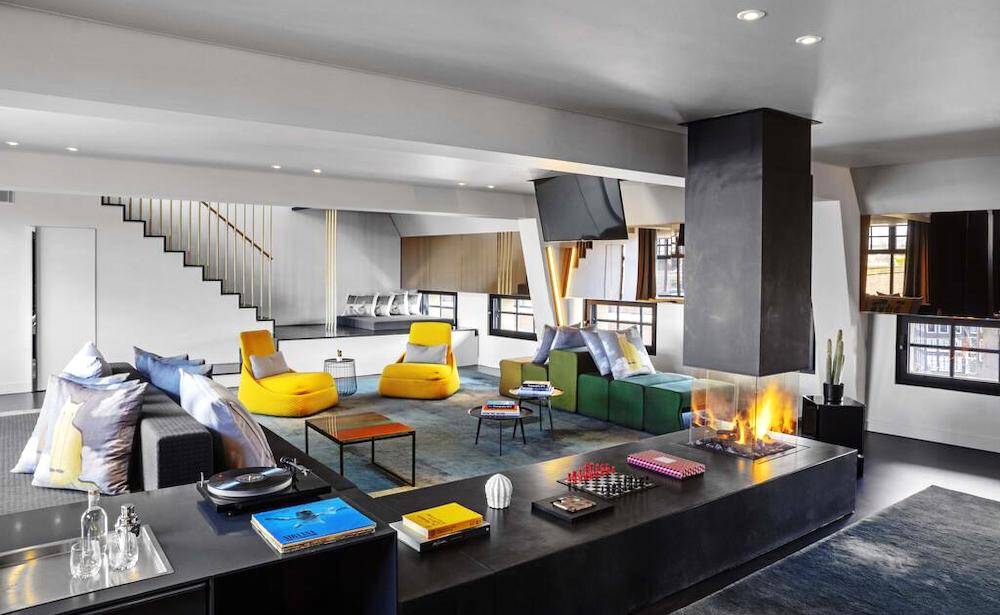 The W Hotel creates a New York atmosphere in Amsterdam, with W's classy and edgy design. It even has a rooftop swimming pool where you can enjoy the vibrant Amsterdam life with a drink. See how the locals cycle through the city, while you enjoy the great view with a cocktail from the rooftop (swimming pool).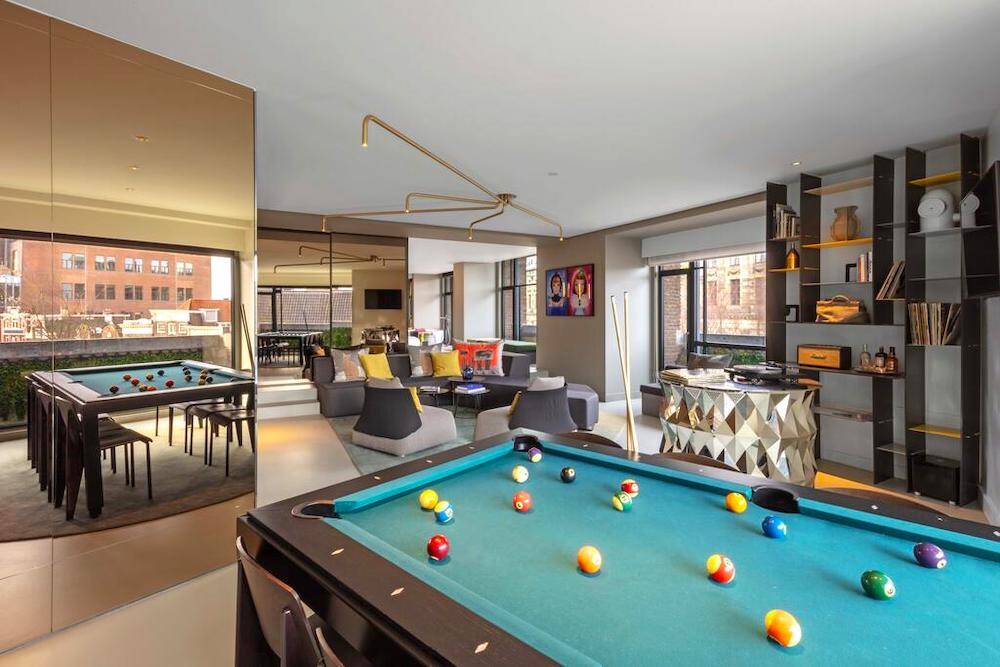 This Amsterdam hotel is definitely not the cheapest option in town but it will certainly bring you unforgettable experiences with its fantastic facilities, stunning suites and prime location. Discover it below.
Reviews
We arrived quite early in the morning, way before check-in time. After flying through the night we just wanted to rest. Luckily for us, Pius was assisting us at the front desk. He took care of us right away, giving us options as the room we booked was understandably not yet ready. He went above and beyond with each aspect of our arrival. In addition, our concierge/bellman was at the same level. The first impression of both the city and this unique hotel were so positive.

Ashley Steele | 5 out of 5 stars.
Google: 1,749 reviews – 4,4 out of 5 stars.
TripAdvisor: 1,446 reviews – 4 out of 5 stars.
Booking: 909 reviews – 8.2 out of 10.
I WANT TO STAY HERE! >
2 | Hotel Jakarta Amsterdam | > 174 per room per night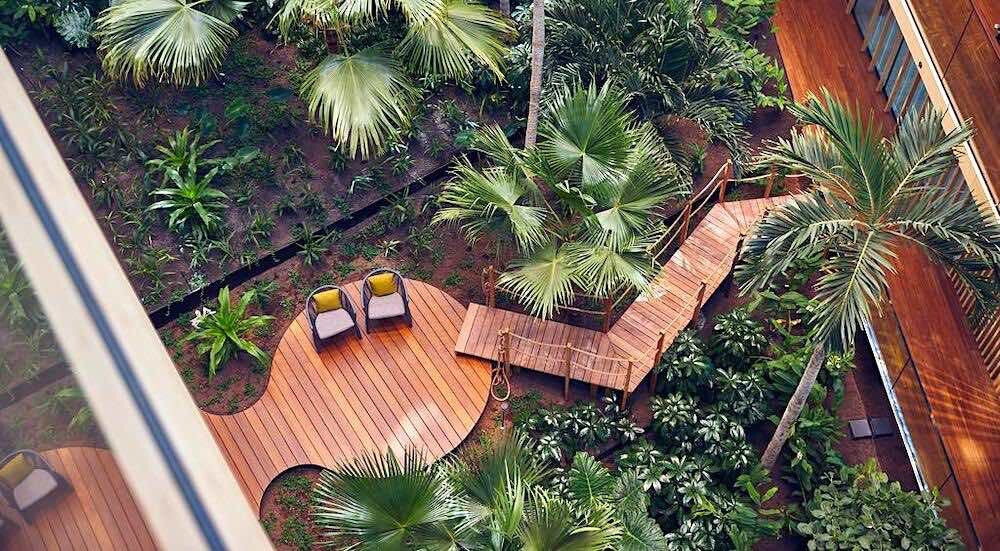 Hotel Jakarta is a unique, energy-neutral hotel in Amsterdam central on the river IJ. Here two worlds come together. Where ships once left for Jakarta, is now a luxury hotel with a subtropical courtyard and Indonesian influences. You imagine yourself in an Eastern atmosphere in Amsterdam!
The hotel offers 200 luxurious 4-star rooms in boutique style. Most rooms have a balcony, with a view over the IJ or Central Station. Breakfast is included in the price.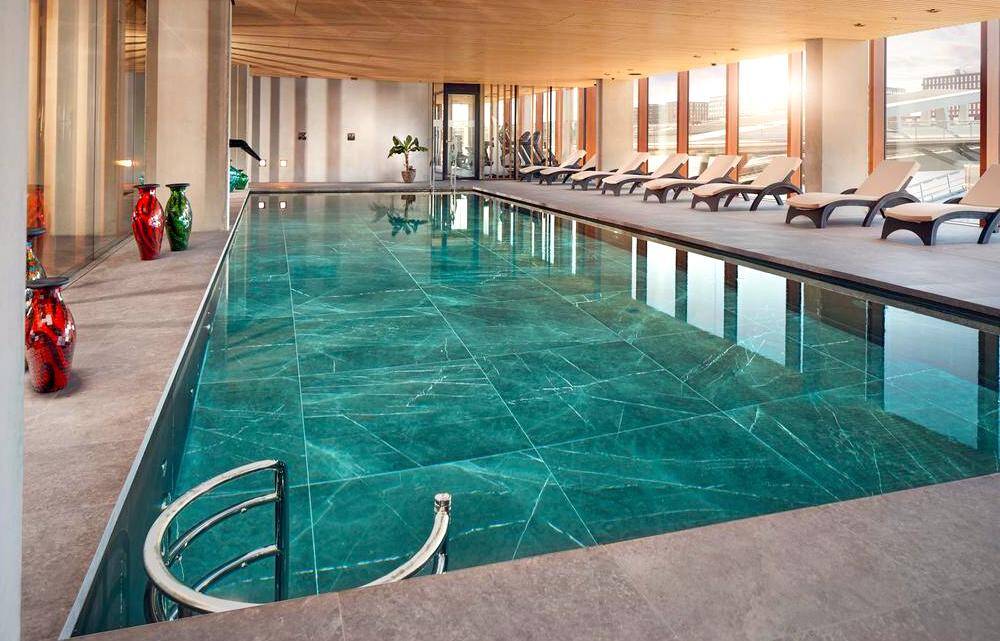 You can enjoy breakfast, lunch or dinner in Café Jakarta. Here special fusion dishes are served under the motto "Two Worlds Connected". Adjacent is the south-facing terrace on the water. You can relax in the wellness, where you will also find the swimming pool with a great view over the IJ–river.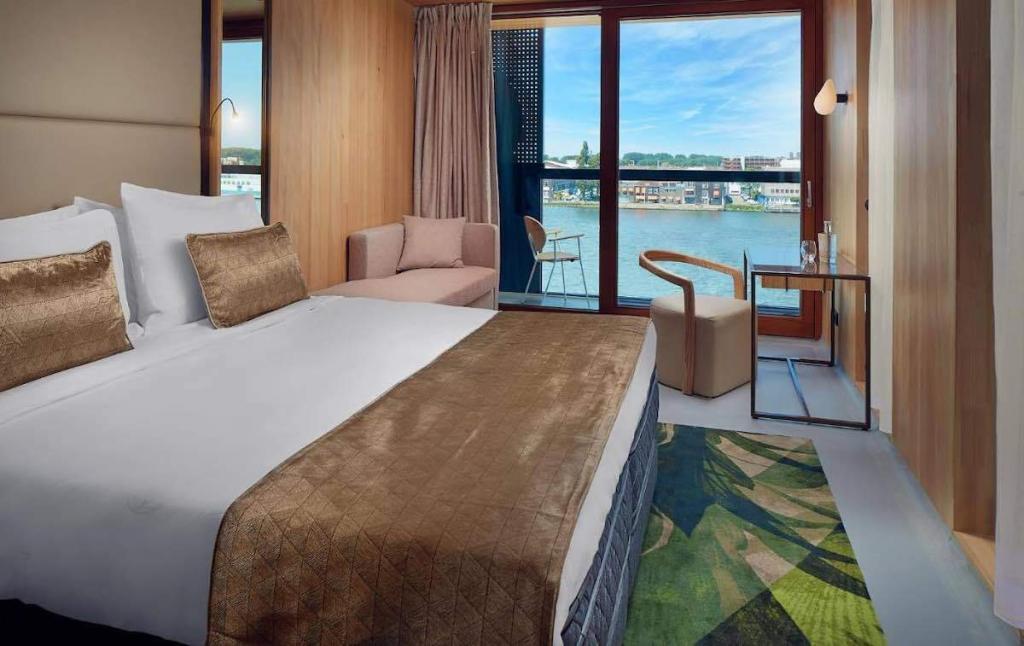 For a fiery cocktail, go to Skybar Malabar with a fantastic view! Free wireless internet is accessible throughout the hotel. You can park in the underground parking garage. The hotel is also easily accessible by public transport from Amsterdam Central Station.
I WANT TO STAY HERE! >
3 | Hotel TwentySeven Amsterdam | > 695 per room per night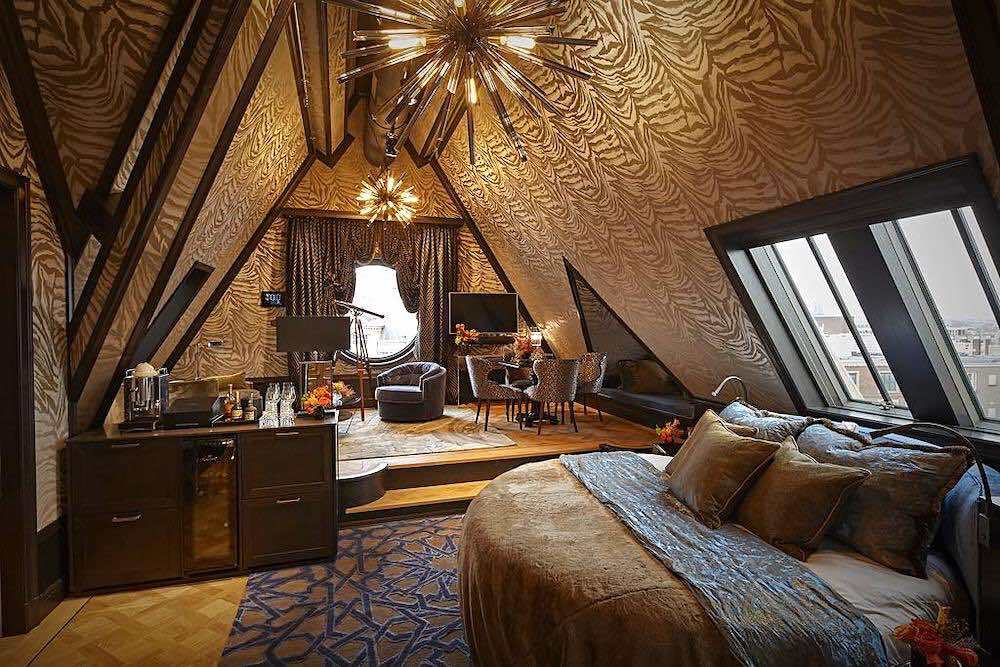 Do you really want to treat yourself to an unforgettable experience? Then choose this super cool hotel in Amsterdam central. The luxury hotel has really classy suites that overlook the National Monument and Dam Square.
I WANT TO STAY HERE! >
When booking this hotel you should not pay attention to the price, but focus on the unique experience that you will never forget in your life. A stay in this special hotel in Amsterdam offers you such an unforgettable experience.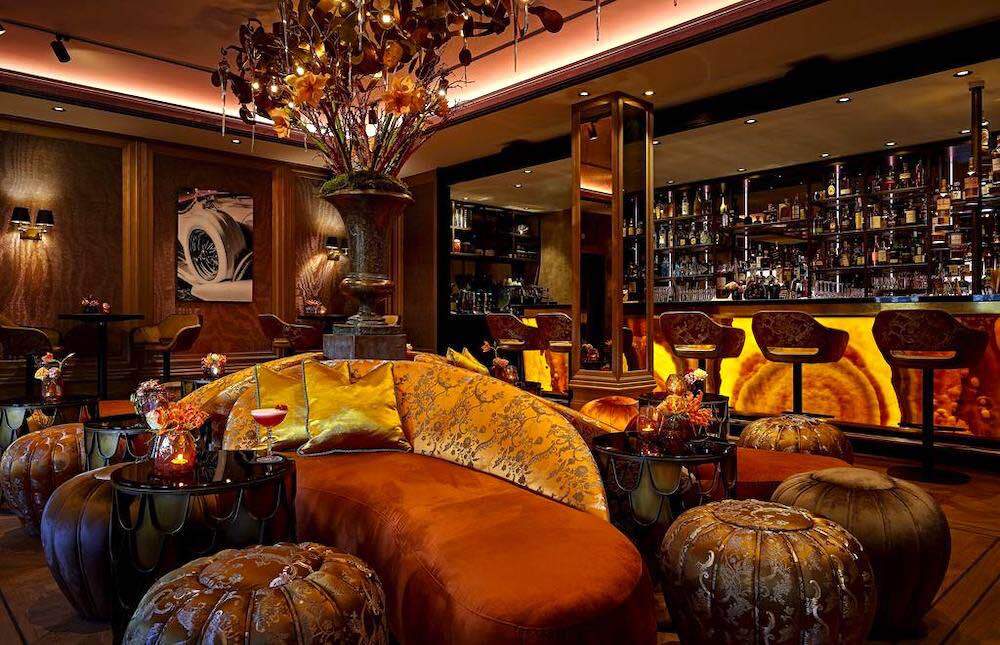 This hotel has suites that are all individually decorated, giving them a unique character. It is really nice to wake up in the steam shower that you will find in the bathrooms of Hotel TwentySeven. Also nice: enjoy the bubble bath with your loved one in the evening.
The hotel has its own luxurious restaurant and bar with a cocktail menu. Perfect if you want to end your day with a delicious drink.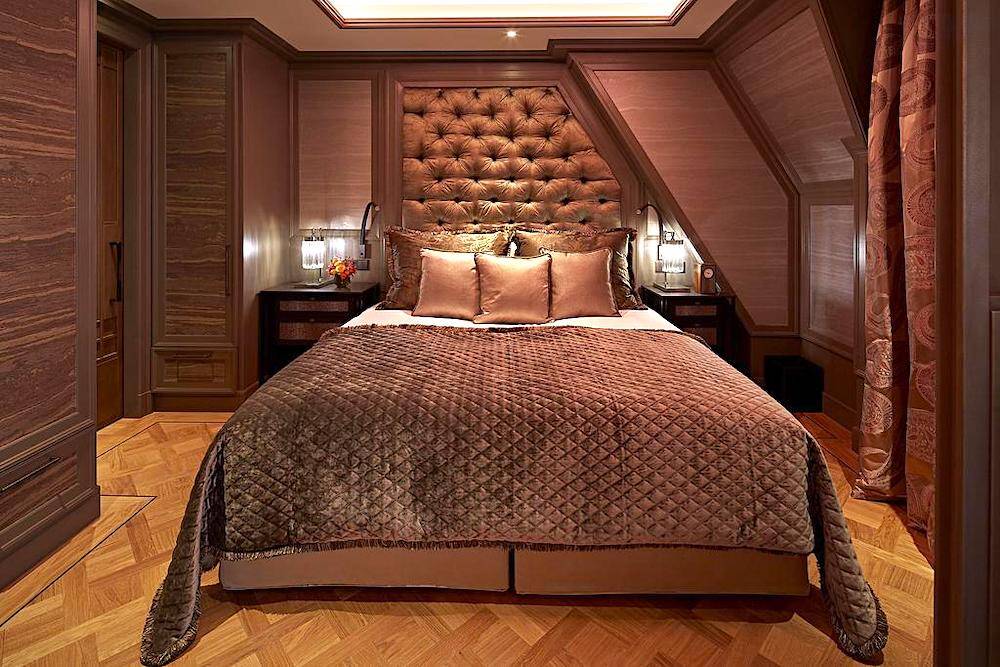 During a stay in this hotel you live like a king or queen!
I WANT TO STAY HERE! >
4 | The Bank Hotel | > 115 per room per night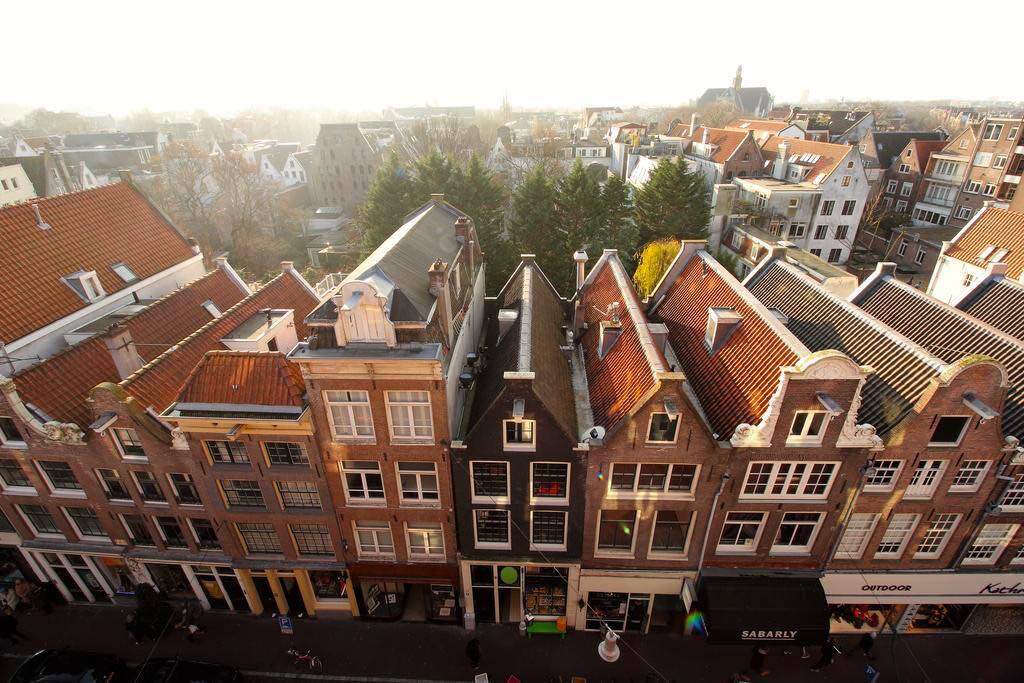 This beautiful boutique hotel is located in a monumental building in the Jordaan. It used to be a bank building, hence the name. Amsterdam Central Station is around the corner, so you couldn't be better in Amsterdam in terms of location. And, look at this amazing view over these gorgeous Amsterdam buildings.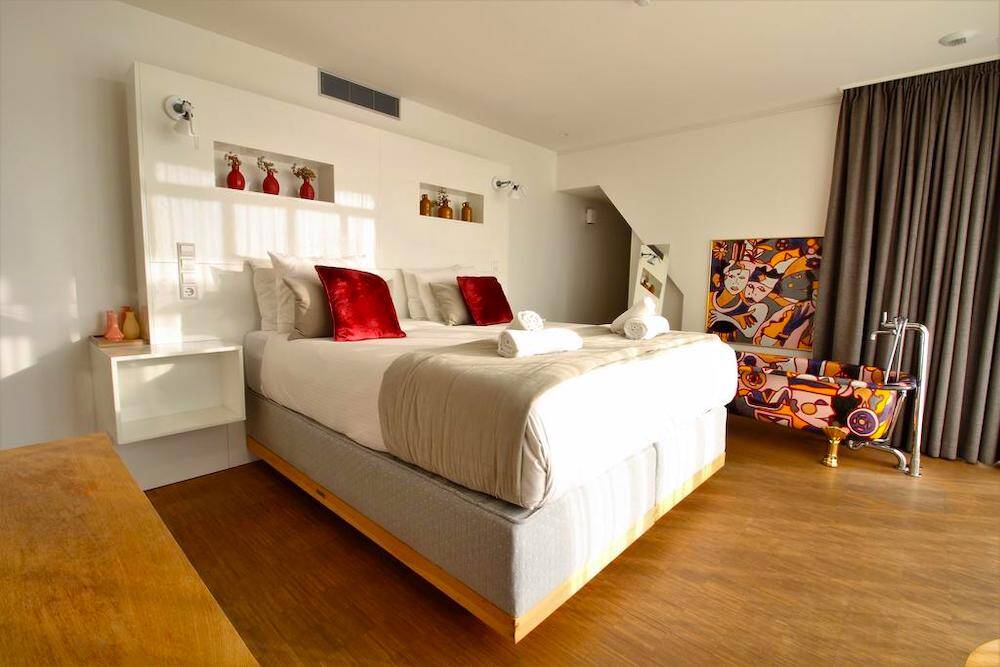 The elegant rooms in this boutique hotel all have a private bathroom, desk, Wi-Fi, a safe and a fridge in the room. There is also a restaurant where you can eat a delicious breakfast from nine o'clock in the morning.
Also nice: all rooms are noise-proof and are therefore super quiet.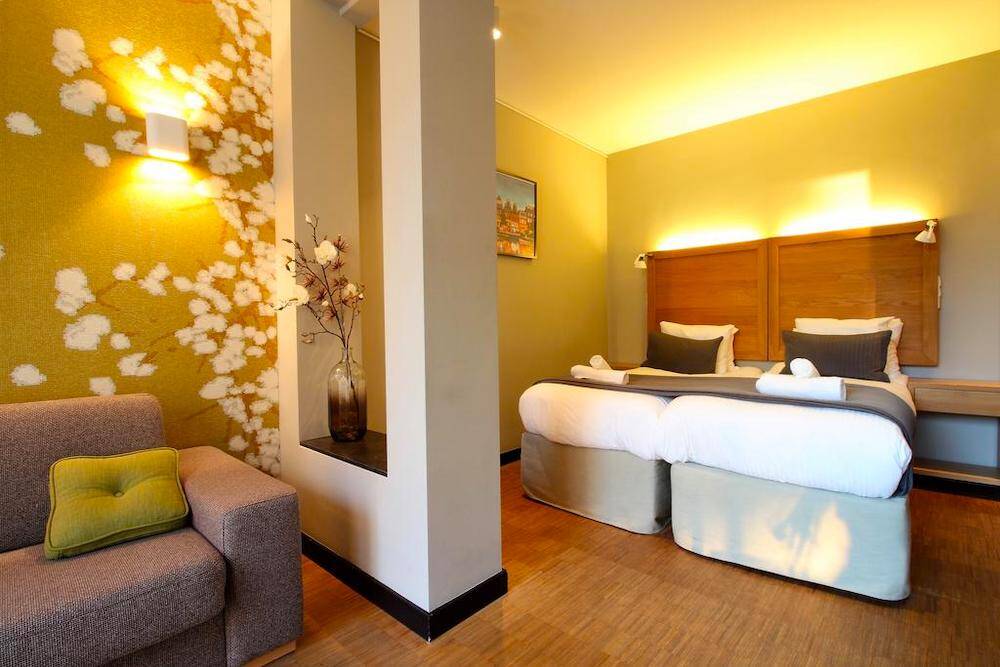 Reviews
TripAdvisor: 262 reviews – 4 out 5 stars.
Booking: 1,214 reviews – 9.3 out of 10.
Expedia: 355 reviews – 4.3 out of 5.
Kayak: 1,216 reviews – 8,4 out of 10.
I WANT TO STAY HERE! >
5 | Hotel Andaz Amsterdam | > 274 per room per night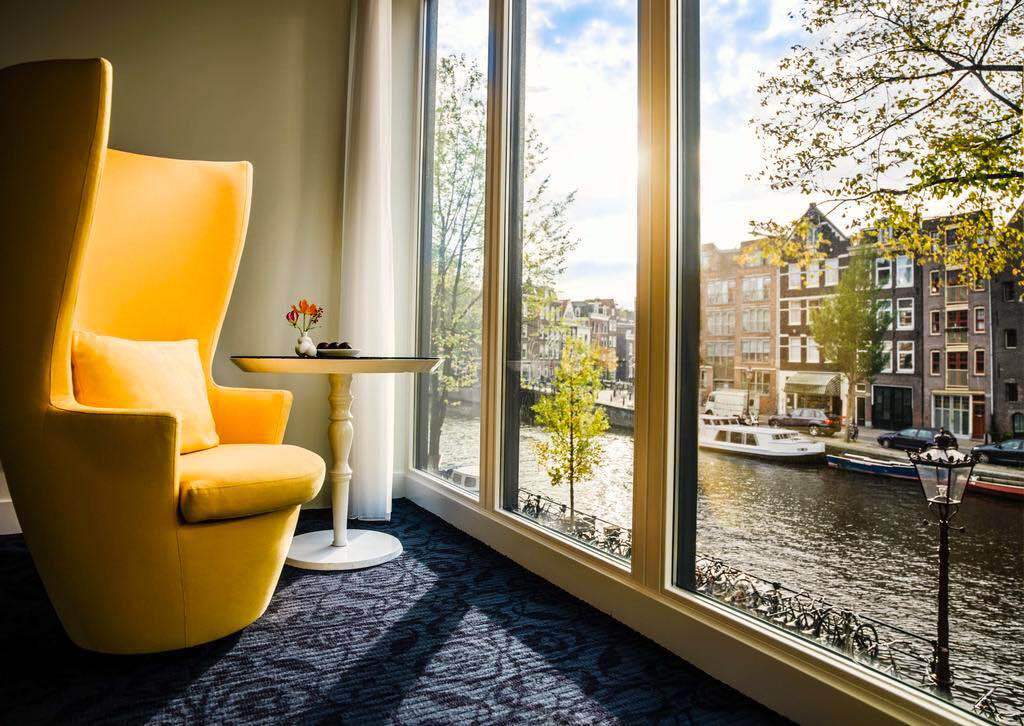 A sauna, a beautiful courtyard, a fitness room, suites with an amazing interior and a phenomenal view over the most beautiful canal in the Dutch capital. This hotel in Amsterdam central has it all! Including a rooftop terrace!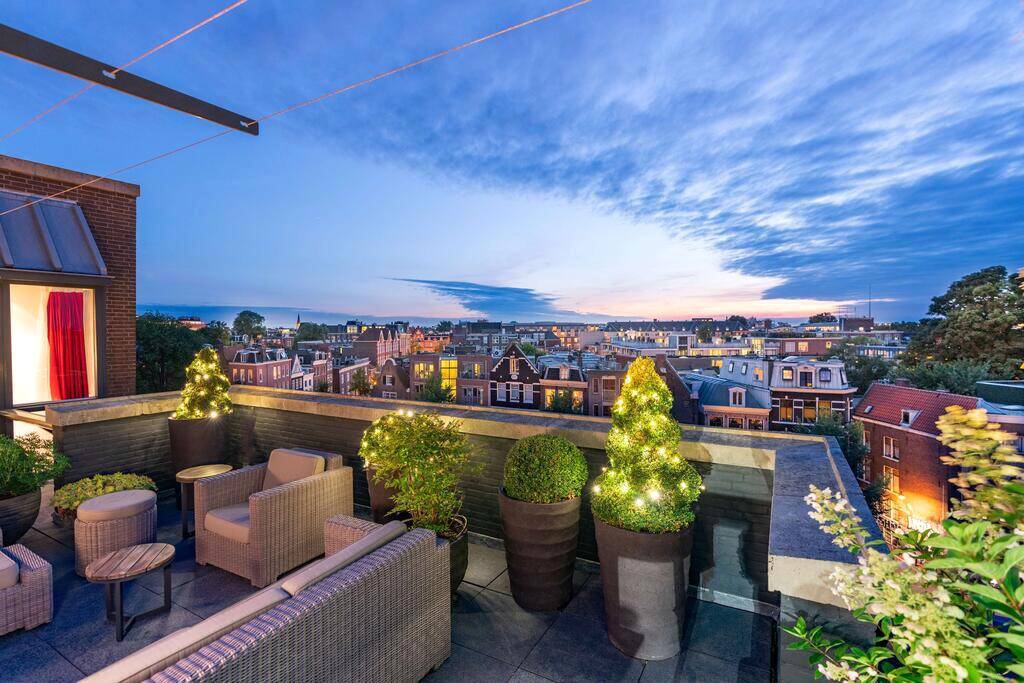 The Andaz Amsterdam Prinsengracht is a lifestyle hotel located in the middle of the canal belt. As the name suggests, this five-star hotel is located directly on the Prinsengracht.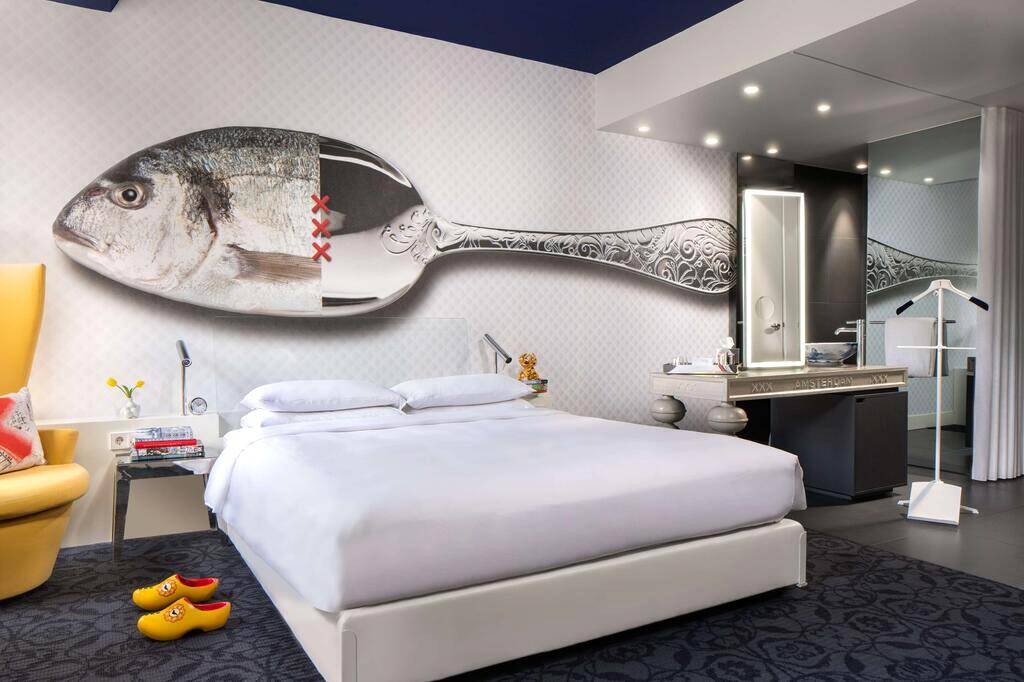 The design rooms all have a unique look, because they are individually designed by Marcel Wanders. They are equipped with a nice sitting area, a luxurious bathroom, a flat screen TV and coffee and tea facilities.
You also get free slippers in the form of Dutch clogs here.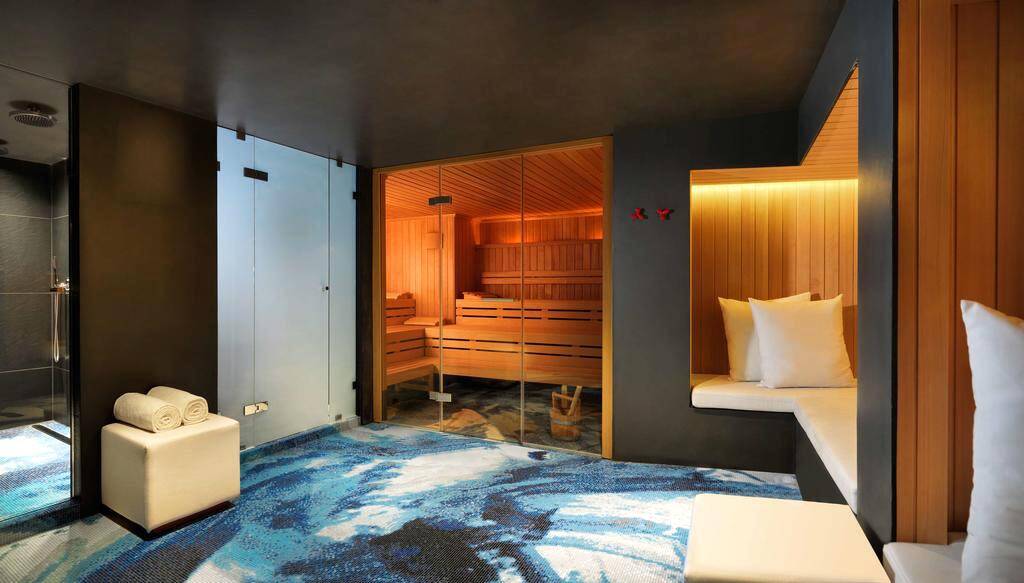 The suites also have minibars with free drinks and snacks. And from the window in your room you may have a view on the canals… how cool is that?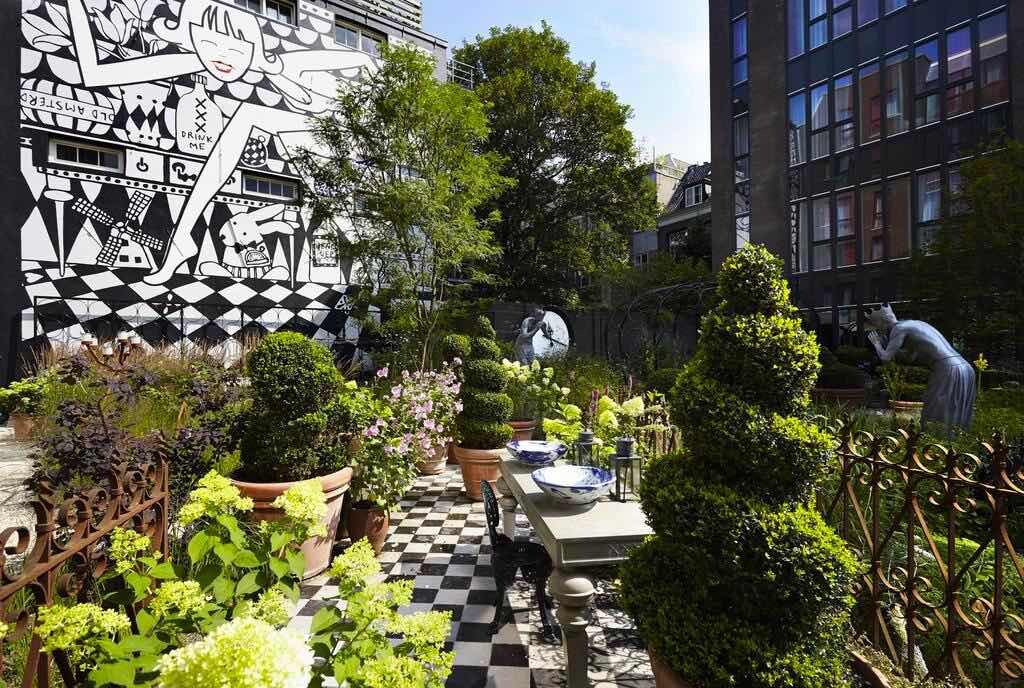 The hotel has its own restaurant – Bluespoon – where they serve breakfast, lunch and dinner, made with local and seasonal produce. During your stay you will also receive a free bicycle to use during your stay. Ideal for discovering the city in this way. In the evening you can have a cocktail in the hotel bar.
I WANT TO STAY HERE! >
6 | Hotel Zoku Amsterdam | > 100 per room per night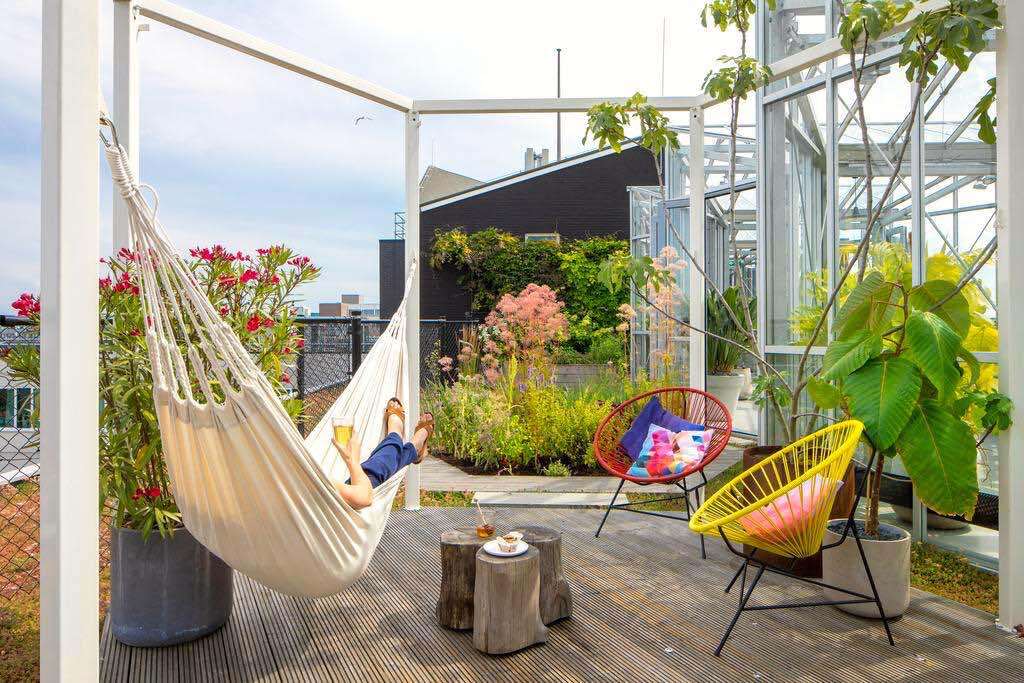 Not many hotels in Amsterdam central have it: hammocks on the terrace. But, Zoku does! The perfect hotel to chill and to enjoy your well-deserved holiday.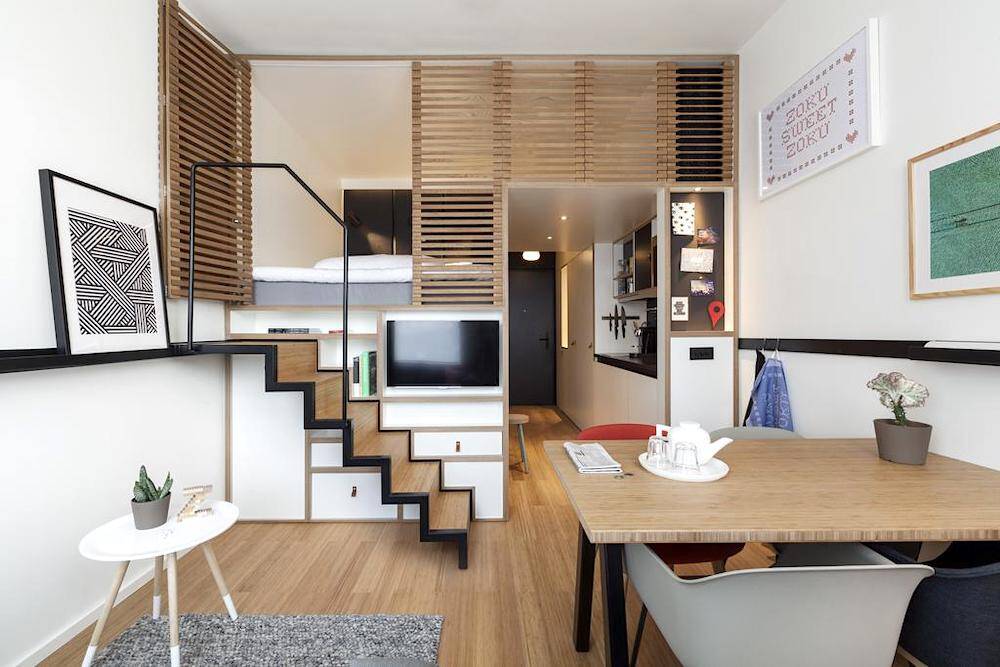 This hotel in Amsterdam central is designed for both local and business travellers. Plus, it offers hotel services for short and long stays.
On the top floor one will find an amazing roof terrace, a sun-drenched greenhouse and 360-degree views of Holland's capital.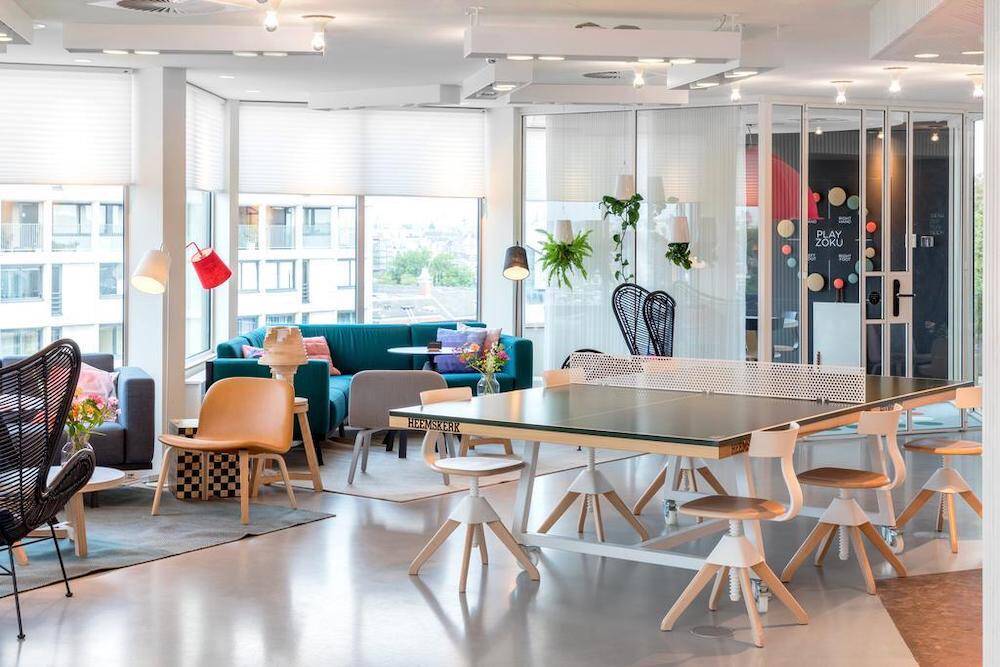 This Amsterdam hotel also has a table tennis table and areas where you can work with others.
Reviews
Google: 1,653 reviews – 4,7 out 5 stars.
TripAdvisor: 938 reviews – 4,5 out 5 stars.
Booking: 1,883 reviews – 9 out of 10.
I WANT TO STAY HERE! >
7 | Mr. Jordaan | 102 per room per night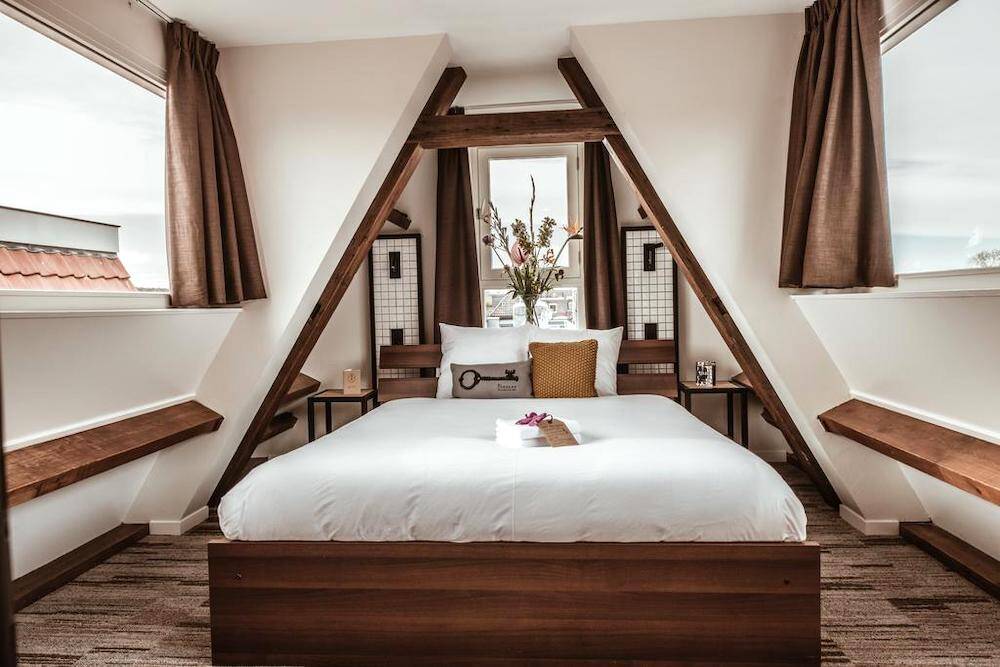 Are you still looking for a cheaper hotel in Amsterdam central? One that still has fantastic reviews and can offer proper quality? Maybe this is a good choice for you!
This property has really insanely good reviews. It's centrally located, elegant, stylish and has friendly staff.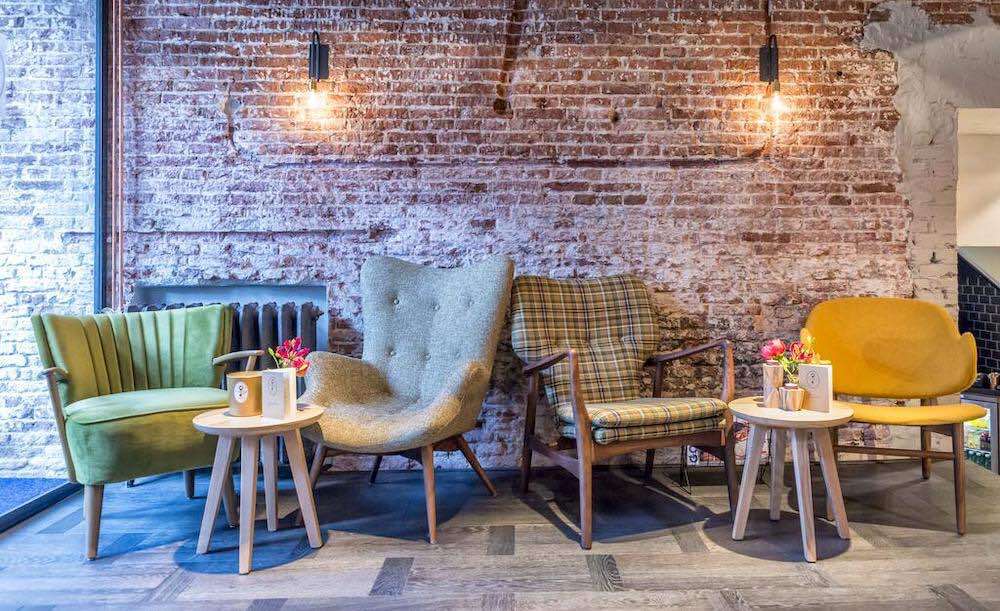 The rooms in this hotel may not be as special as others on this list, but they will certainly meet your needs. In terms of location, this hip hotel is rated with a 9.6 / 10.
It's located on the Bloemgracht which is a 6 minute walk from the Anne Frank House. Check out these amazing reviews:
Reviews
Google: 372 reviews – 4,7 out of 5 stars.
TripAdvisor: 520 reviews – 4,5 out 5 stars.
Booking: 1,748 reviews – 9.3 out of 10.
I WANT TO STAY HERE! >
8 | Inntel Hotels Amsterdam Centre | > 120 per room per night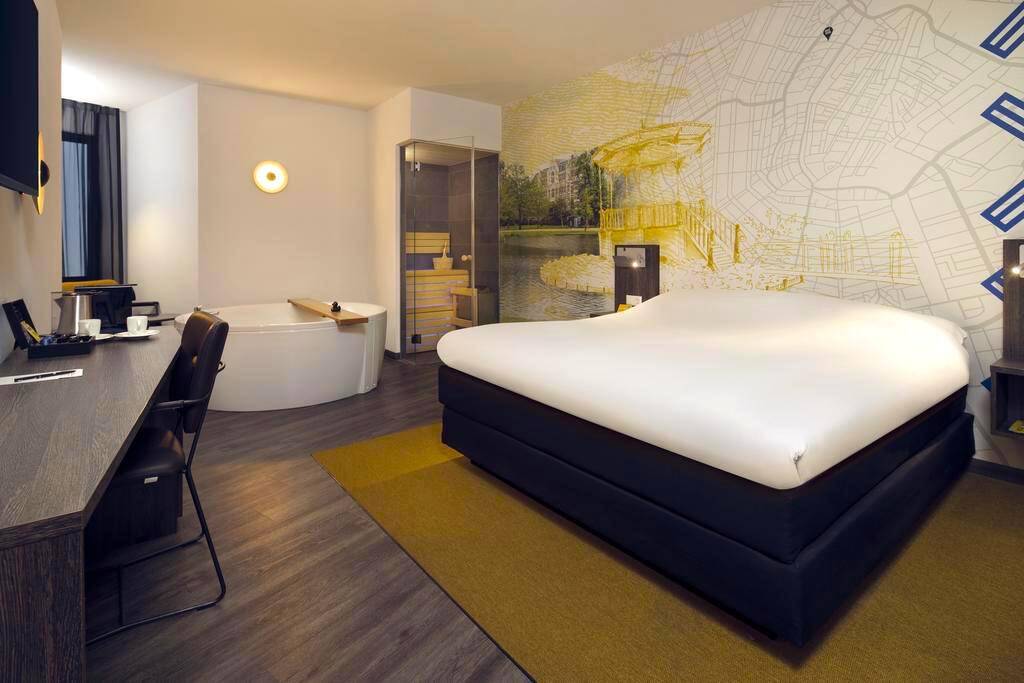 Another great option is located on the Nieuwezijdeskolk, right in the center and within walking distance of Central Station. Here, you can book a hotel room from 120 euros per night.
Save a lot of time due to the central location of this hotel. Within a 10-minute walk you are in the Red Light District, or Dam Square, in the Jordaan area or at the Anne Frank House.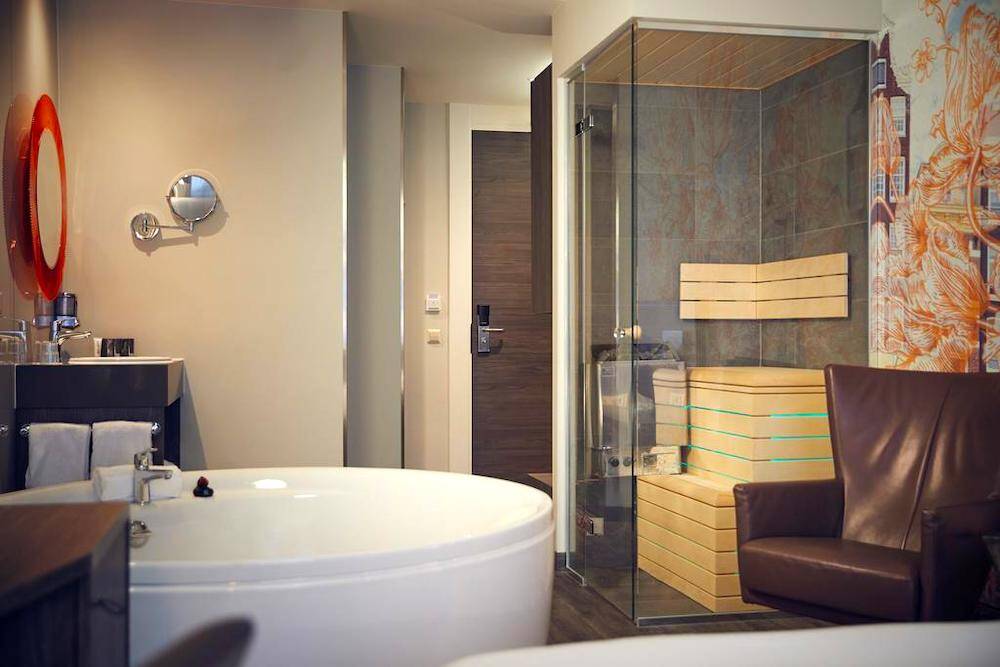 The rooms are modern, sound proof, comfortable and the hotel offers many facilities.
Reviews
Google: 1,770 reviews – 4,1 out 5 stars.
TripAdvisor: 4,158 reviews – 4 out 5 stars.
Booking: 5,418 reviews – 8,2 out of 10
I WANT TO STAY HERE! >
9 | Doubletree Hotel by Hilton Amsterdam | > 129 per room per night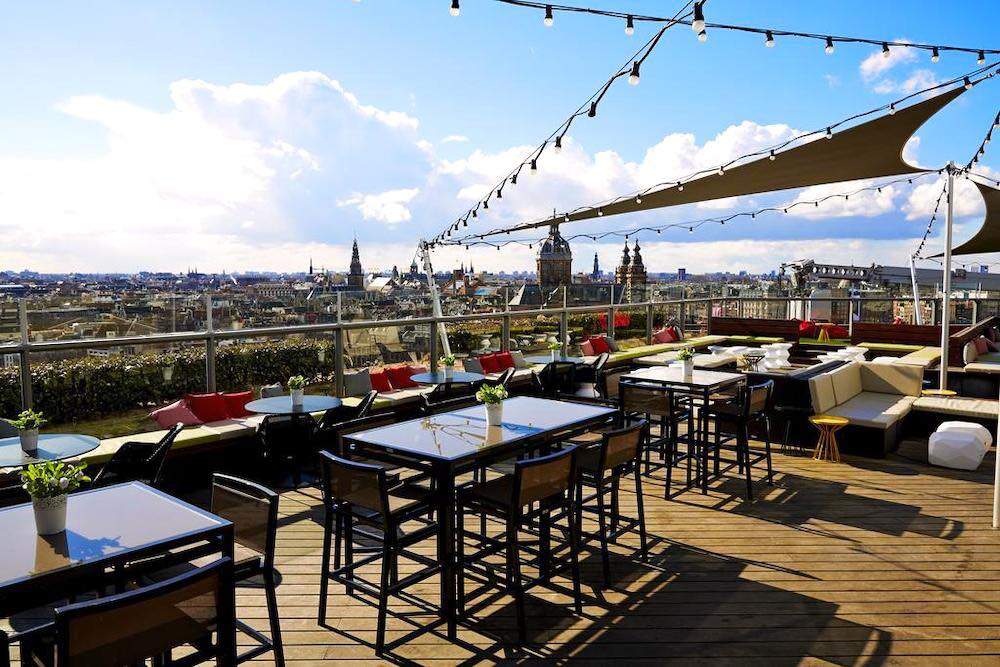 Overlooking De Wallen, Central Station, the IJ river and the beautiful Amsterdam houses. This hotel is an excellent choice. Especially for skyline lovers! Enjoy the Dutch capital here from the beautiful roof terrace, the bright suites or the great sky lounge.
TIP: This is one of those hotels in Amsterdam central where you have a fantastic view during New Years Eve. Fireworks will be set off that you can see perfectly from the sky lounge.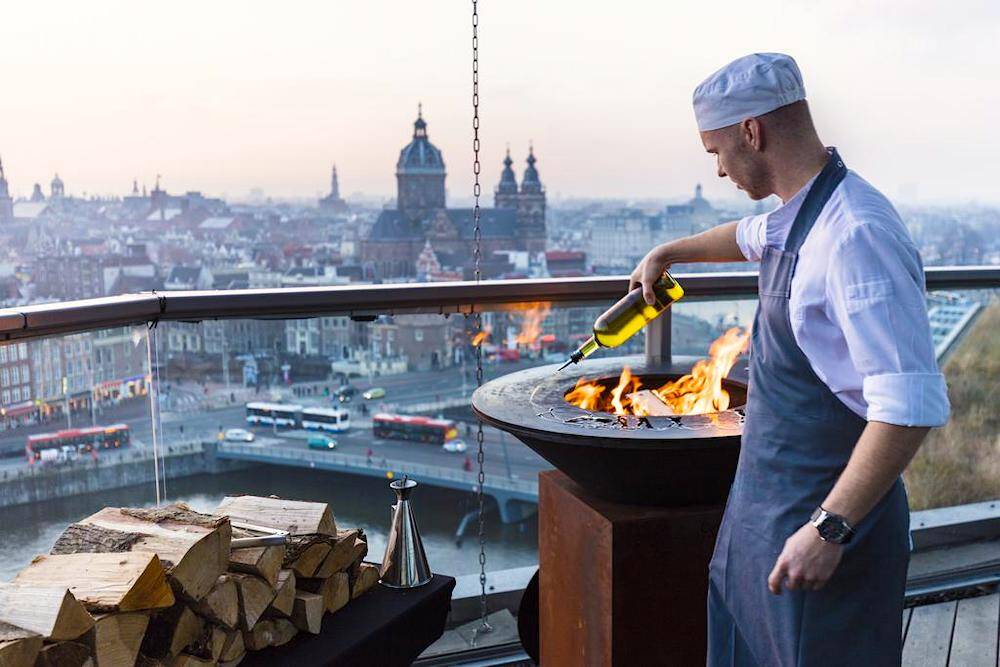 Thanks to the fantastic price / quality ratio, this is a popular hotel in Amsterdam. If you are considering this hotel, do not wait too long to decide, otherwise your favourite room will be booked by someone else.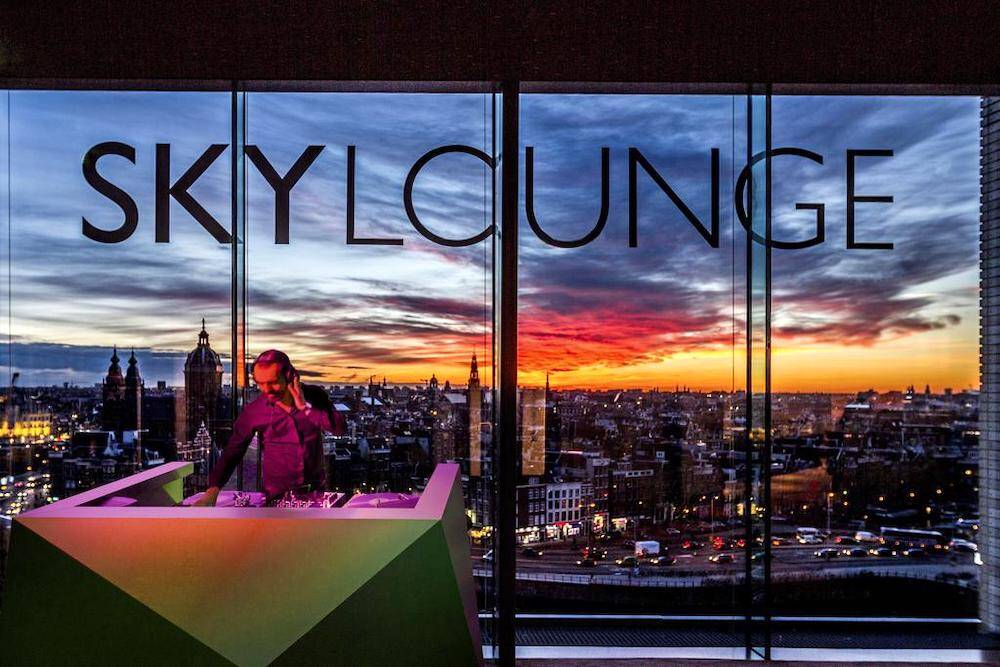 The hotel also offers entertainment. Handy if you don't feel like going into town or want to experience a pre-party.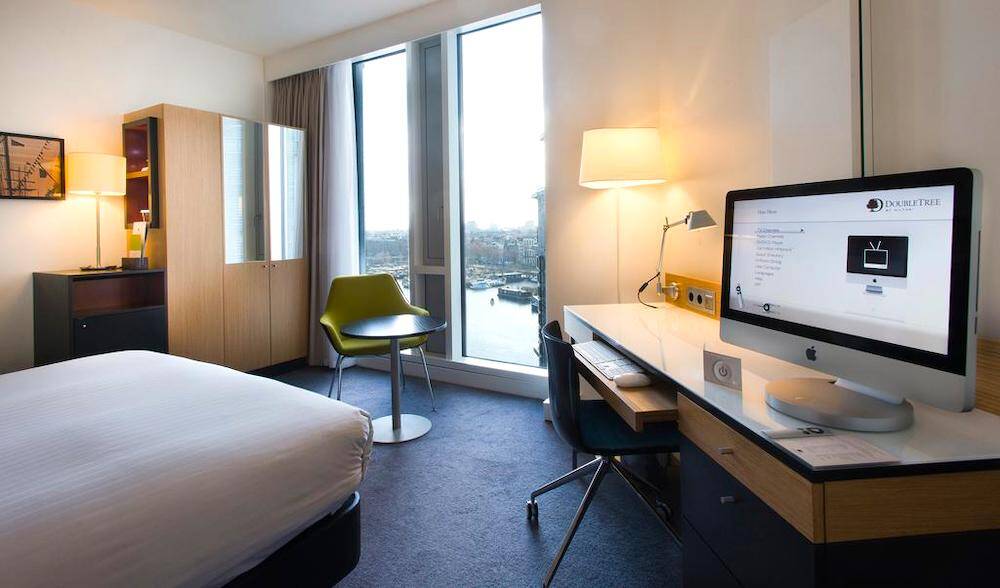 Also handy: all trams in Amsterdam depart in front of the Doubletree Hotel. Moreover, you can easily walk to the Red Light District, which only takes 3 minutes.
Here you can find more than hundred bars, dozens of restaurants, 14 coffeeshops almost 300 window brothels.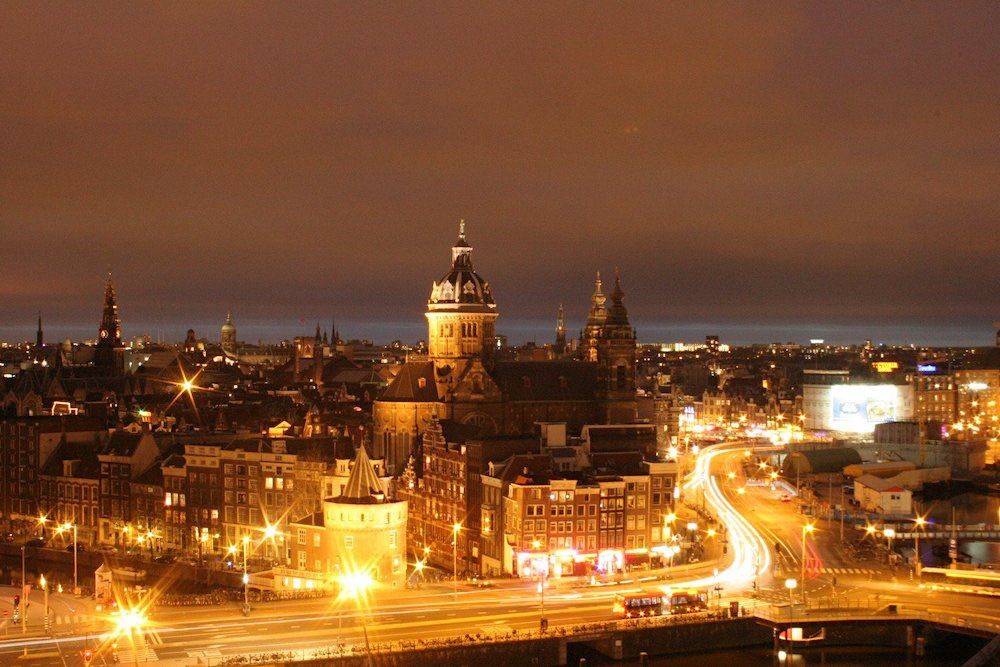 Reviews
Google: 5,223 reviews – 4,4 out of 5 stars.
TripAdvisor: 8,752 reviews – 4 out 5 stars.
Booking: 3,301 reviews – 8,2 out of 10.
I WANT TO STAY HERE >
10 | Hotel Estheréa Amsterdam | > 104 per room per night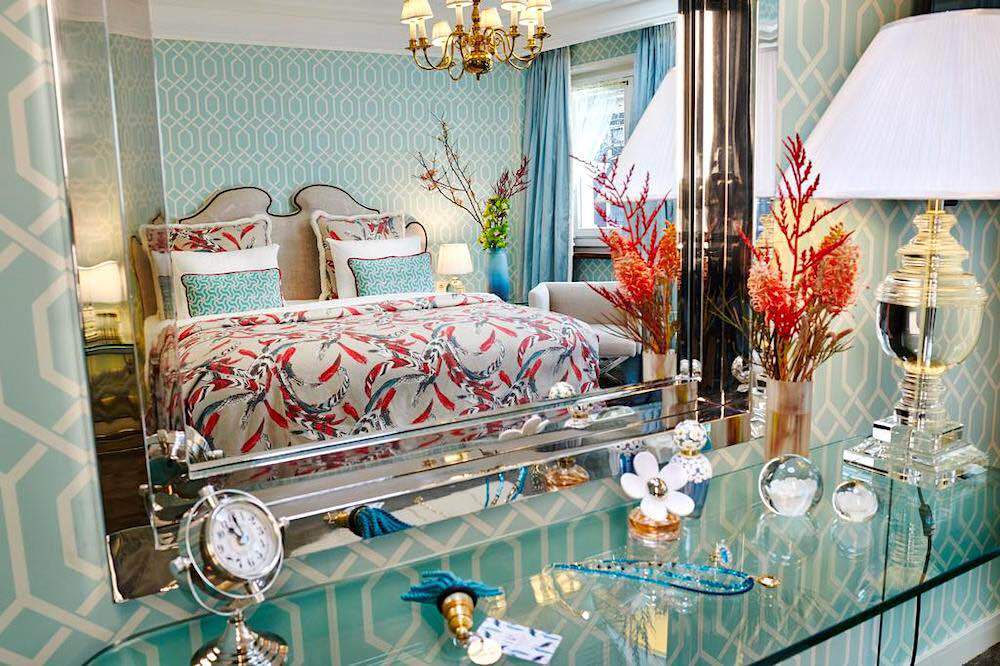 Are you a design lover? Then pick this fantastic hotel in Amsterdam central. Both the suites and the hotel itself are beautifully decorated, reminiscent of the 1970's. Stylish, fresh and different. You won't see such a hotel more often in your life.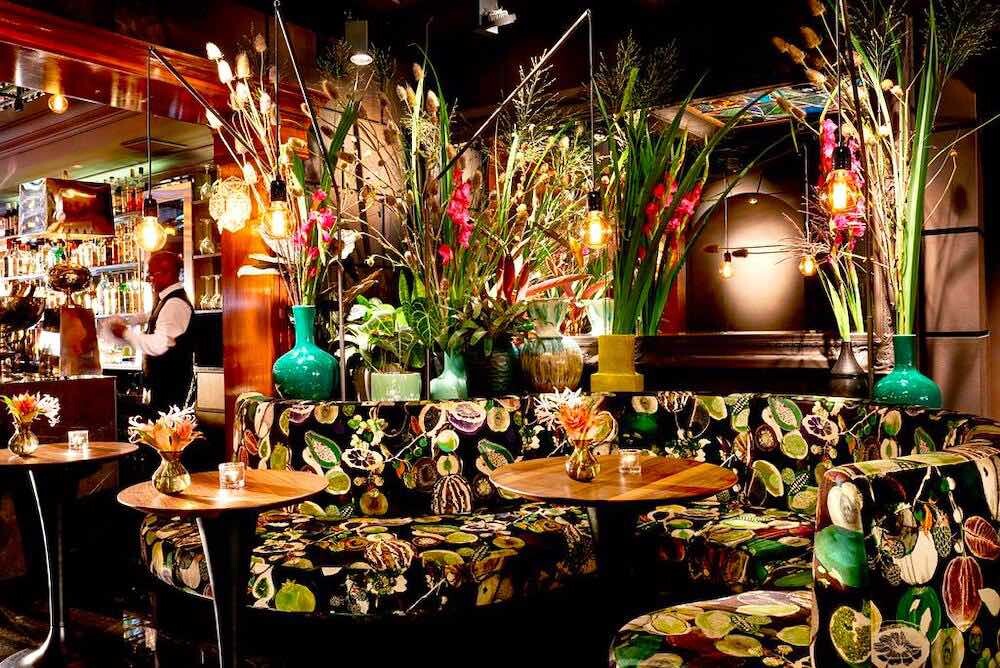 This incredibly beautiful hotel is located on one of the most beautiful canals in Amsterdam: Het Singel. Within a 3-minute walk you are on Dam Square. Do you want to workout during your trip? Then use the fitness room for free.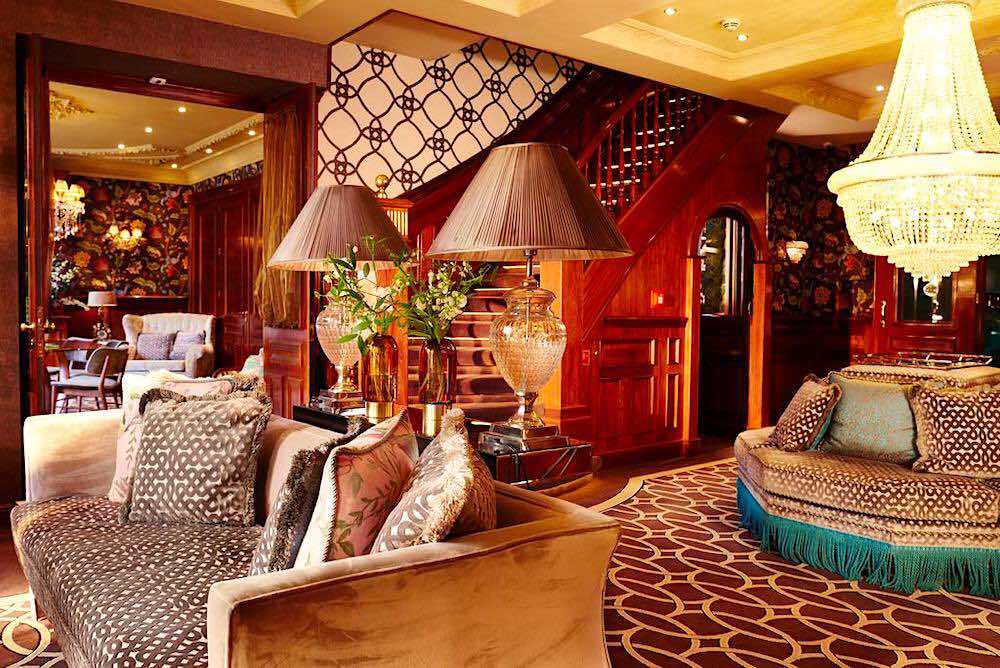 Reviews
Google: 859 reviews – 4.7 out of 5 stars.
TripAdvisor: 4,736 reviews – 4,5 out 5 stars.
Booking: 1,848 reviews – 9.2 out of 10.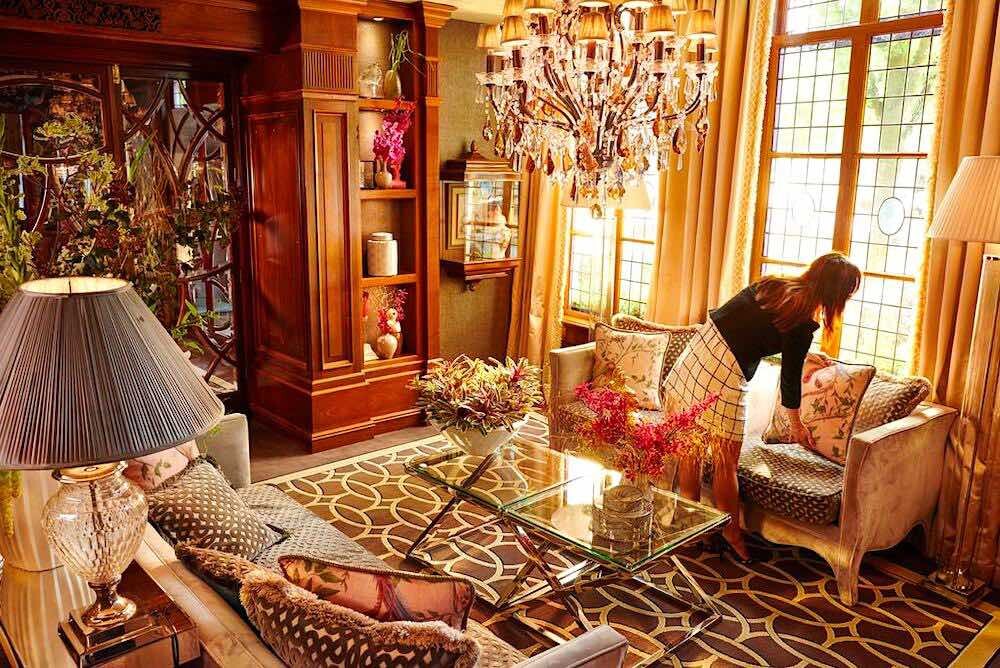 Do you want a centrally located hotel with a beautiful interior that will give an unforgettable experience for an affordable price? Choose this one!
I WANT TO STAY HERE! >
Definition Hotel
A hotel is an accommodation with sleeping places for lodging in predominantly single and double rooms at booking per night, where individual meals, small food and drinks can be provided to guests and passers-by.
A guest is a person who stays overnight in the relevant accommodation and a passer-by is someone who does not stay overnight. Furthermore, other services can be made available such as reception, room and telephone service.
How many hotels are in Amsterdam?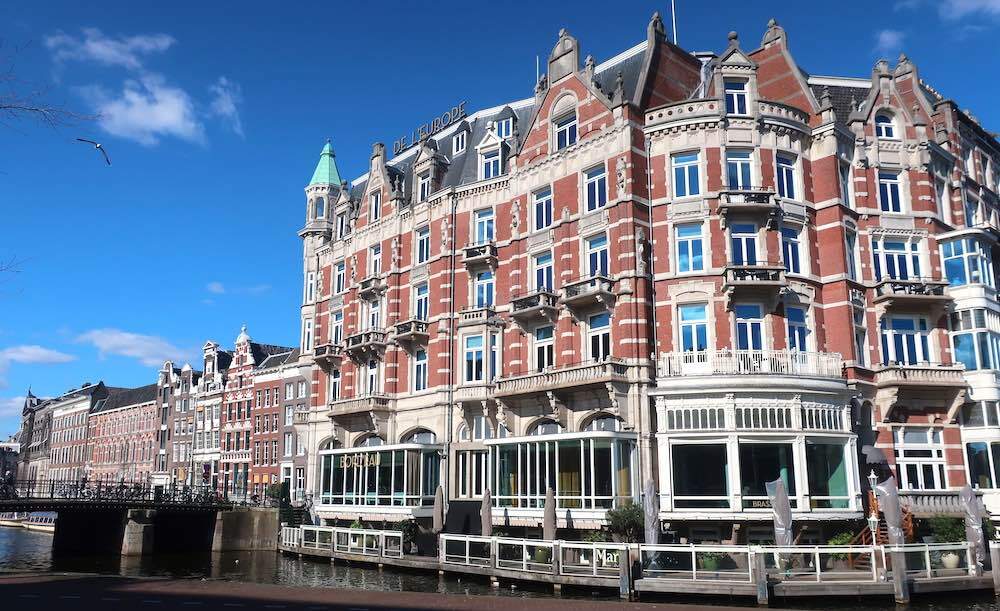 According to the Central Bureau of Statistics (CBS), Amsterdam had a total of 509 hotels in December 2020. These 509 hotels have a total of 38,692 rooms and 85,404 sleeping places.
How many hotels are there in the Netherlands?
There are a total of 3,838 hotels in the Netherlands. That number was established by Statistics Netherlands, which investigated the total number of hotels in the Netherlands.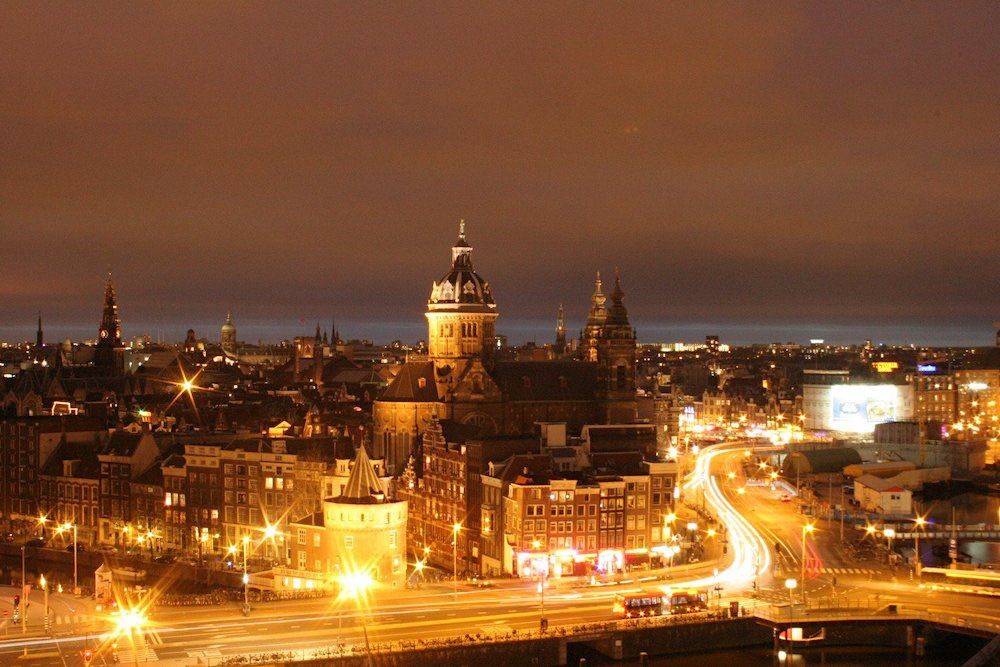 What's the best area to stay in Amsterdam?
We think it is best to choose one of the hotels in Amsterdam central because then you will be surrounded by highlights during your stay.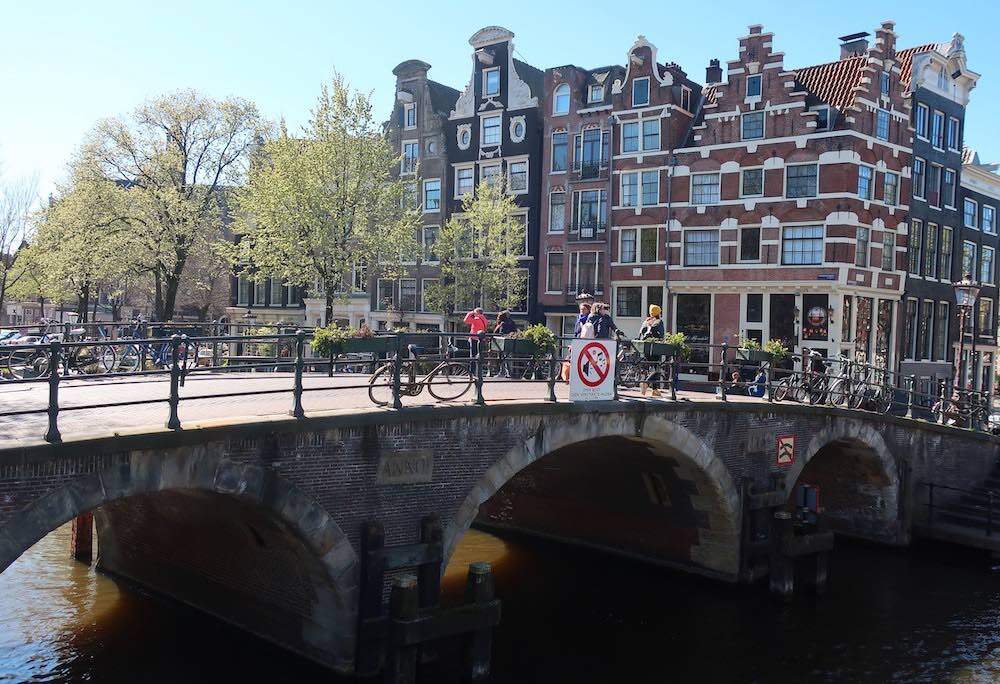 It is also nice that you can experience many highlights by foot. Central neighbourhoods in Amsterdam are:
De Jordaan
Negen straatjes
Nieuwmarkt
Waterloo neighbourhood
What's the best time of year to go to Amsterdam?
We recommend visiting Amsterdam between April and September because the weather is most pleasant during these months.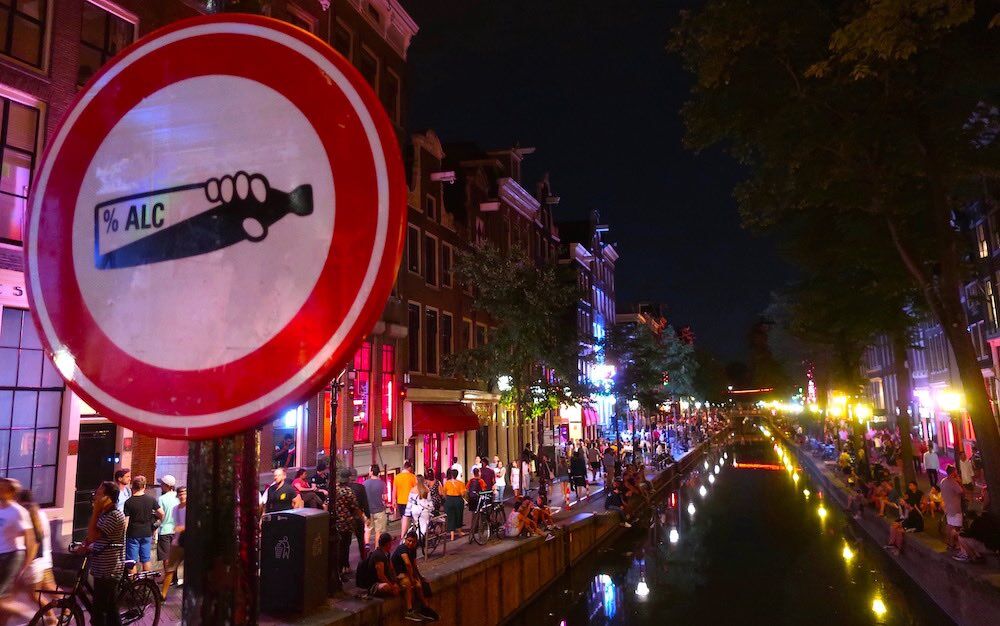 July and August are usually the most sunny months. In addition, December is also a good month to visit Amsterdam because there are many festive activities. Moreover, there is a great chance of snow and / or frozen canals.
TIP: 25 December is always a cheap day to fly (to Amsterdam) because nobody wants to fly then. Also read these 14 tips and tricks to get cheap flights to Amsterdam.
How many days do you need in Amsterdam?
It is advisable to visit Amsterdam for at least three days. Despite the fact that the Dutch capital is relatively small, you need at least three days to see the main highlights.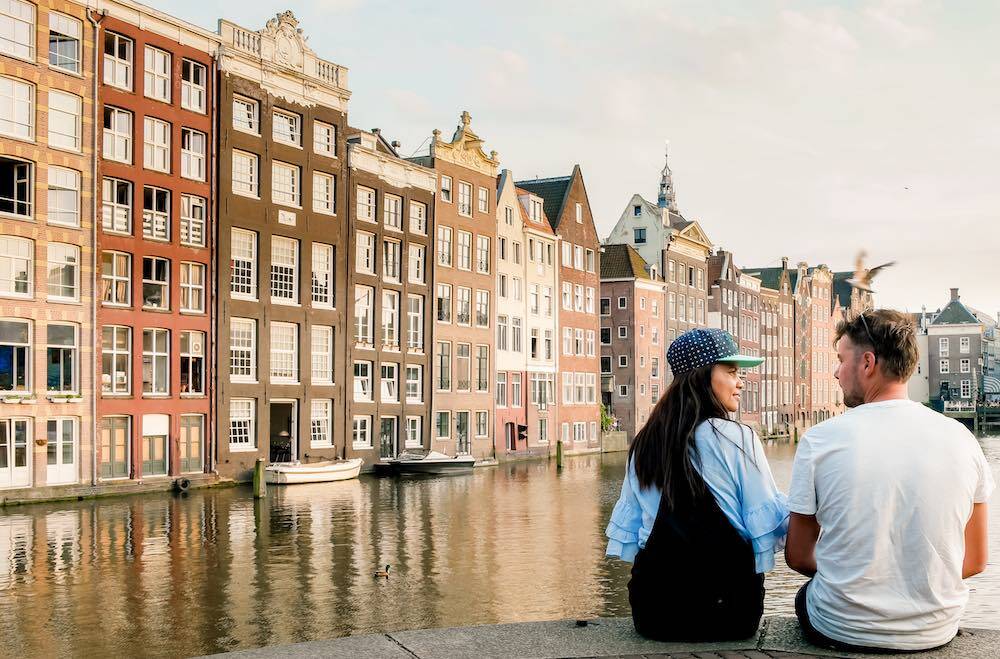 It is better to go to Amsterdam for five days though. That way you also have more time to relax. For example on the day of arrival.
Traveling is tiring and chances are that you want to recover from your trip upon arrival. Then it is nice to have some extra time.
What is the cheapest month to go to Amsterdam?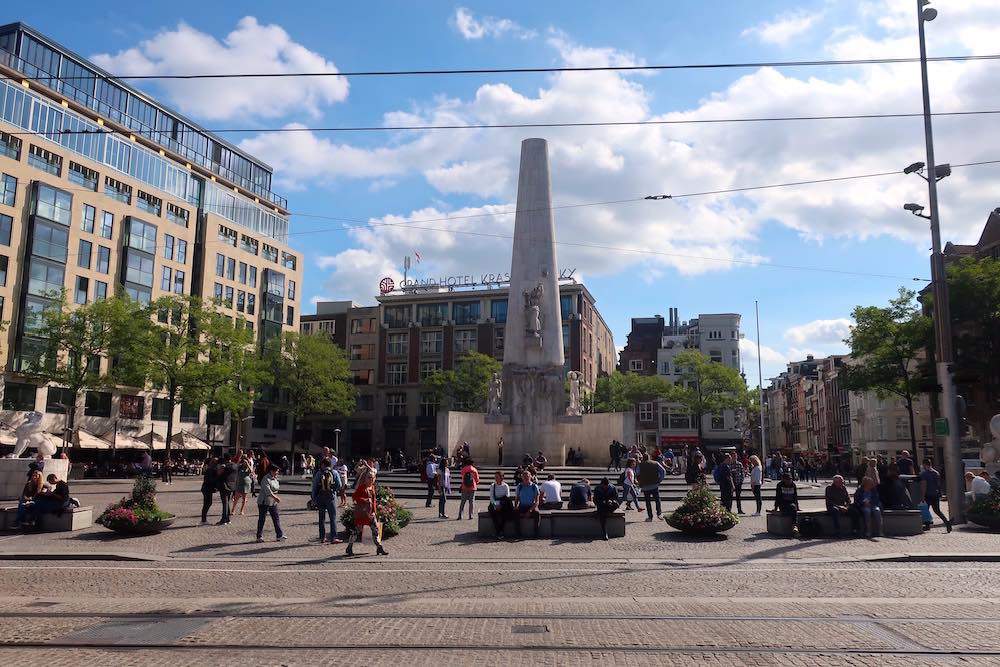 November and February are cheapest. These months are often the cold, wet and grey. But that doesn't mean you can't have fun in Amsterdam. In fact, it can be super fun!
Did you know that in February 2021 the Amsterdam canals were frozen and that people skated on the ice? That's one of the benefits of cold winter months.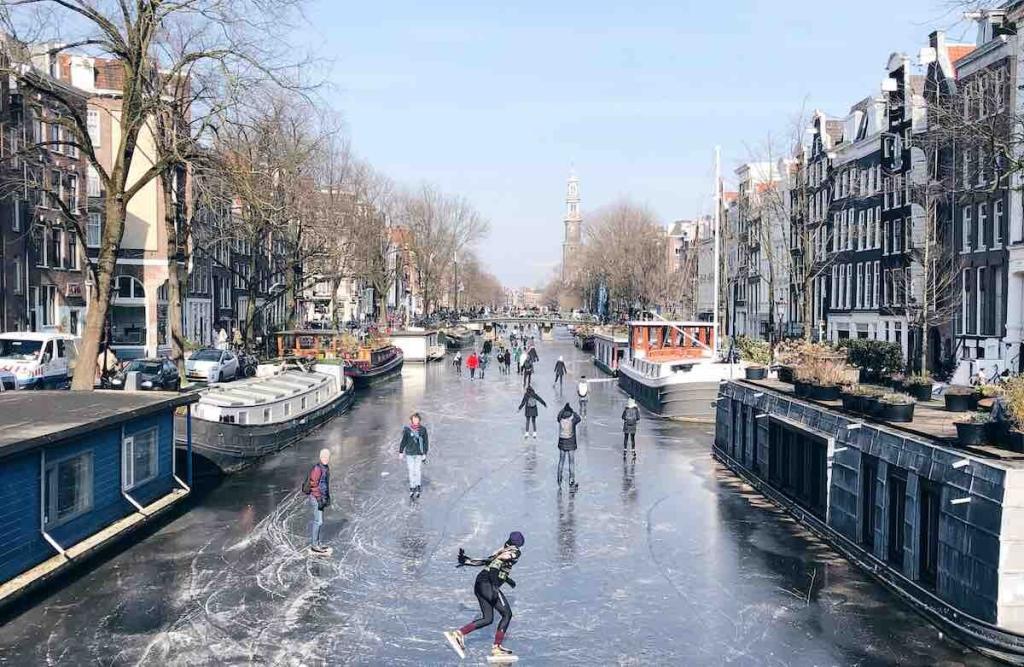 So do you want to spend as little as possible on one of the hotels in Amsterdam central? Then book in November or February!
Is it safe to walk at night in Amsterdam?
Yes! According to the Crime Index by City, Amsterdam ranks 309th out of 431. This makes Amsterdam one of the safest cities in the world.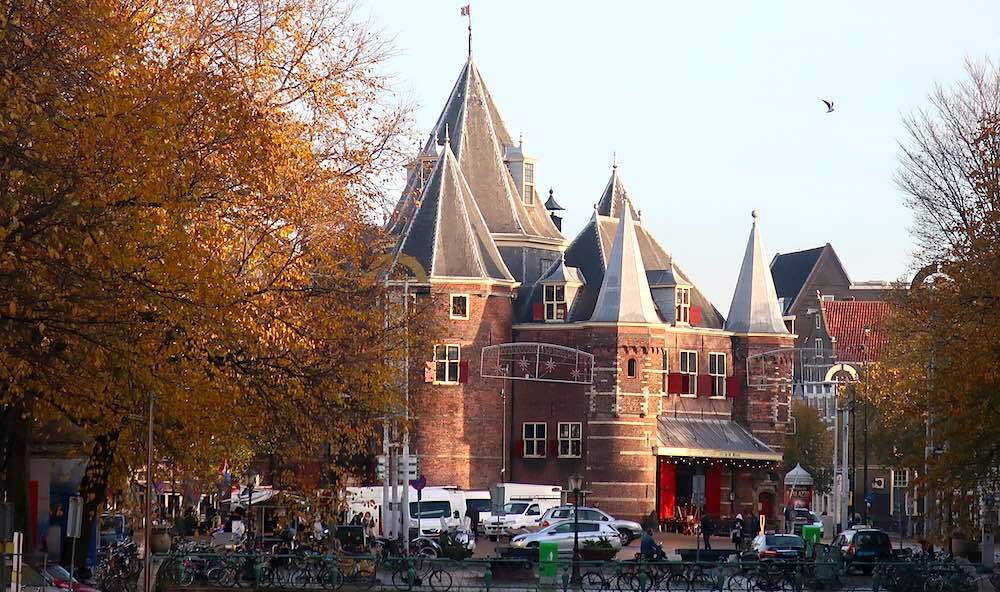 The Dutch capital is safer than Antwerp, Brooklyn, Toronto, Hamburg, Milan, Liverpool, Stockholm, Barcelona, Rome, etc. Amsterdam is about as safe as Sydney, Beijing and Singapore.
The city with the least crime is Abu Dhab, Taipei and Quebec City. The most unsafe cities in the world are Caracas, Port Moresby and Pretoria.
It is always smart to walk in neighborhoods where there is a lot of social control. Do not bring unnecessary items with you and keep important things such as your phone and wallet in a safe place.
The most "unsafe" areas in Amsterdam are:
Slotermeer-Zuidwest.
K-buurt Bijlmer-Oost.
ALSO READ:
10x Hotels in Amsterdam Red Light District
10 Best Escort Agencies in Amsterdam
10 Comments