Coffeeshops in Amsterdam Guide
Coffeeshops In Amsterdam Reviews From Frequent Visitors


This list was based on a survey done with members of the popular Dam Jam Facebook group. These members are what you would consider "pro smokers" and frequent coffeeshop-visitors. Most of the members are from United Kingdom.
This Facebook page has a total of 16.032 members and based on more than 70 responses and votes we've made this list containing the 10 worst coffeeshops in Amsterdam for 2019.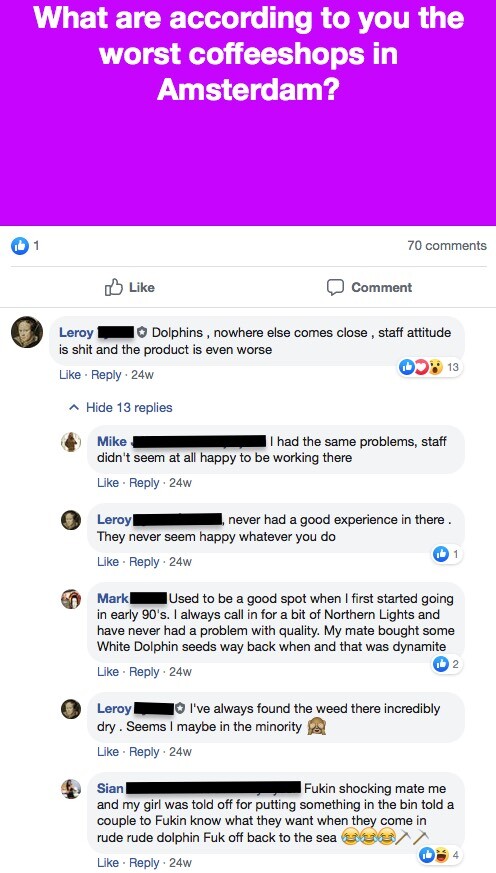 Please note that if you are a first time smoker, or irregular smoker probably all the weed that is served at these coffeeshops in Amsterdam will be more than enough for you to have a good time! 🙂
1. Winner Of The 10 Worst Coffeeshops In Amsterdam List: The Dolphins


Dolphins is no doubt the most original coffeeshop on this list. It sports a tacky underwater sea world interior that is worth a visit alone. However there is a large consensus within Dam Jam with 18 votes: lousy staff attitude and even more lousy products. One reviewer had an in our opinion quite funny bad experience:
"The woman in there called me a common thief for charging my phone and called a bunch of men to come and remove me from the shop. F*CK Dolphins. worst spot ever."
"Dolphins , nowhere else comes close , staff attitude is shit and the product is even worse."
"Personally I like the dolphin. The lady in there is crazy but found her fun."
"Dolphins budtenders first class nasty b*tch."
2. The Bulldog Coffeeshops


Founded in 1975 by Henk de Vries, this is the 3rd coffeeshop in Amsterdam. Although The Bulldog is a very famous brand and frequently described in travel-books, among the true experts it's called the McDonald's of Amsterdam coffeeshops.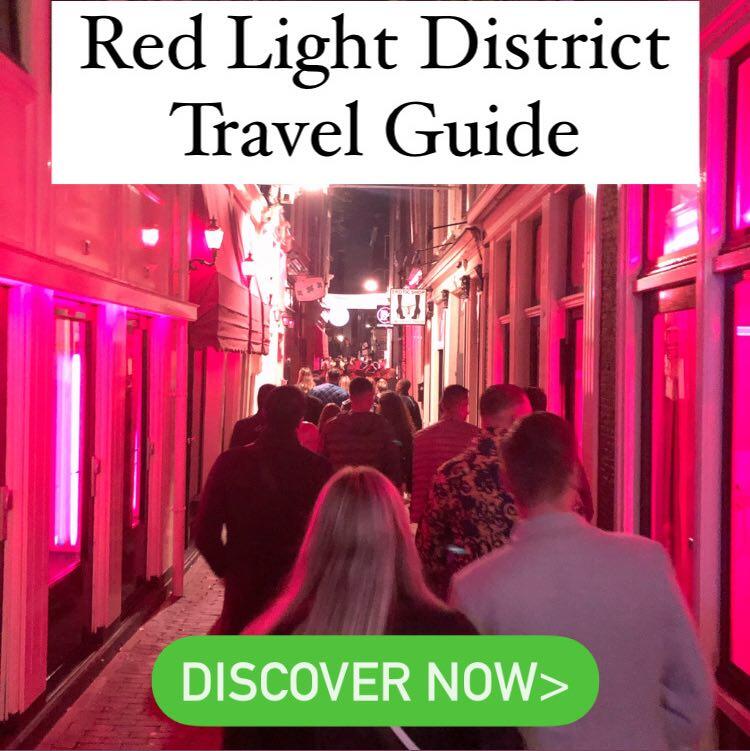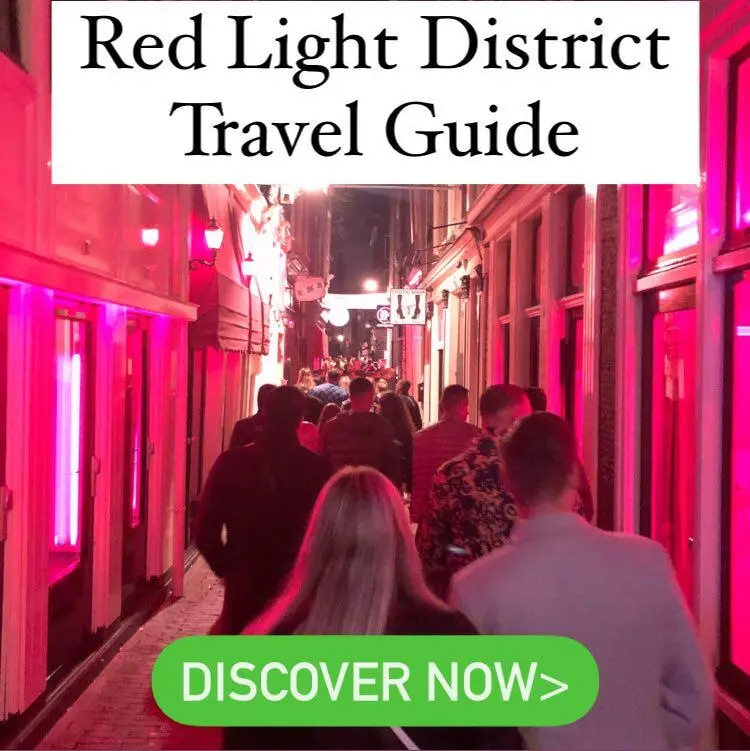 If you're looking for quality products you should skip The Bulldog coffeeshops. With 12 votes cast it's the worst (and only) coffeeshop chain on our list. Some reviewers however point out that these shops are perfect for just chilling.
"The worst coffeeshops in Amsterdam? All of the Bulldogs."
"The Bulldog, so rude, uptight, unfriendly, and cocky for no reason."
"Bulldogs fine for chilling , more of a jam spot."
3. Superskunk Is A Flunk


Superskunk is located at Prinsengracht, which is pretty close to Leidse Square, one of Amsterdam's main entertainment areas. It's a pretty large coffeeshop, which you wouldn't expect based on the exterior of the place. Superskunk hosts a nice large chill area in the back. A common complaint is that Superskunk is overpriced with inferior products. For this they got a total of 8 votes against them.
"Worst coffeeshops in Amsterdam? Superskunk, as they spray flavour on their weed."
"Superskunk only draws in people due to its flashiness"
4. Prix D'Ami Doesn't Deliver The Goods


A great coffeeshop for chilling and at an easy to reach location just 5 minutes from Amsterdam Central Station. It's actually the largest coffeeshop in the world with over 500 seats and 36 large flat screens that play a variety of entertainment.
For those who like to play some pool they also have 6 pool tables. Their products aren't highly rated by Dam Jam members with 7 votes against them.
"Prix D'Ami is a garbage shop with over priced tumbled flowers from Spain, but labeled USA on the menu."
"Their ammo haze was shit."
5. Popeye Doesn't Serve The Good Spinach


Coffeeshop Popeye is located in the heart of Amsterdam, just a 5 minute walk from Amsterdam Central station. The psychedelic wall paintings will surely get your head spinning whilst smoking some weed. However, coffeeshop Popeye also gets accused of spraying flavour on their weed.
"Popeyes for the same reason, they also spray flavour on their weed."
6. Smokey's Is All Smoked Out


Coffeeshop smokey's is more of a club/ party cafe than an actual coffeeshop. It's located on Amsterdam's Rembrandt Square, one of the cities main entertainment areas, and it is one of the few "shops" where you can still drink alcohol and smoke a joint. The products aren't highly rated and there are also some complaints about the bouncers at the door.
"it's the bouncers that always put me off."
7. Coffeeshop The Stud Has Lost Its Mojo

This coffeeshop is located in the east of Amsterdam, far away from the touristy areas. Founded back in 1982 it has been in the game for quite some time . A common complaint is that the staff there are really unfriendly. We can't say, based off the reviews, if the staff is just being unfriendly to foreign tourists or to every visitor.
"I never felt welcome in The Stud."
"The Stud was just so unfriendly when I went there… looks like we'll never go there again and the weed isn't that good either."
8. Coffeeshop Resin Should Resign


This is probably the first shop you'll walk passed in Amsterdam as it's located almost opposite to Amsterdam's Central Station. It's a small coffeeshop with a futuristic green interior. It shares a 9th place on this list together with coffeeshop Rockland. Resin was described by one customer as being his least favourite place on this planet. For this reason we put it above coffeeshop Rockland. 🙂
"Resin! 100% the worst place on earth."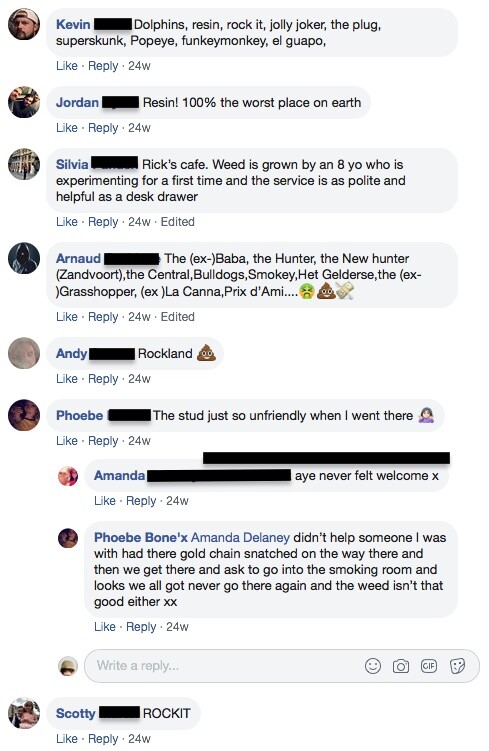 9. Coffeeshop Rockland Isn't Rockin' It


This coffeeshop is located very close Dam Square and Amsterdam's Royal Palace. It hosts quite a nice and large terrace outside for those who like to smoke in the sunshine. The shop itself is very small and is located in the basement of the property. The bad reviews basically consisted of poop emoji's. Make of that what you will.
"💩"
10. Coffeeshop Het Gelderse Is Making A Comeback?


Closing off our 10 worst coffeeshops in Amsterdam list is Het Gelderse on the Geldersekade in the Red Light District. This coffeeshop can probably best be described as a back-to-basics shop because it doesn't really have a theme except for Che Guevara's face. The location is in the more relaxed part of the Red Light District and when the sun is out you can sit outside. This coffeeshop is getting bad ratings for their product but some members made the point that Gelderse has improved a lot recently.
"Het Gelderse used to be absolute ass but i've heard they've severely upped their game in the last year or two."
ALSO DISCOVER:
10 Tips for Cannabis in Amsterdam
MORE TIPS FROM LOCALS >
2 Comments