Amsterdam Moco Museum 
Moco Museum Amsterdam is an unique boutique museum located at Amsterdam museum district, just next to the Van Gogh-, Stedelijk– and Rijksmuseum. It offers a wide range of inspiring contemporary and modern art. The museum offers a collection of subversive art that uses humour and irony to reflect on the our modern society.
I WANT TICKETS NOW >
Overview of Moco Museum
The Moco Museum, which stands for Modern Contemporary Museum Amsterdam, is a boutique museum with a unique collection that features the works of some of the art world's most groundbreaking and avant-garde figures. Nestled in the heart of Amsterdam, the museum was established with the vision of bringing modern and contemporary art to the wider public. The building itself is a sight to behold, marrying historical architecture with a modern twist that reflects the innovative spirit of the art it houses. The museum was founded by Lionel and Kim Logchies, who envisioned a space where the works of icons like Banksy and Warhol could spark conversations about contemporary society.
Moco Museum Amsterdam is an unique experience that is well suited for a wide audience. This is a museum that you don't want to miss during your stay in Amsterdam, especially if you like modern pieces of art.
I WANT TICKETS NOW >
Banksy Artwork
This new museum was founded in April 2016. Artists include the likes of Andy Warhol – famous for his popart – , Roy Lichtenstein and the anonymous Banksy.
Banksy Exhibition 'Laugh Now' At The Moco Museum


Banksy is a mysterious yet world famous British artist who is known for his humorous and political street art. His street art can be found all over the world. The City of London even has made maps with markings of all the locations of Banksy art. His indoor pieces – unique works on actual canvas, paper and wood – have had far less exposure.
BUY TICKETS TODAY >
Moco Museum Amsterdam has several of his famous street pieces on exhibition and also a large number of his indoor works, including works on canvas. His giant 'Beanfield' painting is one of then, a wonderful piece that is displayed on the ground level.
It's an impossible-to-miss eye-catcher as you enter exhibition decided to Banksy. Other highlights are the 'Girl with Balloon',  'Keep It Real' and 'Laugh Now'. This exhibition isn't authorised by the anonymous Banksy. The contents also weren't curated in collaboration with Banksy.
Villa Alsberg on Museumplein in Amsterdam


Villa Alsberg is the home of the The Modern Contemporary (Moco) Museum. It's an old townhouse in the heart of Amsterdam with a great view of Museumplein (Amsterdam's museum district).
The villa was designed by Eduard Cuypers back in 1904. He was the nephew of the renowned Pierre Cuypers who designed both the Rijksmuseum (located opposite of the villa) and Amsterdam's Central Station. This former privately owned villa was one of the first homes that were built along Museumplein.
It remained a family home until 1939. In that year the house was let out to priests from the local Nicolas School in Amsterdam. Later on the building was converted into law firm office.
Small, But Built To Impress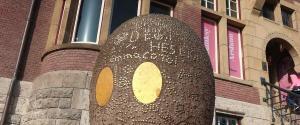 Maximum effort was put in to ensure that the breathtaking villa makes a big impact on all  visitors. The building itself adds an extra layer to the whole Moco Museum Amsterdam experience. There is only one small drawback to the villa. It maybe a charming building but due to its compact size one can get the feeling of overcrowdedness during the more busy visiting hours.
GO SEE BANKSY >
Banksy's 'Heart Boy' At Moco Museum Amsterdam


The 'Heart Boy' street piece has been peremantly added to the Moco Museum Amsterdam. The massive piece weighs over 2000 kg and stands in the garden in front of the museum. This is the first and only piece of Banksy street art in Amsterdam.
The detached mural, measures over 7 feet tall (2 meters) and was created by Banksy back in 2009 on the side of a building located in Islington, London, near the famous Kings Cross Station. This mural pictures a life-size young boy who wields a wet paintbrush. The boy has just a large pink graffiti heart on a brick wall.
Banksy Wall and Piece


In 2009 the building that featured the 'Heart Boy' mural was selected for demolition. The owner removed the mural and kept it in his possession until he sold it to Moco Museum Amsterdam. Banksy considered variations of this work so special that he prominently featured it in his 'Wall and Piece' book. The 'Heart Boy' stencil can be found in three different locations throughout London, including the roundabout at Old Street, Tottenham Court Road, and on Rivington Street in Shoreditch.
Moco Museum Reviews
The new museum is ranked nr. 26 out of all the 724 things to do in Amsterdam!
A total of 8128 visitors gave the museum an average grade of 4,5 out of 5 on Google.
Planning Your Visit
Located in Villa Alsberg, a picturesque townhouse in the Museumplein area, the Moco Museum is easily accessible by public transport, bike, or foot from central Amsterdam. Visitors can plan a full day of cultural immersion, with the Van Gogh Museum and Rijksmuseum nearby. After exploring the museum, there are numerous cafes and restaurants in the vicinity where visitors can enjoy a meal. Additionally, for those wishing to extend their stay, there are plenty of accommodation options ranging from cozy bed and breakfasts to luxurious hotels, ensuring that every traveler finds the perfect place to rest.
Moco Museum Amsterdam Opening Hours
This attraction is open 7 days a week and is great to visit under every weather condition.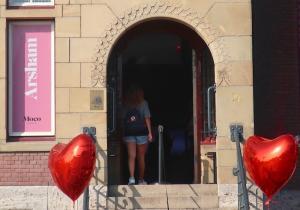 Sunday through Thursday 9:00 am – 20:00 pm.
Friday through Saturday 9:00 am – 21:00 pm.
Moco Museum Amsterdam Price
Entrance fee for adults: 19,50.
For youth (16- 17): 12,50.
For children (10-15): 9,50 euro. (0 – 9): Free.
Moco Museum Amsterdam Address
Street: Honthorststraat 20
Zipcode: 1071 DE
City: Amsterdam
Directions: (Museumplein, next to the Van Gogh Museum)
Conclusion
If you want to see some of the best modern art in the world, then a trip to Amsterdam is in order and the Moco Museum should be at the top of your list. This museum is home to works by Andy Warhol, Banksy & Roy Lichtenstein as well as many other renowned artists. The next time you're looking for something interesting to do in Amsterdam, be sure to book your tickets online ahead of time so you don't miss out on this unique cultural experience.