Amsterdam Arena Tour Tickets
The Johan Cruijff Arena, previously called Amsterdam Arena, is home to Holland's biggest football club Ajax. Naturally Holland's biggest football club also has a large stadium with a massive capacity of 54.990 seats. It's the biggest stadium in Holland. With your Amsterdam Arena tour tickets you'll set off on a 75 minute tour exploring this high tech monument to football. Your passionate tour guide explains all there is to know about this stadium and football club it was built for. Get a look backstage and so those parts that are normally blocked off to the fans. Walk through the impressive dressing rooms, see the press area and make a run on the green pitch. Your Amsterdam Arena tour tickets includes a 10% discount in the Ajax fan shop and a 10% discount at the nearby FEBO snack bar for a delicious Dutch snack afterwards.
The Johan Cruijff ArenA

This isn't just a football stadium, it is multifunctional entertainment Arena. Large dance events, pop events and even other sporting events are all hosted in Holland's largest stadium. Construction on the stadium started in 1993 and was completed in 1996 at a total cost of € 140,- million. At the start of the 2018-2019 the name of stadium was changed from Amsterdam Arena into the Johan Cruijff Arena, after Holland's best soccer player Johan Cruijff who died in Barcelona on March 24, 2016. The Johan Cruijff Arena is located in the Bijlmermeer area located in the South Eastern part of Amsterdam. The Amsterdam Bijlmer Arena station is located right next to the stadium. This experience can easily be reached together with your Amsterdam Arena tour tickets.
Ajax Amsterdam History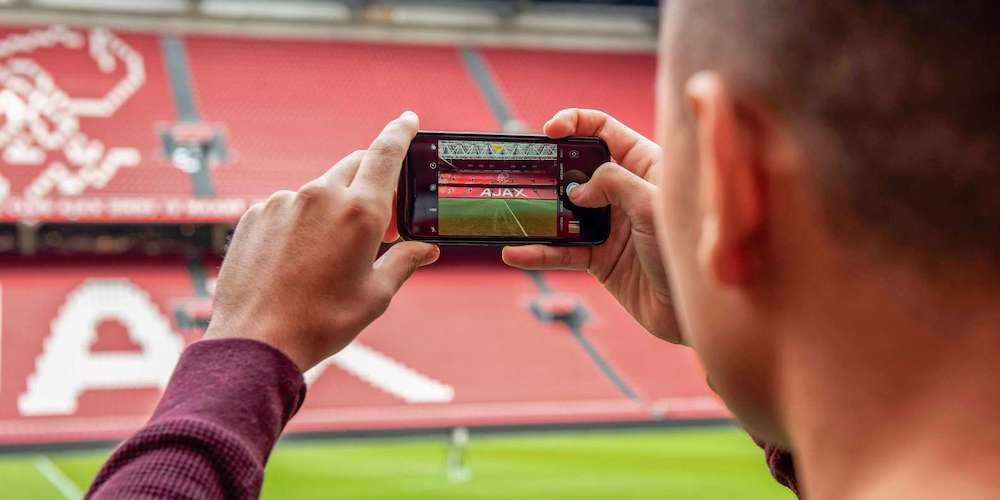 Established on March 18, 1900 Ajax has been one of the top 3 traditional football clubs in The Netherlands (the other two being Feyenoord, Rotterdam and PSV, Eindhoven). Since the inception of the Eredivisie (Holland's highest league) Ajax has been participating without interruption. Ajax is known nationally and internationally as a football club with Jewish roots and history. Several important players and club members were Jewish. Hardcore Ajax fans waving Israeli flags from the stands refer to these Jewish club roots.
Ajax Amsterdam Awards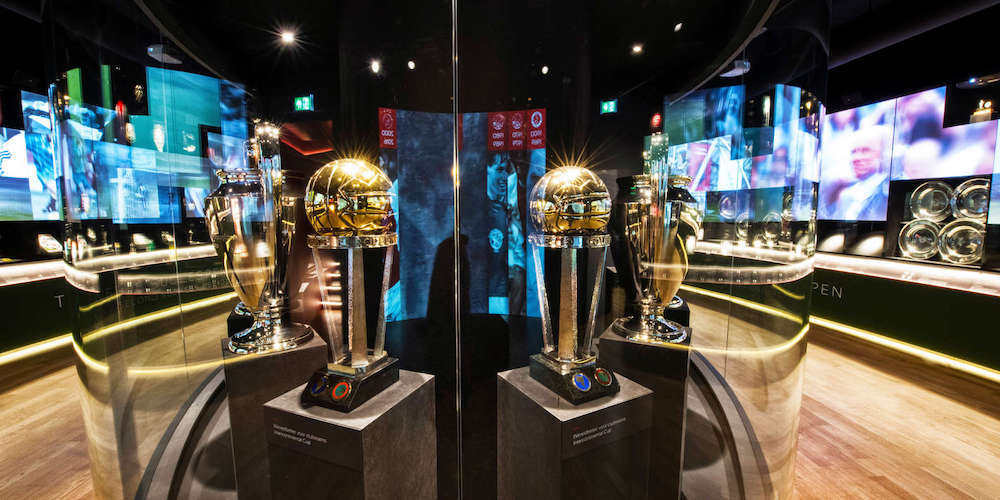 Even though Ajax isn't considered an absolute European top club these days they've won the European Cup/ Champions League an impressive 4 times. This puts them on 6th place compared to other, much larger, clubs; Real Madrid (13 wins), Milan (7 wins), Liverpool (6 wins), Bayern Munich (5 wins) and Barcelona (5 wins). Other international awards include 1 European Cup Winners' Cup, 1 EAFA Cup and 2 UEFA Super Cups. On the National level they've won the league an impressive 34 times!
Best Football Player Of All Time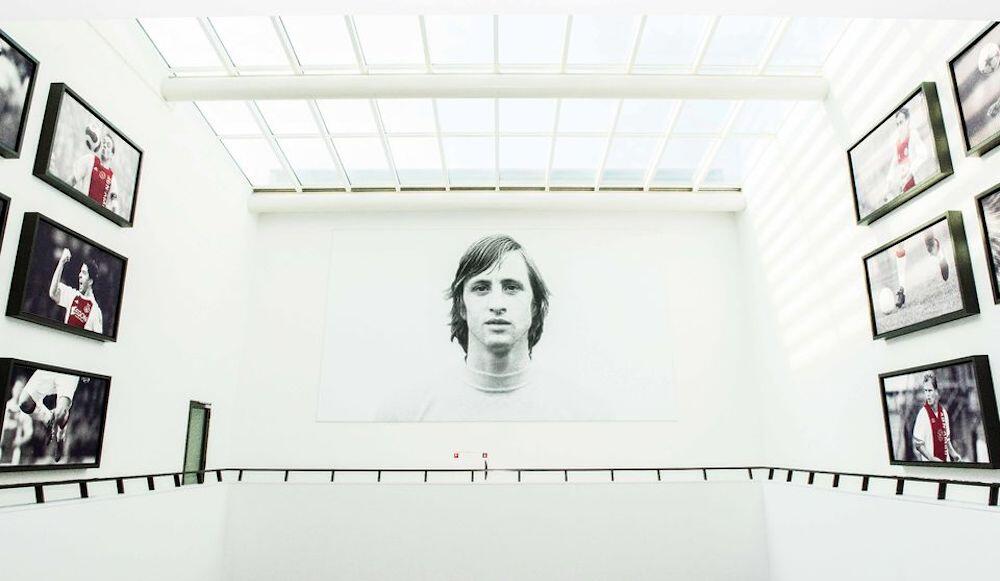 Johan Cruijff played a major role in the history of Ajax, Dutch- and international football in general. Cruijff is considered to be one of the best football players of all time and therefor he's also one of the most famous football players on earth. In 1999 the IFFHS chose him as the best European football player of the 20th century. Cruijff was and is admired for his technique, acceleration, speed of action and insight into the game. He won the Europe Cup three times and also won best European player of the year three times. He also won the Europa Cup I three times together with Ajax. During this time at Ajax he was considered to be the leader and star of the team. As captain of the Dutch team he managed to get to the final of the 1974 World Championship where the Dutch team would loose out to West-Germany one to two.
Johan Cruijff  As Football Trainer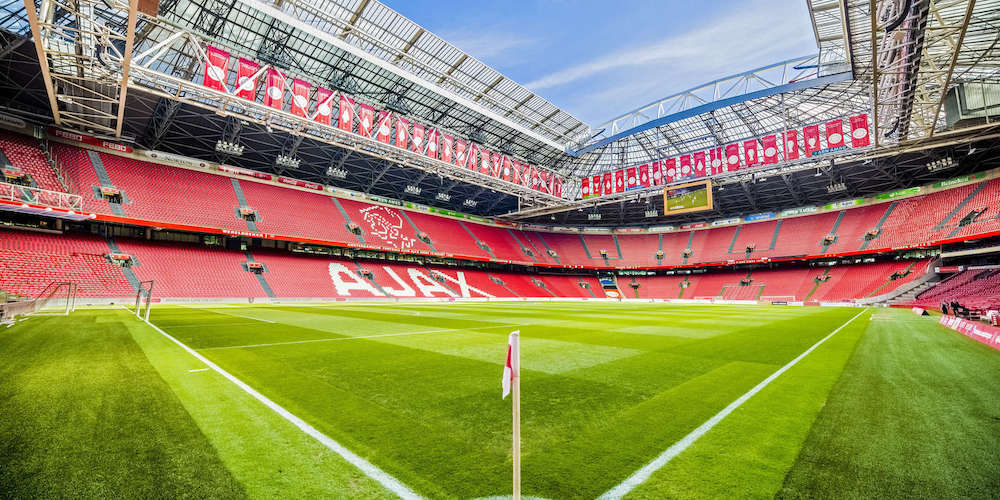 After a 20 year career in football Cruijff decided to have a go at coaching. Without any of the required diploma's he became the coach of Ajax and won two KNVB Bekers and the Europacub II. After his stint at Ajax he returned to another former club of his; FC Barcelona. At this stage of his career he would create the team that would end up in the history books as the Dream Team. With Barcelona winning the Europacup I in 1992, Cruyff became the third football player in history who won the the tournament both as player and coach. After Barcelona Cruijff stopped his coaching career.
Johan Cruijff & Ajax Legacy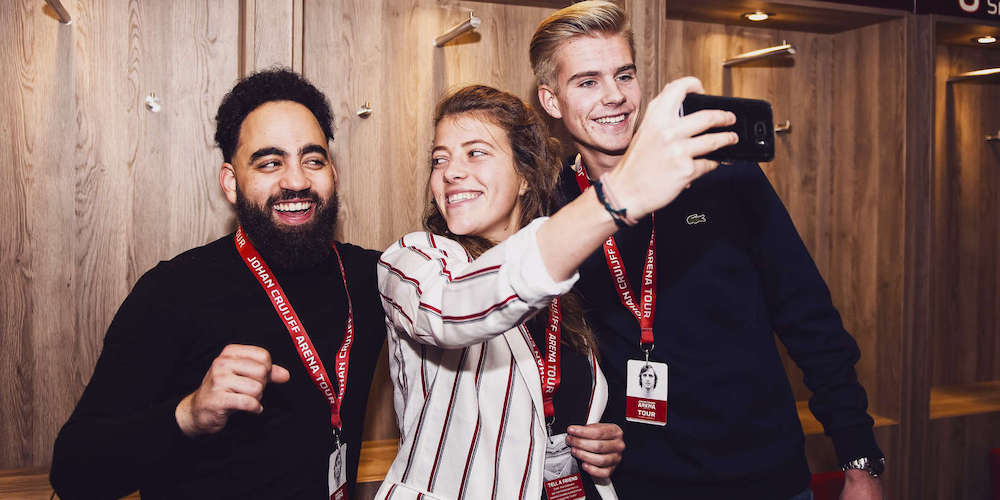 The legacy of Johan Cruijff lives on after his death in 2016. He changed football, there is broadly speaking football before Cruijff and after Cruijff. He together with coach Rinus Michels, both from Ajax, introduced a whole new way of playing football to the world called "total football". This way of playing was again on full display to the world as a young Ajax team dazzled the world in the 2019 -2020 Champions League. Creative, fast paced and pressing football made Ajax the star of that season and remains the playing style of the club. His name is now celebrated and remembered everyday in Johan Cruijff Arena. Get your Amsterdam arena tour tickets and see the home of Holland's best and most innovative football club.