Amsterdam Boat Tour
If you're looking for the best way to see Amsterdam, a canal cruise is the answer. You'll get an up-close look at the city's stunning architecture and canals, and learn about its history and culture. Plus, you'll have plenty of opportunities to take photos from the boat! Book a canal cruise today and explore Amsterdam like never before.
BOOK NOW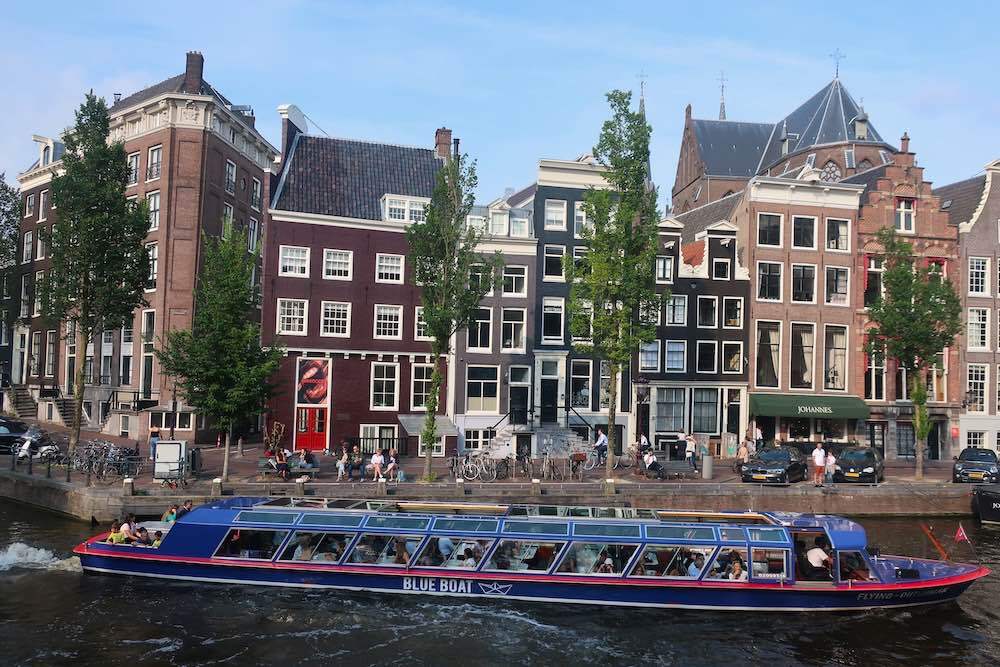 Amsterdam Canal Cruise With Blue Boat
Take a seat and relax in a comfortable, glass covered boat. On the Amsterdam canal cruise blue boat you get to enjoy the specular views along Amsterdam's UNESCO World Heritage-listed canal ring. This sightseeing cruise lasts 75-minutes and is perfect for getting a nice overview of the city and its history. An informative audio tour in included in the ticket which gives you the information you'll need to get the most out of those beautiful sights.
Along the way you'll pass some major city attractions like the City Hall and the Anne Frank House, leafy canalizes, gabbled townhouses and beautiful bridges. Enjoy Amsterdam from the peaceful serenity that the water brings. A boat tour through Amsterdam's canal is a must-do for first time visitors to Amsterdam.
BOOK NOW
Amsterdam Canal Tour Day

Amsterdam Canal Cruise Blue Boat company has their boats departing during the day between 10 am and 5 pm. During the daytime is without a doubt the best period to see Amsterdam from the water-side. Look how all the locals cycle next to the beautiful canals. Admire the centries-old Dutch architecture. And find out why everyone loves this city so much.
This organization has several boats and they depart every hour.
Wheelchair Accessible
The Amsterdam Canal Cruise Blue Boat is wheelchair accessible too. If there is a wheelchair bound person in the group, a reservation must be made in advance. That way they can ensure that you will be scheduled to a boat that is wheelchair accessible. Blue Boat also kindly requests that the person in the wheelchair be present at least 15 minutes in advance. That way they can bring him or her on board when it isn't too busy.
BOOK NOW
Looking for a shorter duration tour or a more personal boat tour? Check out these two alternatives: Lovers & Those Dam Boat Guys.

What's Included
A 75-minute duration canal cruise through Amsterdam's beautiful canals
The Westerkerk – the church where Rembrandt is buried
The Golden Bend
Amsterdam's City Hall and Anne Frank House
VOC ship
Glide around Amsterdam's UNESCO-protected canals.
House of Amsterdam's mayor
Prinsengracht, Herengracht & Keizersgracht.
Get front-row views of the 16th and 17th-century gabled houses, bridges and leafy canal paths
Hear the stories of Amsterdam's heritage via the free audio tour that's available in 19 different languages